Overview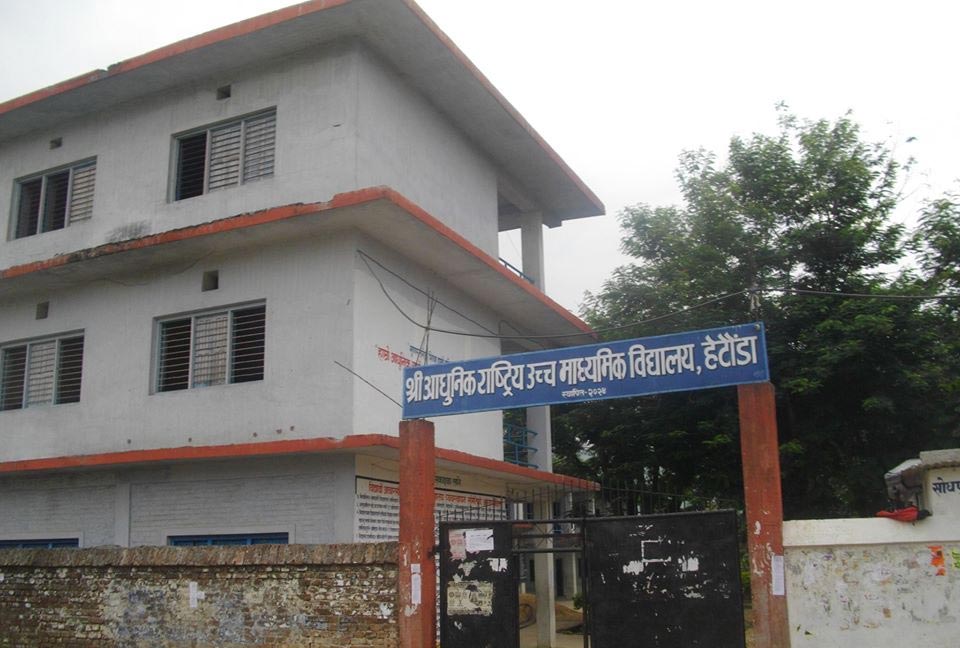 Adhunik Rastriya Secondary School (आधुनिक राष्ट्रिय माध्यमिक विद्यालय, मकवानपुर) was founded in 1967 AD (2024 BS) as a community based educational institution, which is situated in Hetaunda, Makawanpur, Nepal. It is affiliated to the National Examination Board (NEB) and approved by the Ministry of Education. It offers educational programs from ECD to Grade 10 and plus two programs under the Management streams.
Adhunik Rastriya Secondary School provides up to secondary level education with moderate fee structures and also provides a scholarship scheme for financially weak and deserving students.
Admission is considered on a prescribed Registration form which is attached to this prospectus The Official Application Form must be completed and registered by paying the registration and other fees. However, registration does not guarantee admission to the school.
A student is promoted to the immediate higher classes or is allowed to take the Board exams only if his/her performance is satisfactory in all the exams conducted in an academic session. The final result is prepared on the basis of the marks obtained in the mid-term tests and terminal exams.
The school has been providing scholarships to underprivileged children for many years. A lot of students have benefited from this program. However, this facility is not limited to poor students. Outstanding students from the higher secondary section have also benefited under this program.
The school aims to introduce a broader and more balanced curriculum to enable all peoples to develop the qualities and skills needed in adult life.
Salient Features:- Library, Sports, Science Lab, Computer Lab, Multimedia, Counseling, Scholarships, Classrooms, Dance, Music, Tour, ECA, etc.
Courses offered:
Plus Two (+2) in Management
Contact Address:
Location: Hetaunda, Makawanpur, Pradesh, Nepal
Phone No: +977-57-520766
Email: [email protected]
Website: www.schooladhunik.edu.np