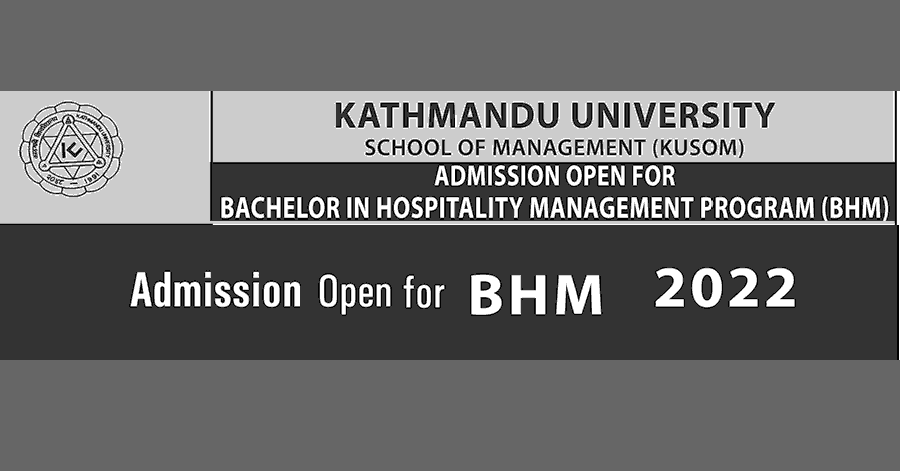 KATHMANDU UNIVERSITY SCHOOL OF MANAGEMENT (KUSOM) ADMISSION OPEN FOR THE BACHELOR IN HOSPITALITY MANAGEMENT PROGRAM BHM
Kathmandu University School of Management (KUSOM) is pleased to announce the opening of admission in Bachelor in Hospitality
Management for the academic year 2022 in its affiliated colleges:
Little Angels' College of Management (LACM) and Nepal College of Management (NCM). 10% of seats are reserved for foreign applicants.
BHM is an internationally recognized applied hospitality business management program. The program has a blend of classroom and real-world learning in the curriculum to prepare students as agile business leaders of 21st-century service industries such as hotels, restaurants, travel and tourism, event management companies, etc.
Eligibility:
Any Nepali and non-Nepali nationals meeting the following criteria are eligible for application:
successfully completed 12 years of schooling in any discipline with a minimum of 50 percentage in aggregate or CGPA of 2.0 on the scale of 0 and a minimum 'D+' grade in each subject from a university/board recognized by Kathmandu University
successfully completed GCE A Level with minimum C grade in at least three advanced level courses including English General Paper
Have passed Admission Test
Note: Applicants who have completed an examination of grade 12 and waiting for results are also eligible to apply for provisional admission.
Accepted applicants must meet the above criteria to continue their studies in the BHM program.
*The applicants who are eligible for admission in BBA/BBIS are also eligible for admission to the BHM program.
Class Commencement Date: Sunday, 11th September 2022.
Financial aid: KU provides financial assistance for needy and deserving students.
Application forms are available in LACM and NCM.
For more information, contact:
Little Angels' College of Management (LACM), Hattiban, Lalitpur
Phone No. 9851322721, 9801858148
Email: [email protected]
Website: www.lacm.edu.np
Nepal College of Management (NCM) Dhobighat, Lalitpur
Phone No: 9851179526, 9808484014
Email: [email protected]
Website: www.ncm.edu.np
Admission Open