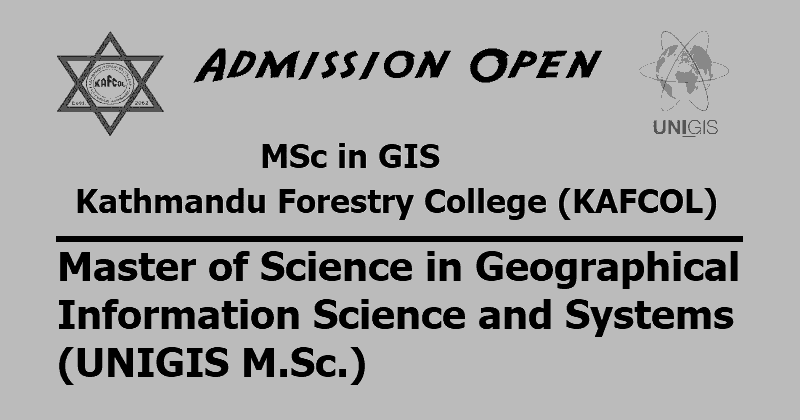 Admission Open for M. Sc. in GIS at Kathmandu Forestry College (KAFCOL)
Kathmandu Forestry College (KAFCOL) invites applications for the Master of Science in Geographical Information Science and Systems (M.Sc. GIS) program from interested students for the October session of 2023. The Bachelor level-pass students of any discipline including Engineering Science, Forestry, and Agriculture are eligible for enrollment.
The course is offered in collaboration with the Department of Geoinformatics -Z-GIS, University of Salzburg, Austria (Europe).
The two-year course covers 120 European Credit Transfer and Accumulation System (ECTS) points and in 12 modules such as Data Modelling and Data Structures, Data Source and Data Acquisition, geo­database management, collaborative project, and thesis research, etc.
The course has been approved by the Ministry of Education, Government of Nepal, and the degree has been recognized as equivalent to Masters Degree by the Tribhuvan University.
Application procedure:
Admission open from 1 June 2023
Application form can be obtained through: https://unigis.at/en/kathmandu
Deadline for application: 25 August 2023
Documents to be submitted along with completed application form: (i) academic transcript of Bachelor's degree, (ii) updated CV, (iii) a copy of passport
For more detailed information, Kindly contact us or visit us at Kathmandu Forestry College (KAFCOL)
P.O. Box 1276, Kathmandu
Tel No: 977-01-5147112
Mob. No: 9841302139; 9851237575
Website: www.kafcol.edu.np
E-mail: [email protected] ; [email protected]
Him Lal Shrestha, Ph.D.
Associate Professor and Program Coordinator UNIGIS Program
Admission Open