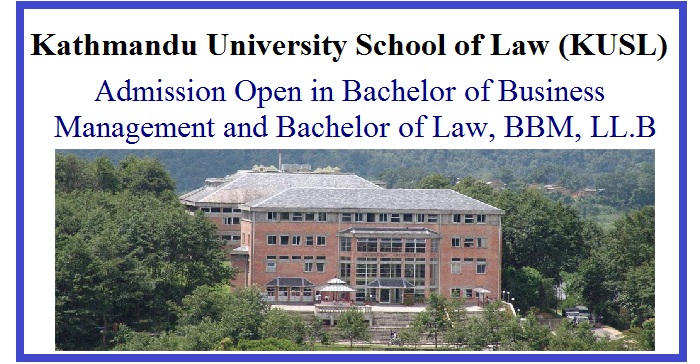 Admission Open in Bachelor of Business Management and Bachelor of Law, BBM, LL.B - KUSL
Kathmandu University School of Law (KUSL) a Dhulikhel announces opening of admission to its 5-year integrated BBM, LL.B (Bachelor of Business Management & Bachelor of Law) degree course.
The BBM, LL.B is a special integrated law programme that aims at creating a band of modern lawyers who are not only trained in law and legal practice but also in the basics of business and management. The degree meets all requirements of the professional undergraduate law course or Legum Baccalaureus with additional exposure of management that creates added advantage for them to work as lawyers cum management professionals in the corporate sector and public enterprises.
Study of this course will enable the law students to develop a competitive edge for them in the typical Nepalese context. They will be equipped with skills to professionally work in the justice sector, development segments, international organizations and the civil society instructions. Their knowledge and skills in the area of constitutional law, human rights, federalism and contemporary legal issues related with social transformation and change will give them strong foothold in the profession.
Students who have passed 10+2 intermediate degree or equivalent of at least two years duration in any discipline with a minimum of 50% aggregate or GPA of 2 from Universities or Boards recognized by Kathmandu University may apply. Applicants who have completed the qualifying exam and are a awaiting the final results may apply on provisional basis if they have already taken the final annual examinations and have passed all previous years' papers. Applicants below 20 years are encouraged to apply.
Application forms are available from KUSL or its website ku.edu.np/kusl. The last date of submission is June 30, 2018. For more details visit our website or email us at [email protected]