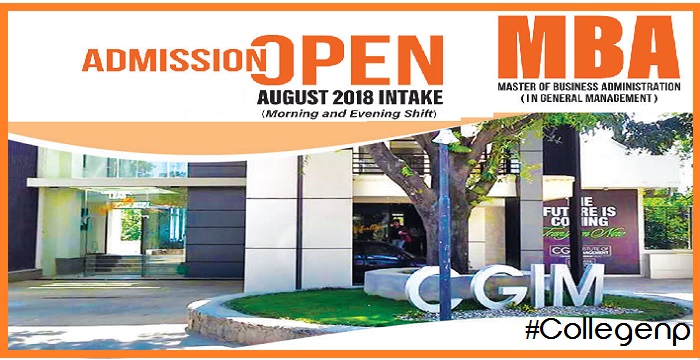 CG INSTITUTE OF MANAGEMENT- An ISO 9001:2008 Certified College; CG Institute of Management offers Master of Business Administration (MBA) in General Management.
ADMISSION
Guaranteed placement for top 10 MBA graduates and deserving students at Chaudhary Group.
MASTER OF BUSINESS ADMINISTRATION (IN GENERAL MANAGEMENT)
PROGRAM HIGHLIGHTS:
Globalized curriculum run by Limkokwing University, Malaysia, World's Most Globalized University.
Experiential learning and industry research-based teaching methodology.
Focused on building graduates with industry ready knowledge, skills, and attitude for national and international markets.
Value-added courses as a mandatory part of the curriculum.
AUGUST 2018 INTAKE:
(Morning and Evening Shift) A Global Degree at CG Institute of Management earn a global degree at CG Institute of Management, an initiative of CG Holdings and affiliated to Limkokwing University, a Global University with its colleges in more than 10 countries.
CG Institute of Management
Minbhawan, Anup Marga, Kathmandu; Nepal
Telephone Phone No.: +977-1-4107101, +977-1-4107114
www.cgim.edu.np