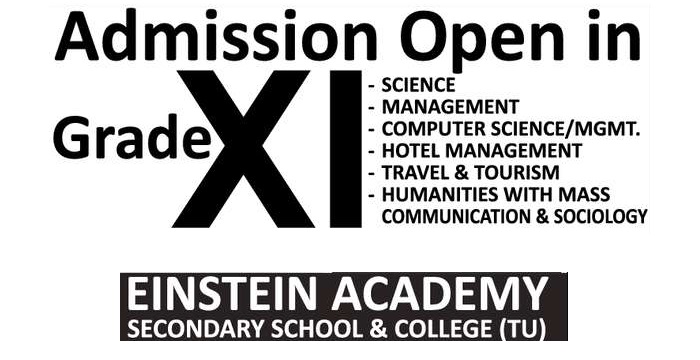 Einstein Academy Secondary School & College, Lalitpur announces admission open in Grade XI for year session of 2075/76 as following streams:
Admission Open in Grade XI
- Science - Management
- Computer Science/Management
- Hotel Management
- Travel & Tourism
- Humanities with Mass Communication & Sociology
Salient Features:
Founded & run by the professional academicians with decades of working experience in Nepal & abroad. Holistic approach. Excellent academic environment. Unique system with scholarship scheme. Co-curricular, Games and Sports activities. Separate Hostels for boys & girls. Affordable, Well-built infrastructure, Library, Cafeteria & Transport service. Medical care & Counseling. - Top 10+2, honoured by NEB. - Outstanding BBS Result (TU).
Form Distribution: Sun-Sat, 7:30am - 4 30pm
Admission Test: Thursday 21st Ashad 2075, 11:30am
Result Out: Friday 22nd Ashad, after 11am
Welcome /Orientation: Sunday 6th Srawan 2075, 10am (Sharp)
Class starts from: Wednesday 9th Shrawan 2075
EINSTEIN ACADEMY SECONDARY SCHOOL & COLLEGE (TU)
Thasikhel, Mahalaxmi Chowk, Ring Road, Lalitpur-14
Telephone: +977-1-5170418, +977-1-5171139
Fax: +977-1-5193455
E-mail: [email protected]
Web: www.einsteinacademy.edu.np
Suffering comes from not accomplishing our goals, Einstein culture trains students to accomplish their goals.