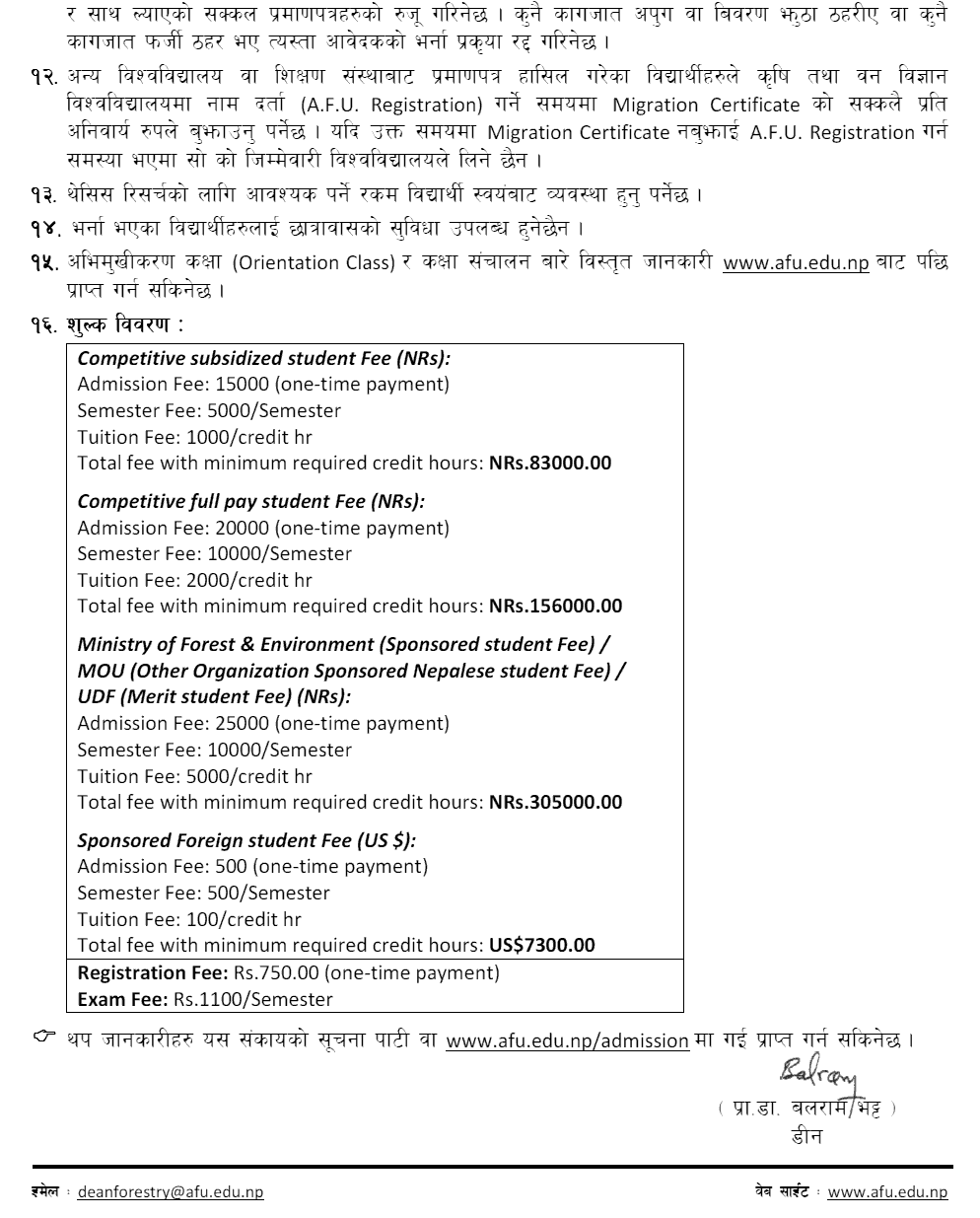 Agriculture and Forestry University Announces Admission Open for M.Sc. Forestry:
University of Agriculture and Forest Sciences, Faculty of Forest Sciences, Hetauda, ​​Makwanpur, Nepal
Dean's Office Phone: 057-523248 / 524144/527354
Fax: 047-52324
Notice Published Date: 2077-02-30
MSC Forestry Student Admission Notice:
For the academic year 2076/07, applications have been invited from the students who have reached the required minimum educational qualification to study in the M.Sc. Forestry level educational program to be conducted in the Faculty of Forest Science, Hetauda, ​​Makwanpur. The following is the procedure for the admission of the mentioned level.
Applicants will only be able to fill out the application online, along with a copy of their educational qualification certificate, certificate of merit, certificate of character, and certificate of citizenship.
In addition, applicants who have passed SLC, Proficiency Certificate Level, Undergraduate Level or equivalent from a university or educational institution other than a university or educational institution established by the Government of Nepal should have the same standardization certificate and Certificate or Provisional Certificate.
Minimum educational qualification required: Must have passed B.Sc. (Forest Science) or a similar examination.
Application and Entrance Examination Fee: Rs. 3000 / - (only three thousand rupees). The fee can be obtained from any branch of Siddhartha Bank Ltd. by depositing the amount in the name of the "FoF Entrance Exam" in account No. 00815264324. The full name must be spelled out. The above fee will not be refunded in case the application is not sent properly or for any other reason.
Date and time of application: Regular fee till 12:00 pm on 2077-04-04 and double fee till 12:00 pm on 2077-4-11. The online application form can be filled by logging on to www.afu.edu.np. If there is any difficulty in the process, technical assistance can be obtained by contacting [email protected]. No action will be taken on the online application which has not been filled properly and completely.
Date, Time, and Place of Distribution of Admission Form: Entrance Form for the entrance examination will be distributed only from 10:00 am on Friday, 2077-04-16 to 9:00 am on Saturday, 2077-04-17 from the Faculty of Forest Sciences, Hetauda. Upon receipt of the admission letter, the applicant will have to appear in person with his / her full citizenship, full bank voucher, and confirmation page obtained after completing the online application.
The admission form will be issued only after confirming the concerned examinee and understanding the gross bank voucher and confirmation page. Entrance Exam Date, Time and Place: 2077-4-17 will be conducted on Saturday at 11:00 am at the Faculty of Forest Sciences, Hetauda.
Examination Results Publication: Examination results will be published on Saturday 2077-04-17 and the information can be obtained by visiting www.afu.edu.np.
Admission will start from 2077-04-18.
Basis of Admission: The list for admission will be published according to the merit list prepared by giving 90 percent weight to the entrance examination and 10 percent to the marks obtained at the undergraduate level. The pass mark in the entrance exam will be 40 percent.