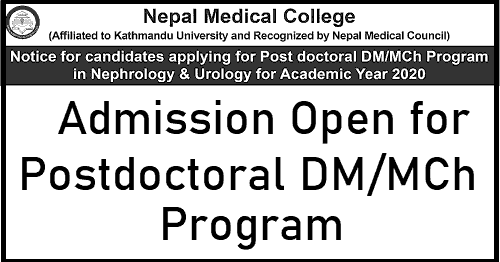 Applying for Postdoctoral DM/MCh Program in Nephrology and Urology - Nepal Medical College
(Affiliated to Kathmandu University and Recognized by Nepal Medical Council)
Notice for candidates applying for Postdoctoral DM/MCh Program in Nephrology & Urology for Academic Year 2020
Nepal Medical College Pvt. Ltd., Atterkhel, Jorpati, Kathmandu, invites applications for DM (Nephrology) & MCh (Urology) programs of Kathmandu University starting from March 31, 2020. Interested candidates should apply on or before March 20, 2020, though e-mail address given below or submit the application personally to the Academic Section, together with their recently updated CV, two passport-sized photographs and photocopies of the academic testimonials and Nepal Medical Council and Nepali citizenship certificates addressed to the Principal, Nepal Medical College, Jorpati, Kathmandu.
Selection will be done on the basis of written and viva voce examinations.
Duration of course: Three years (Residential)
Eligibility criteria: Candidates holding MD (Internal Medicine) or MS (General Surgery) recognized by Kathmandu University and registered with Nepal Medical Council.
Entrance Examination: March 25, 2020, Time - 10.00 AM
Venue: Office of the Principal, Administration Block, Academic Building, Nepal Medical College, Jorpati, Kathmandu.
Date of Admission: March 29-31, 2020
The candidate should bring the original copies of the required certificates on the examination date.
For further details, candidates are requested to contact the Academic Section, Nepal Medical College.
Contact Nos.: 4911008, 4912009 (Ext: 606),
Fax: 4912118,
Email address.: [email protected]
Date of publication of this notice by the Principal's office: March 13, 2020.