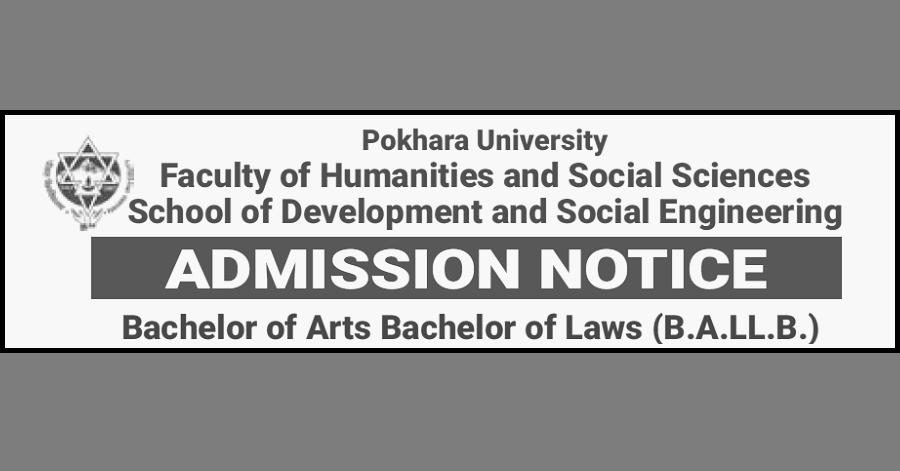 Pokhara University, Faculty of Humanities and Social Sciences, School of Development and Social Engineering Admission Notice for Bachelor of Arts Bachelor of Laws (B.A.LL.B.)
Admission Eligibility and Procedure
- School Level Certificate Education (SLCE) / (10+2) level or any other equivalent degree passed in any subject
a minimum grade 'D+' in each subject (for the students who have passed the SLCE from NEB till 2078 BS) or a minimum grade 'D' in each subject (for the students who have passed the SLCE from NEB in 2079 BS)
a minimum CGPA of 1.6 in aggregate in a 4.0-grade point system or pass division from a recognized board.
- Applicants will be selected from a merit list of entrance examinations conducted by the faculty.
Key Dates:
Last date for application form submission: 7 December 2022
Entrance examination: 9 December 2022 (11:00 AM to 2:00 PM)
Venue: Academic Complex, Pokhara University, Pokhara-30, Kaski.
Documents to be Submitted:
[i] Duly completed application form and bank voucher of Rs. 500.
[ii] Bank: Kamana Sewa Bikas Bank Ltd
Account Name: THE SCHOOL OF DEV. & SOCIAL ENG. PU
Account No: 01200300026918000001
[iii] Self-attested copies of academic certificates (mark sheets/transcripts, character certificates).
[iv] A copy of the Citizenship Certificate for Nepali citizens and Passport for Foreigners.
NUMBER OF SEATS: 40
Apply online: https://pu.edu.np/academics/faculties/fhss/programs/ballb-applyonline
Note: Students can also apply directly by visiting the University.
Application forms can be downloaded from https://pu.edu.np/academics/faculties/fhss/programs/ballb
For further details
School of Development and Social Engineering
Faculty of Humanities and Social Sciences
Pokhara University
Pokhara -30,  Kaski,  Nepal
Phone:  9846406459
Email:  [email protected]
Web: www.pu.edu.np
Admission Open
Pokhara University