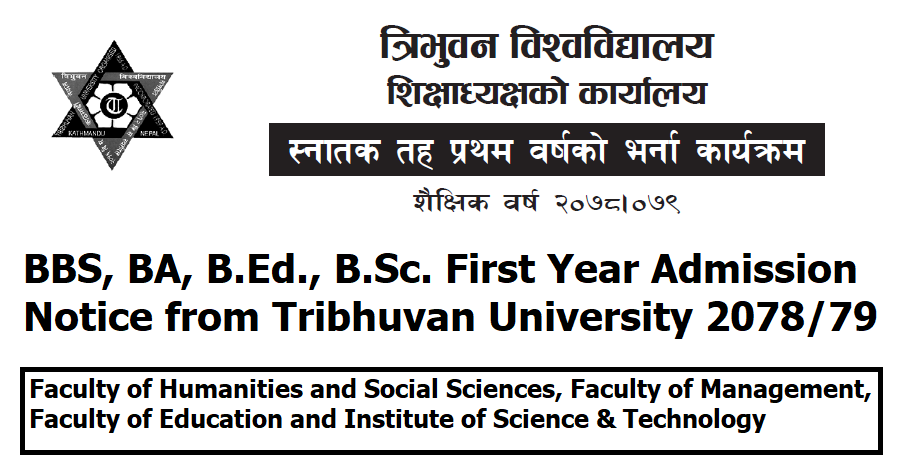 Tribhuvan University (TU), Office of the Dean, Bachelor Level (BBS, BA, B.Ed., B.Sc.) First Year Admission for Academic Year 2078/079: The enrollment of new students in the first year of Bachelor for the academic year 2078/079 in the campuses under the Faculty of Humanities and Social Sciences, Faculty of Management, Faculty of Education and Institute of Science and Technology of Tribhuvan University is as follows. This notice has been published for the information of all concerned faculty / educational institutes, campuses and students.
Program:
1) Distribution and submission of application form: from 20th Mangsir 2078 to Poush end and 7th Magh 2078 (with double fee).
2) Detailed information related to entrance examination and admission: As determined by the office of the Dean
3) Class operation: from the 1st of Falgun 2078
4) Operation of this group: 2079 Mangsir month
5) The enrolled students should submit the TU registration form to the Tribhuvan University (TU) Examination Control Office, Balkhu by 2079 Baishakh end.
6) Students will have to submit different application forms in the campus according to each faculty / educational institution and subject they want to get admission.
7) When submitting the application, along with the recently taken photo and transcript and certified copy of character certificate should be submitted.
8) Detailed information can be obtained from the concerned Dean's Offices and Campus.
P.S .: To inform the concerned bodies for enrolling students, conducting classes and conducting examinations as per the published educational schedule.
Tribhuvan University