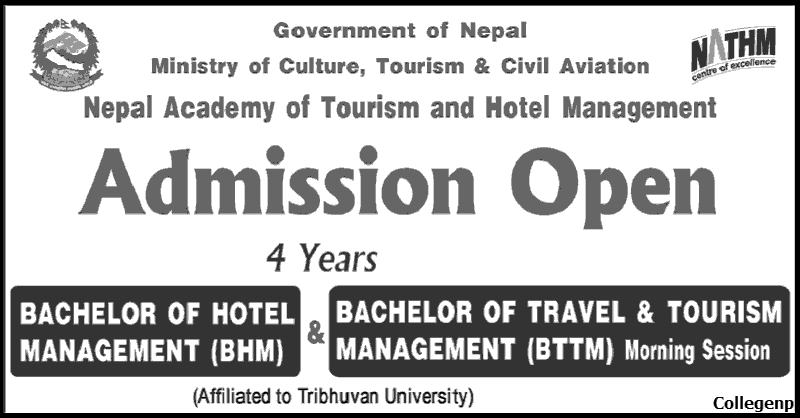 BHM and BTTM Admission Open at NATHM:
Government of Nepal, Ministry of Culture, Tourism & Civil Aviation, Nepal Academy of Tourism and Hotel Management (NATHM) Admission Open for 4 Years BHM and BTTM (Affiliated to Tribhuvan University)
BACHELOR OF HOTEL MANAGEMENT (BHM)
BACHELOR OF TRAVEL & TOURISM MANAGEMENT (BTTM) Morning Session
Applicants can fill the online applications (GMAT) form from January 07 - February 05 2021(2077/09/23 to 2077/10/23 at URL haps://www.tudoms.org/cmat/create
The Central Management Admission Test (GMAT) will be conducted by the Faculty of Management TU, on February 13, 2021 (2077/11/01) Saturday at 8:00 am.
Eligibility:
Applicants must have minimum D+ grade in each subject of grade]] and 12 with CGPA 1.8 or more
Or, Minimum score of second division marks in 10+2, PCL, or Equivalent in any discipline.
Or, Students who are waiting for grade 11 and grade 12 results can also apply. However-, they have to submit passed certificates of grades 11 and 12 at the time of admission.
Suan Davit Ratabnat Lasko Vocational and University Technic" College
Contact Address:
NATHM RABIBHAWAN, KALIMATI - KATHMANDU
Telephone:01- 5970605, 01-4271028, 01-4286467
Email: [email protected]
Website: www.nathm.gov.np
Facebook: www.facebook.com/nathm.official
Instagram: www.instagram.com/nathm.official