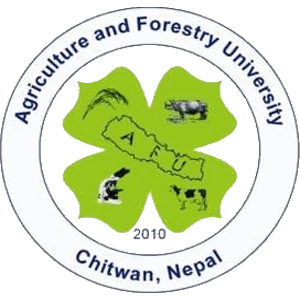 BSc Agriculture (B.Sc. Ag.) Entrance Examination Online Registration Open from Agriculture and Forestry University, Faculty of Agriculture, Rampur, Chitwan.
Applications are invited from students who have reached the minimum educational qualification required to study at the Bachelor of Agriculture (BSc Ag) level. For the academic session 2078/079
Affiliated College and Campus:
Natural Resource Management College, Purunchaur - Kaski
Natural Resource Management College, Kapilakot -Sindhuli
Natural Resource Management College, Tikapur-Kailali
Natural Resource Management College, Pakhribas-Dhankuta
Natural Resource Management College, Bardiwas-Mahottari
Natural Resource Management College, Khajura-Banke
Natural Resource Management College, Madichaur) -Rolpa
Natural Resource Management College, Dullu-Dailekh
Private Colleges:
Bright Midwest Agriculture and Forest Science Campus, Birendranagar-Surkhet
Valley Agriculture Campus, Chapagaun-Lalitpur
Ramnagar Technical and Management Campus, Sunwal-Nawalparasi
Eastern Agriculture Campus, Gauradaha-Jhapa
Livelihood Agricultural Science College, Itahari-Sunsari;
Gorkha Polytechnic College and Research Center, Baijnath-Banke
The following is the information regarding the following program related to the recruitment program. The applicant should submit his / her educational qualification certificate, certificate of citizenship, equivalence certificate along with the online application form.
Applicants wishing to apply under different quotas should attach a copy of the relevant quota certificate or letter of recommendation and a recent passport size photograph 1 (one) with both ears.
Eligibility Criteria:
Passed at least 2nd division or 'C' Grade in SEE or similar examination and I.Sc. (Science), or 10+ Science, or 10+2 (Agricultural Science) technical level, or at least 100 marks in English, Chemistry level. Must have studied Biology and Mathematics and Physics subject of at least 50 marks and have passed at least 50% marks of the total marks or 'C' Grade in each of the above-mentioned subjects as well as 'C+' Grade (2.4 CGPA) in the total marks. Must have at least a 'C' grade for both Theory and Practical.
Note: Filling the application form without qualification will disqualify the applicant and the applicant will not be included in the entrance examination.
Online Application Form Submission Duration:
The online application form can be filled from the website of AFU www.afu.edu.np from 26th of Poush 2078 to 12:00 pm of 14th Magh 2078. If there is any difficulty in the application process, technical assistance can be obtained by contacting [email protected]. No action will be taken on the online application which has not been filled properly.
- No action will be taken on the application form and other documents sent through any medium other than the Online Application. Also, if any documents are not received for any reason, the amount deposited in the bank will not be refunded.
Application Form and Entrance Exam Fee:
The entrance examination fee is fixed at Rs. 4,000 only. The amount has to be deposited in the name of AFU Entrance Examination at Call Deposit No 00815263460 in Siddhartha Bank Limited, Narayangarh branch. The full name of the applicant must be written in the name of the depositor in the bank voucher. Or you can deposit money from e-Sewa, Khalti App, and Connect IPS.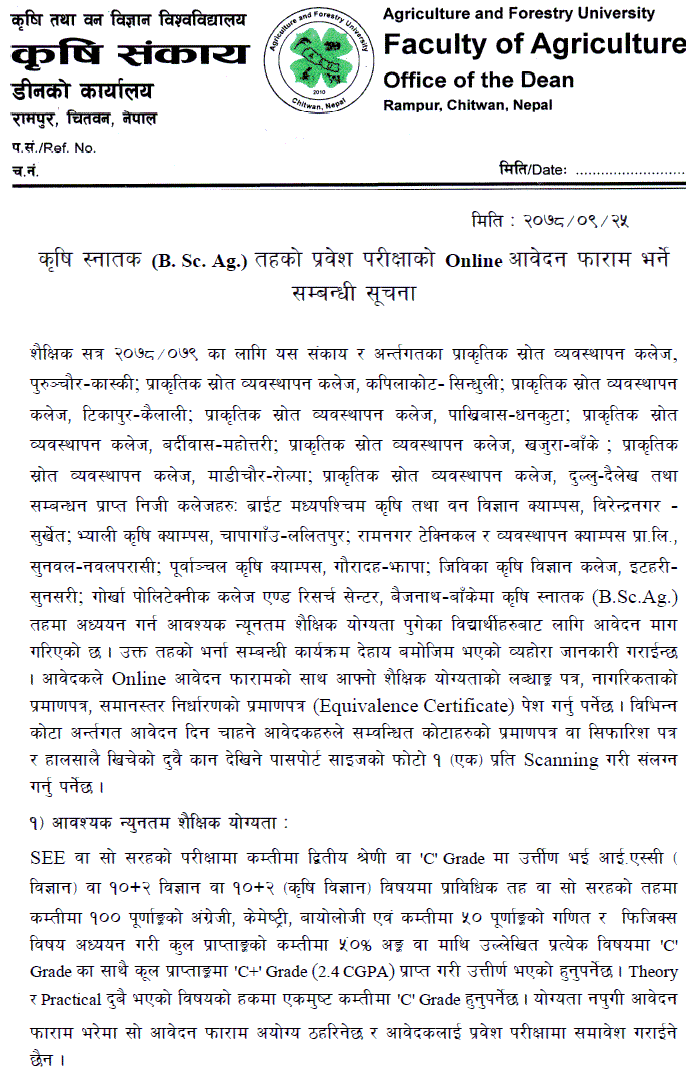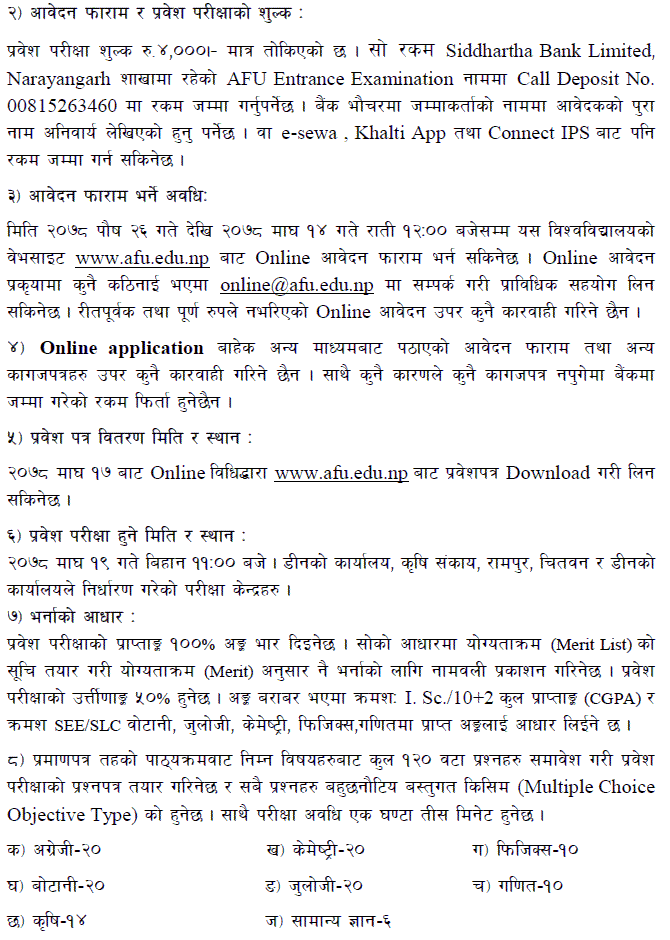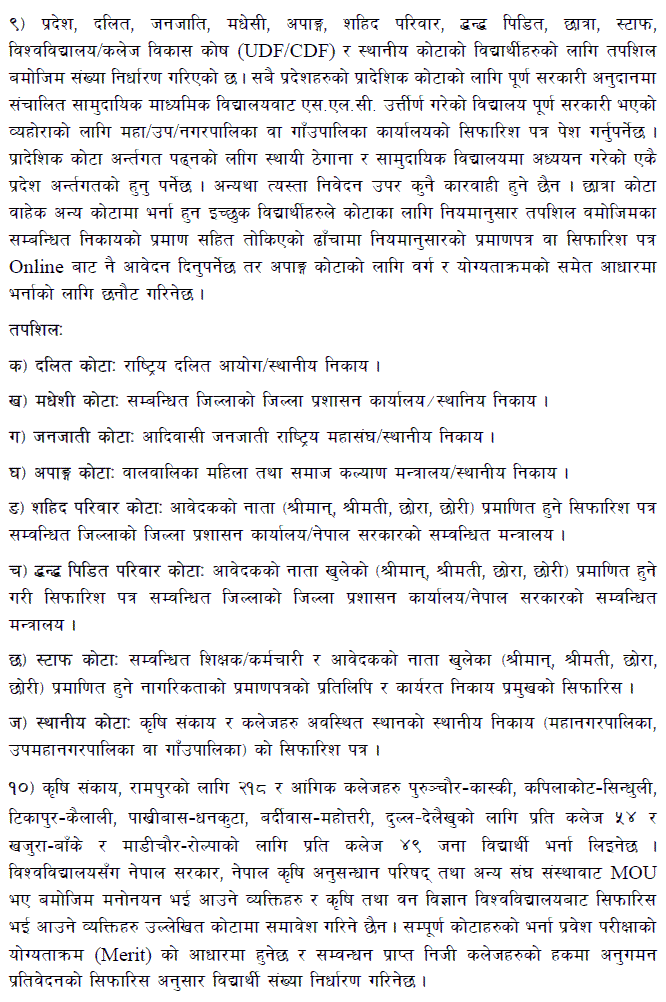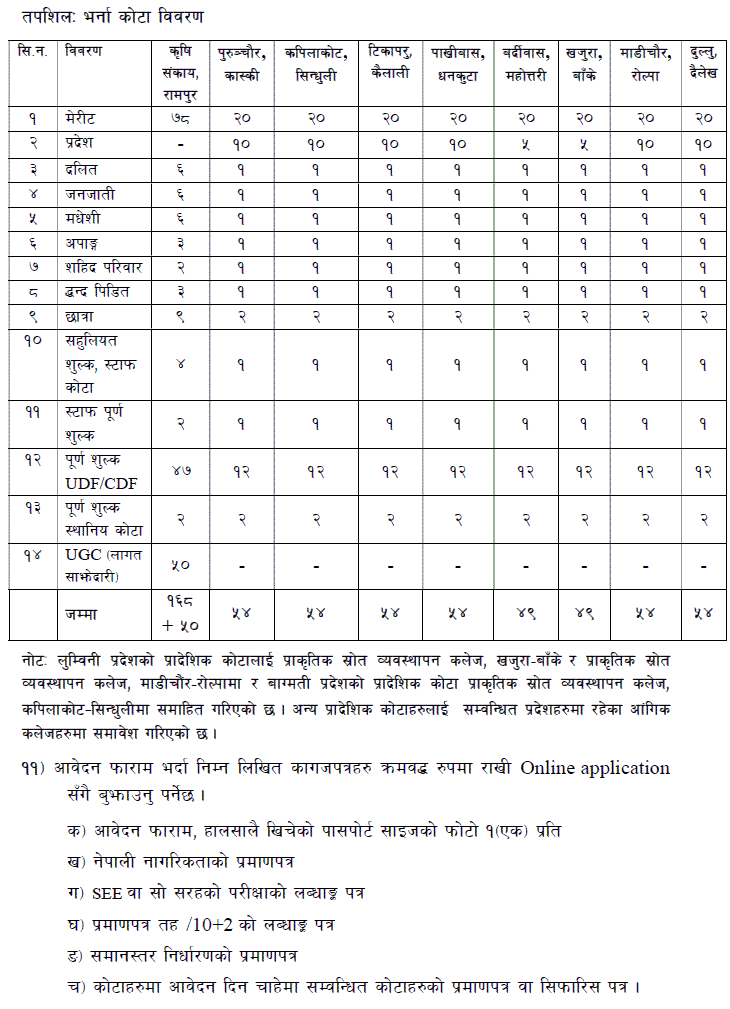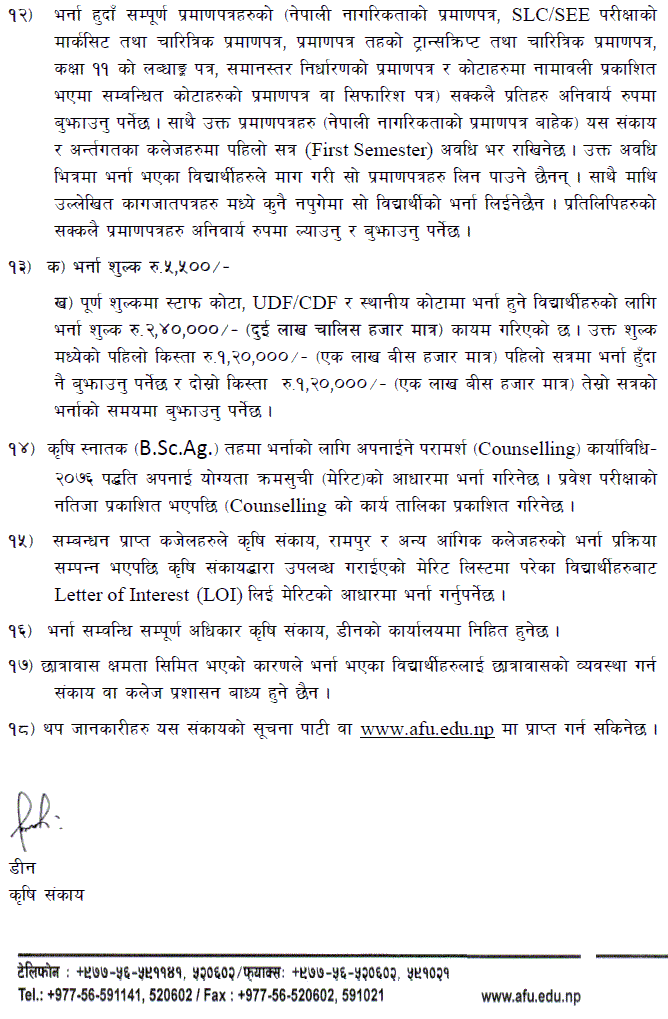 Download:
BSc Agriculture (B.Sc. Ag.) Entrance Examination Online Registration Open from AFU.Pdf
Notice
Entrance Exam