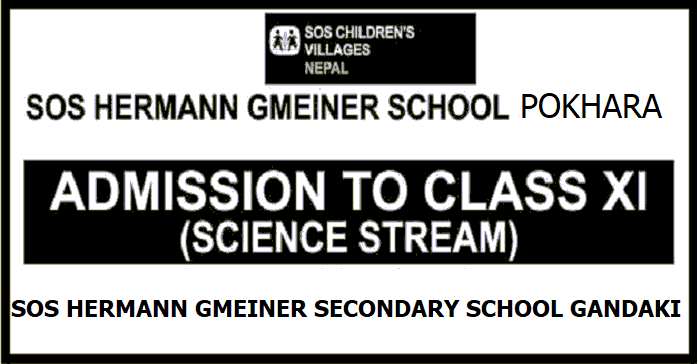 SOS Hermann Gmeiner Secondary School Gandaki Announces admission open in Grade XI Science for the academic session 2079 (2022/2023). Fresh SEE or equivalent graduates may apply by meeting the following criteria:
* Minimum GPA 3.0 from Nepali medium government schools and GPA 3.2 from private and English medium schools.
* At least Grade C+ in each subject and Grade B in C. Maths, Optional Maths, Science, and English.
* The sum of Grade Points in C. Maths, Opt. Maths, Science, English, and GPA must be a minimum of 15 from Nepali medium government schools and 16 from private and English medium schools.
Admission Procedure:
* Form distribution: Shrawan 12, 2079
* Form submission: On or before Shrawan 17, 2079 by 4 pm
* Written test: Shrawan 18, 2079 (11:00 am to 1:00 pm)
* Documents required: Filled up form, two recent passport size photographs, attested copy of SEE grade-sheet or internet downloaded grade-sheet, and a copy of SEE admission card.
* Subjects for the written test: English, Science & Mathematics (C. Maths and Opt. Maths)
Deserving students from economically and socially underprivileged backgrounds are encouraged to apply for the scholarship.
For more information, please contact:
SOS HERMANN GMEINER SECONDARY SCHOOL GANDAKI
Pokhara -15, Rambazar, Gandaki Province
Phone Number: 061-430569, 430269
www.soshgsgandaki.edu.np
Note: The school shall remain open on Saturday and public holidays too for the admission procedure.
Admission Open
NEB Class 11
NEB
Pokhara