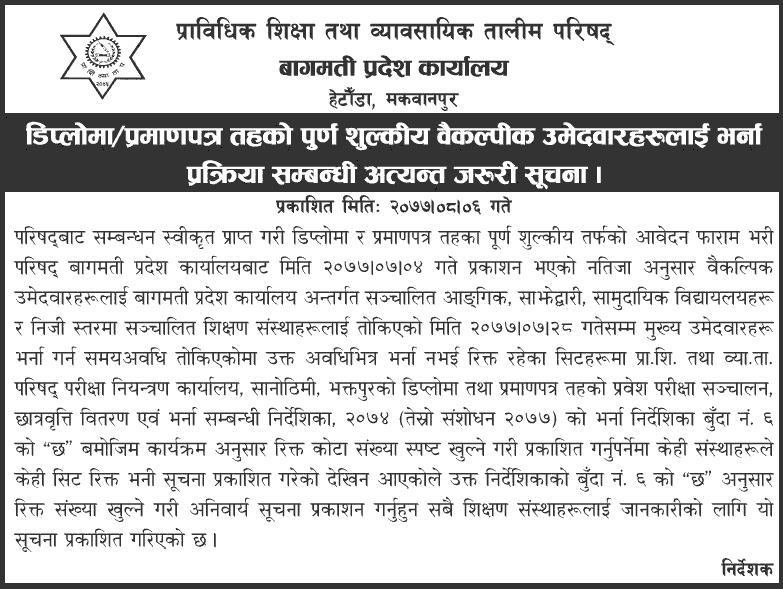 CTEVT Bagmati Pradesh Notice for Admission to PCL, Diploma and Pre-Diploma Admission for Alternative Candidates:
Council for Technical Education and Vocational Training (CTEVT), Bagmati Pradesh Office, Hetauda, ​​Makwanpur
According to the results published by the CTEVT Bagmati Pradesh office on 2077-07-04 after receiving the affiliation approval from the council and filling the application form for the full fee of diploma and certificate level;
CTEVT Bagmati Pradesh Office-run, affiliated, Partnership, Community Schools and Privately run Educational Institutions have been given a deadline of 2077-07-28 to admit the main candidates;
The main candidates were not admitted within that period, and the alternative candidates in the vacant seats are admitted as per the CTEVT Examination Control Office, Sanothimi, Bhaktapur. Diploma and Certificate Level Entrance Examination, Scholarship Distribution, and Admission Guideline, 2074 (Third Amendment 2077).
According to the program, the number of vacancies should be made public, as some organizations have published notices that some seats are vacant. This notice has been published for the information of all the educational institutions to publish the mandatory notice as per point number 6 of the said guideline.
Published: 2077-08-06