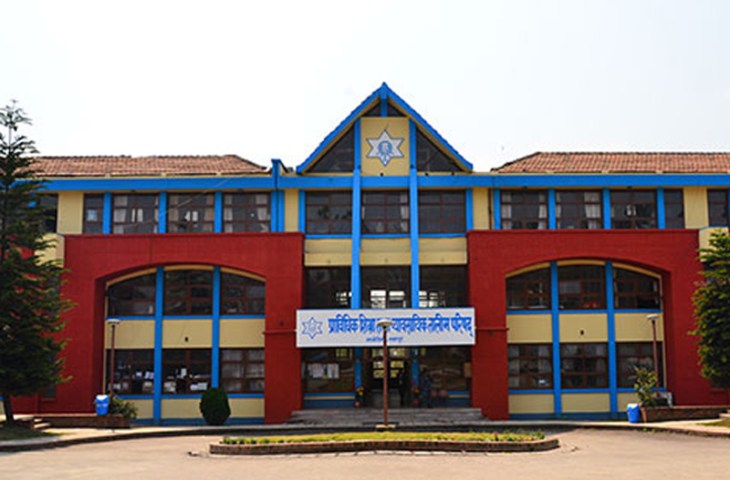 Council for Technical Education and Vocational Training (CTEVT), Examination Control Office, Sanothimi, Bhaktapur Very important information regarding filling up of application form in vacant quota for free training in Industrial Apprenticeship Training Program!
According to the approved budget and program of Technical Education and Vocational Training Council (CTEVT), Training Development Division, 2078/079; Due to the low number of trainees enrolling in the free pre-diploma level 24 month period Apprenticeship training; The following educational institutions, programs and quotas are subject to the following conditions: Eligibility as per details for selection of trainees in the following constituent, partner, and TECS community schools, which are licensed to conduct Industrial Trainee Training Program from the Council (CTEVT) Office for admission in the academic session 2078/079. This information has been republished for the information of the concerned educational institution and everyone to fill / fill the application form from the Nepali citizens who have arrived.
Details:
1) Required Educational Qualification:
A) In case of entrance examination before the application of alphabetical system: Passed SLC or similar examination.
B) In case of result of alphabetical system: Achieved minimum E grade in the entrance examination or SEE examination from a recognized educational institution.
2) Basis for selection of examinees:
A) The final selection of applicants will be from SLC or SEE score and interview. The score of SLC or SEE will be 50 percent and the score of interview will be 50 percent. In order to be recommended in the recruitment process, a minimum of 40 marks should be obtained by getting SLC or SEE marks and interview marks. Students will be admitted on the basis of quota number specified on the basis of merit order.
(B) For the selection, the concerned school will evaluate and provide 50 percent marks on the basis of SLC or SEE score.
C) A list of main candidates and alternate candidates will be prepared on the basis of SLC or SEE scores and interview scores. Candidates in the final selection will be called for admission by public notice. If the recruitment from the main candidate is not completed, the admission will be done on the basis of merit among the alternatives.
D) In ​​case of applicants with equal marks, the basis of SLC / SEE examination will be taken and if it is equal then the qualification order will be determined on the basis of the result of compulsory mathematics, science and English of SLC / SEE examination respectively.
3) Names, addresses and details of the educational institutions which have been given permission to conduct industrial apprenticeship training from the council / office for the academic session 2078-079:
| | | | | |
| --- | --- | --- | --- | --- |
| Contact Details of Insititute | Courses | Total Seats | Vacant Seats | Type of Institute |
| Shree Secondary School, Chandrapur-9, Dumriya, Rautahat | Electrical Engineering (Apprenticship) | 20 | 8 | TECS |
| Shree Bacchhauli Secondary School, Sauraha, Chitwan | Hotel Management (Apprenticship) | 20 | 6 | TECS |
| Panauti Technical School, Kavre | Automobile Engineering (Apprenticship) | 20 | 11 | Affiliated |
| Balaju Schol of Engineering and Technology, Balaju, Kathmandu | Electrical Engineering (Apprenticship) | 20 | 6 | Affiliated |
| Bheri Technical School, Nepalgunj, Banke | Mechanical Engineering (Apprenticship) | 20 | 6 | Affiliated |
4) Necessary documents to be submitted along with the application form:
1) 3 recent passport size color photos with a clear face,
2) Certified copy of SLC / SEE or similar educational qualification certificate,
3) In case of passing SLC / SEE or similar examination from a country other than Nepal, a certified copy of equivalence determined by the body designated by the Government of Nepal.
4) Certified copy of Nepali citizenship certificate or birth registration certificate.
5) Programs related to the selection process:
A) Date of distribution of application form: From 2078 Poush 05.
B) Place of receiving and submitting the application form: The application form can be downloaded and filled from the concerned institutions and www.ctevtexam.org.np.
C) Deadline for submission of application form: 11th of Poush 2078.
D) Date and time of interview: 2078 Poush 13, Tuesday at 8.00 am.
E) Interviewing centers: Concerned educational institutions.
Note: Educational Institutions will be required to evaluate the applicants, seal their attendance and send the complete application forms to Buddha Air Cargo, PN, Sanothimi the day after the interview.
This information can also be viewed at www.ctevtexam.org.np.
(First published date: 2078-09-03)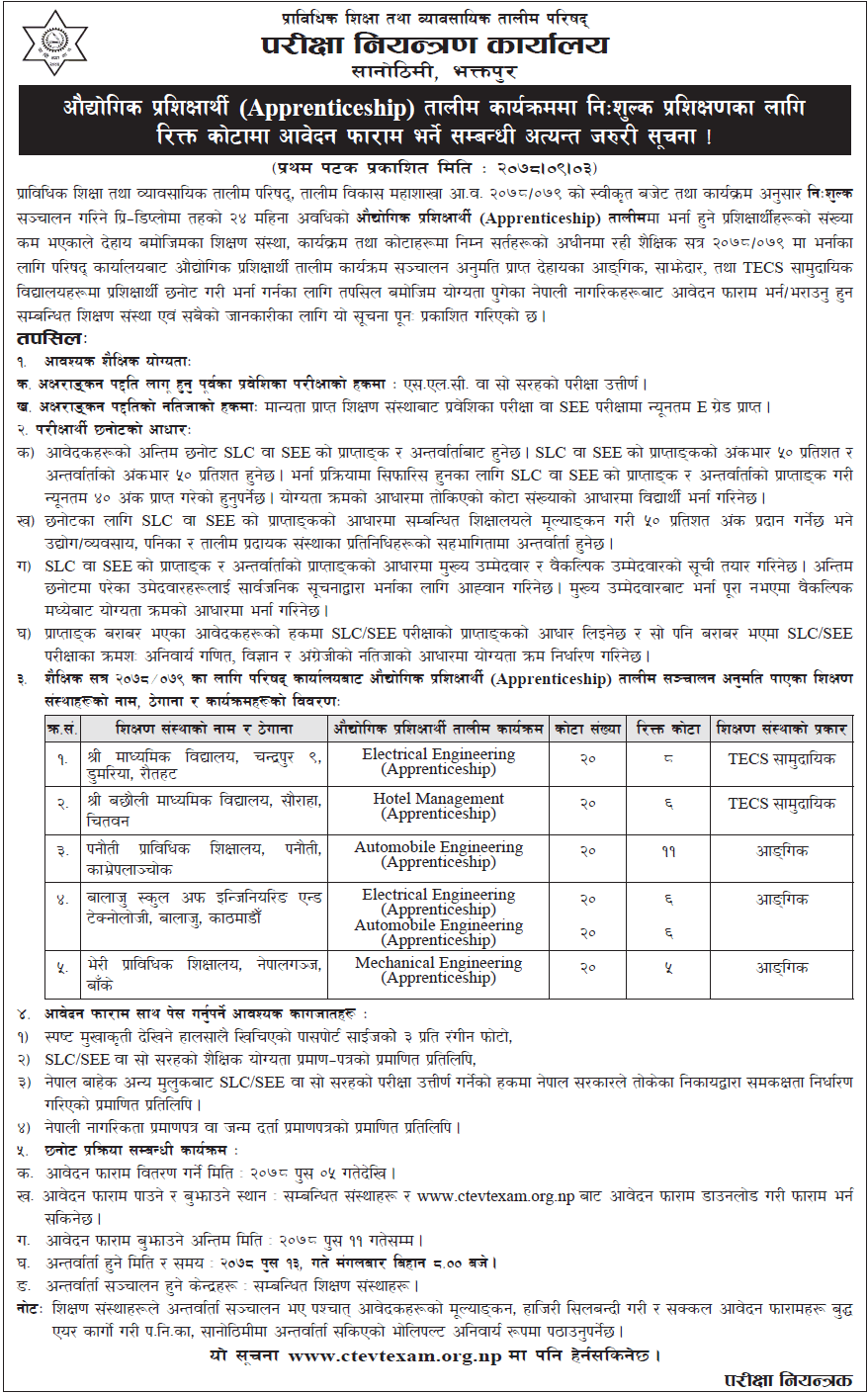 Free Training
CTEVT Scholarship
CTEVT
Training