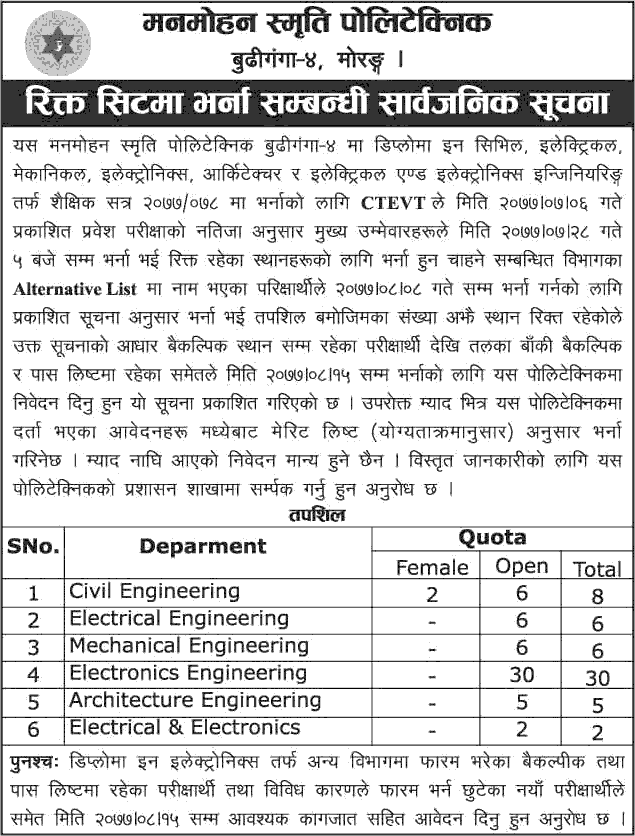 Diploma in Engineering Admission Open at Manmohan Memorial Polytechnic:
Manmohan Smriti Polytechnic (Manamohal Memorial Polytechnic), Budhiganga-4, Morang Public Notice for Admission to Vacant Seats:
For admission in Diploma in Civil, Electrical, Mechanical, Electronics, Architecture, and Electrical and Electronics Engineering in Manmohan Smriti Polytechnic Budhiganga-4 in the academic session 2077/078, according to the results of the entrance examination published by CTEVT on 2077-07-06, the main candidates have been admitted till 5 pm on 2077-07-28 and the candidates named in the Alternative List of the concerned department who want to be admitted for the vacant posts have been admitted as per the published notice for admission till 2077-08-08.
As the number as per the details is still vacant, the basis of the said notice is for the candidates who are up to the alternative place and also for the rest of the following alternative and pass list for admission till 2077-08-15; This notice has been published to apply to this polytechnic. From among the applications registered in this Polytechnic within the above period, admission will be made as per the merit list. An overdue application will not be accepted. For more information, please contact the Administration Branch of this Polytechnic.
Course and Available Vacant Seat Details:
| | | |
| --- | --- | --- |
| Course | Open Quota | Female Quota |
| Diploma in Civil Engineering | 6 | 2 |
| Diploma in Electrical Engineering | 6 | - |
| Diploma in Mechanical Engineering | 6 | - |
| Diploma in Electronics Engineering | 30 | - |
| Diploma in Architecture Engineering | 5 | - |
| Diploma in Electrical & Electronics Engineering | 2 | - |
P.S .: Candidates who have filled the forms in other departments for the Diploma in Electronics and the candidates who are on the pass list and also the new candidates who have failed to fill the form due to various reasons are requested to apply by 2077-08-15 with the required documents.
Contact Details:
Manmohan Smriti Polytechnic (Manamohal Memorial Polytechnic),
Budhiganga-4, Morang, Province No. 1, Nepal
Phone: +977-21-622058, +977-21-420876
website: mmp.edu.np