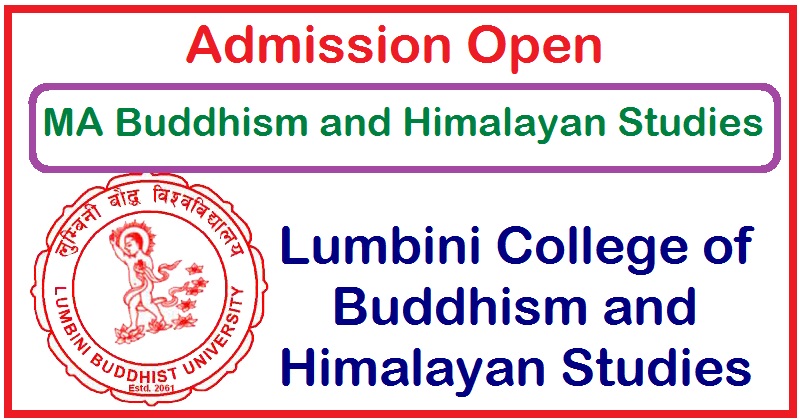 Lumbini College of Buddhism and Himalayan Studies announces Admission Open to MA Buddhism and Himalayan Studies, Affiliated to Lumbini Buddhist University.
Special Features:
Two stream courses with the option of concentration in Himalayan Buddhism and Buddhist Heritage Conservation.
Offering courses in Buddhist philosophy, history, cultures, languages (Tibetan, Sanskrit and Pali), heritage architecture, conservation techniques, etc.
Offers a broad range of elective courses: Discourse Analysis, Digital Humanities, Traditional Himalayan Buddhist medicine, etc.
Course structure balanced between lectures and seminars supported by Individualized or directed readings and independent projects.
Semester-based teaching and evaluation.
Collaboration with several European and American universities.
English medium instruction with option of examination in Nepali.
Organized meditation, retreats and writing seminars/ workshops.
Sponsored excursions for all students to Himalayan regions such as Mustang.
Merit and need based scholarships available.
Faculty with diverse expertise, including highly experienced international, widely trained and internationally recognized scholars, Buddhist Geshes, Lamas and monks.
Evening Classes suitable for working professionals.
Blessed by the Karmapa, the late 14th Shamarpa and various Buddhist masters and institutions.
Academic program run under the leadership of Dr. Ramesh K. Dhungel, Professor of Buddhist Studies, Himalayan Cultures and Languages.
Eligibility Criteria:
Bachelor's degree or equivalent in any discipline with the option of class audit for those without a bachelor's degree.
For more information please visit
Lumbini College of Buddhism and Himalayan Studies
Chuchepati, Chabahil (Taragaon Regency Premises), Kathmandu
Telephone: +977-1-5178499/9851107965/9802024205
Email: [email protected]
www.bodhihimalaya.org/www.bodhihimalaya.edu.np
Classes commence September 2018