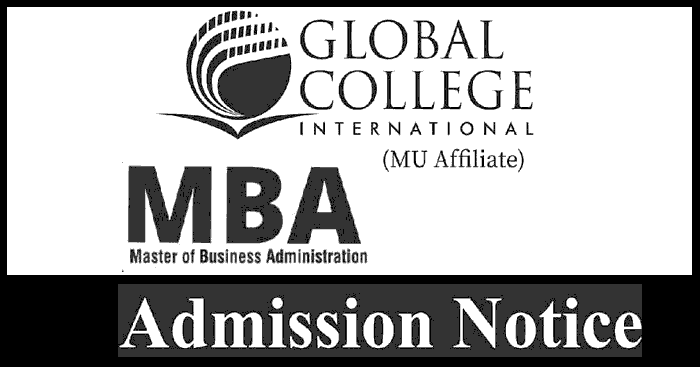 Global College International Admission Open MBA for Spring 2023 Intake: Global College International (GCI), a center for world-class management education in Nepal that prepares every graduate to make a difference at the global level, announces admissions to MBA (Spring 2023 Intake).
The Master of Business Administration (MBA) program at GCI is an intensive two-year course spread over four semesters of full-time study with an option to pursue a specialization in one of the areas: Finance, Marketing, and HR.
Capacity building through ERASMUS+ (European Union-funded projects), CPD, and GIPRD.
Scholarship Scheme for MBA at GCI
· GCI Merits Scholarship
· MKCEF Scholarship
· MU Scholarships
Distinctive Features of MBA at GCI
Experiential Engagement: Practical and experiential learning through research, case-based study, field exposures, seminars, and project learning.
Research Apprenticeship: Research training and development, and research engagements through GIPRD and GCI-Research Cell.
Expert Pedagogues: International faculty, researchers, case experts, business practitioners, and corporate professionals.
International Exposures: Conferences, webinars, career placements, faculty and student exchanges, collaborations, and partnerships.
Online registration/admission is available
Global College International
Mid-Baneshwor, Kathmandu, Nepal
Phone No. : 01-4488410
Mobile No. : 9801857720 / 9801857728
Email: [email protected]
Web: www.gci.edu.np
Admission Open
MBA Admission