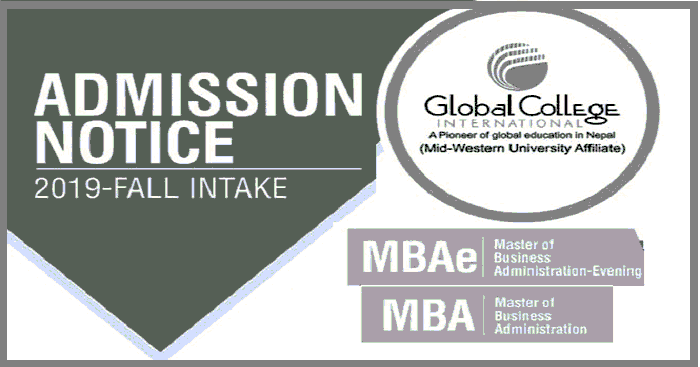 Global College International (GCI), a center for world-class management education in Nepal, which prepares every graduate to make a difference at a global level. "Announces Admissions to MBA and MBA-Evening program for 2019-fall Intake".
MBA - Master of Business Administration:
GCI MBA program is an intensive two-year course spread over 4 semesters of full-time study with the option of pursuing a specialization in one of the disciplinary area in Finance, Marketing and HR.
MBAe - Master of Business Administration Evening:
Eligibility: The candidate must have a Bachelor's Degree from a recognized academic Institution with a minimum of 45 percent in aggregate or 2.0 CGPA on a scale of 4.0. The candidate must possess at least 1 year of professional experience for enrolment to MBA-Evening.
Last Date of Form Submission: July 30, 2019
MU-MAT Entrance Test: August 03, 2019
Session Commencement (Fall Session) August 21, 2019
Note: Pre-registration is open on a provisional basis.
Scholarships for Meritorious and Deserving Candidates
Global College International (GCI):
Mid-Baneshwor, Kathmandu, Nepal
+977-01-4465186, 01-4488410
Email: [email protected]
Website: www.gci.edu.np