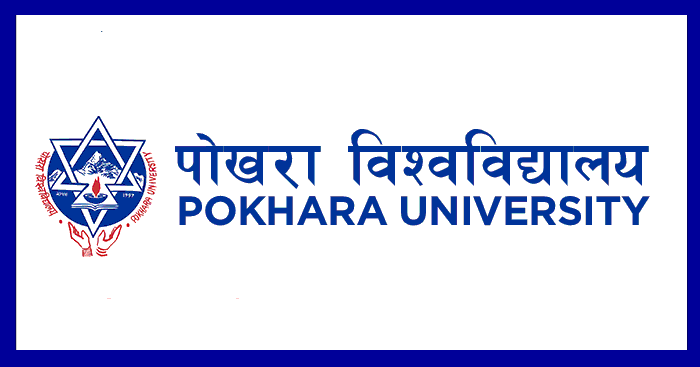 Pokhara University Faculty of Management Studies Office of the Dean Announces Admission Open for Scholarship & Fee Paying MBA / MBA-Evening Program (MBA-EP) / MBA(Finance) / MBA (Global Business) / Executive MBA(EMBA) / MCIS and MHCM
Pokhara University, Faculty of Management Studies (FMS) invites applications for admission in Masters of Business Administration (MBA), MBA-Evening Program (MBA-EP), MBA(Finance), MBA(Global Business), Executive MBA (EMBA), Masters of Computer Information System (MCIS) & Masters of Health Care Management (MHCM) programs for March 2022 intake in constituent and affiliated colleges of Pokhara University for both fee-paying and scholarship applicants.
Eligibility:
For MBA Program: Applicants must have a bachelor's degree or equivalent with 15 years of formal education (12 years of schooling and three years of graduation) in any discipline with a minimum CGPA 2.0, second division, or 45% in bachelor's level. In addition, applicants applying for Executive MBA must have a minimum of two-year's work experience at the supervisory or executive level in the organized sector.
For MCIS Program: Candidates having bachelor's degree - BIT/BCA/BCIS/BIM/BBIS or equivalent with 2.5/4 CGPA (in the second division) or above.
For MHCM Program: Applicant must have (a minimum of 15 years formal education: 12 years of schooling plus 3 years of graduation) BHCM degree or Post Graduate Diploma in HCM or Bachelor degree in health science field or equivalent degree with 2.5/4 CGPA (in the second division) or above.
Provisional Application: An undergraduate student who has completed bachelor's level and is waiting for the final semester/year result (before March 2022) may apply on a provisional basis, provided he/she has already appeared in the final semester/year examination.
Application Process:
Applicants applying for fee-paying seats should submit their applications to respective schools/colleges. The application form is available and can be downloaded from the respective websites of the concerned schools/colleges. Applicants can submit online applications and are encouraged to apply online.
The application fee for all the programs is Rs.2,500 for fee-paying and Rs.2000 for scholarship candidates.
The Application for scholarship can also be submitted online via pu.edu.np. Please refer to our website www. pu.edu.np for detailed information about the scholarship.
Key Dates:
Application opens from 2078/11/12 (Feb. 24, 2022)
Last date of application form submission:
For Scholarship: 2078/12/02 (March 16, 2022)
For fee Paying (PUMAT): 2078/12/07 (March 21, 2022)
Written Exam Date, Time, and Venue:
For Scholarship: 2078/12/08, (March 22, 2022) 8:00 AM, School of Business, Pokhara University
For fee Paying (PUMAT) admission test date time and venue: 2078/12/11, (March 25, 2022) The time and venue for the admission test will be notified later
Exam Type, Questions and Duration:
For Fee Paying: Pokhara University, FMS, will conduct PUMAT, which will include 100 objective questions with 5 answer options comprising sections of Verbal ability-25, Quantitative ability-25, Logical-Reasoning-25, and General Awareness-25. The duration of the examination will be of 2 hrs. After the Dean's office publishes the Merit List of the PUMAT, the candidates who qualify the test will have to apply for admission to the program and college/s of their The final merit score will be published by the concerned colleges after including the mark scored by the student in personal interview and mark allocated for their previous academic achievements/records. The final merit score will be the basis for admission.
For Scholarship: There will be a separate examination for scholarship as per the PU's Scholarship Rules. This test includes 150 objective questions with 5 answer options comprising sections of Verbal ability 40, Quantitative ability 40, Logical Reasoning 40, and General Awareness 30. The duration of the Examination will be 3 hrs. Please visit pu.edu.np for scholarship details. Candidates applying for scholarships will only be eligible if they have applied for scholarships within 3 years of their bachelor's level completion.
NOTE: The Dean's Office reserves the right to make amendments in the examination modality due to the uncertain pandemic situation of COVID-19.
For further information, please visit www.pu.edu.np or contact the Dean's office, FMS at 061-504076/9856061666/9856081651.
Following are the details of our Schools/Colleges running MBA/MCIS/MHCM Program:
College

Programs

School of Business, PU, Pokhara

061-4147/ 9841006911

www.pusob.edu.np

MBA

Ace Institute of Management, Kathmandu

01-4474712/ 01-4469019

www.ace.edu.np

MBA, MBA-EP, EM BA

Apex College, Kathmandu

01-4478841/ 9851079266

www.apexcollege.edu.np

MBA, MBA-EP

VS Niketan College, Kathmandu

01-4111602/ 01-4106576

www.vsniketan.edu.np

EMBA

Uniglobe College, Kathmandu

01-4115690 / 01-4115569

www.uniglobe.edu.np

MBA, MBA-Finance

SAIM College, Kathmandu

01-4474747 / 01- 4484832

www.saim.edu.np

MBA(GlobalBusiness)

Quest International College, Lalitpur

01-5547669 / 01-5521950

www.quest.edu.np

MBA

Excel International College, Kathmandu

01-4485109 / 9801200914

wvvvv.excelcollege.edu.np

MBA

Boston International College, Chitwan

056-526203/ 056-531362

www.bostoncollege.edu.np

MBA

Rajdhani Model College, Kathmandu

01-4465705/9848322647

www.rmccollege.edu.np

MBA-EP

Nepal College of Information Technology (NCIT), Balkumari Lalitpur

01-5186354, 01-5186355

www.ncit.edu.np

MCIS

National Open College, Sanepa, Lalitpur

01-5183226

www.noc.edu.np

MHCM
[First Date of Publication: 2078/102, (Feb. 24, 2022)]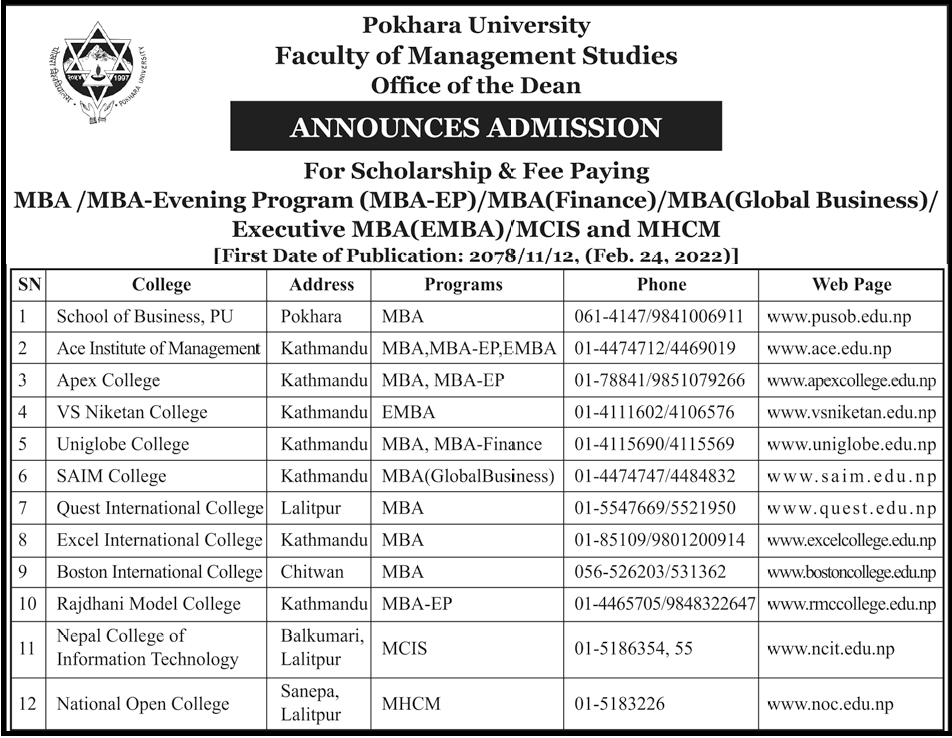 MBA Admission
Pokhara University
Pokhara