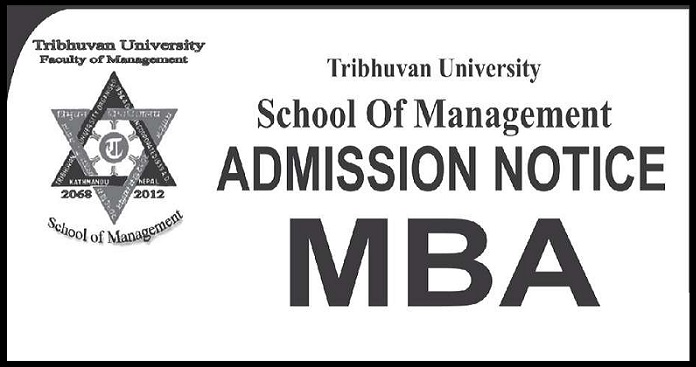 Tribhuvan University School Of ManagementADMISSION NOTICE: The School of Management at Tribhuvan University (SOMTU) invites applications for admission to the MBA program for the 2022 Fall session. The SOMTU MBA is designed as an intensive full-time two-year program spread over four semesters, which consists of courses works, seminars, practicums, experiential learning, and research projects.
Key Features
Globally recognized program; international outlook; well recognized by the corporate sector; cutting-edge courses; wide range of electives; real-life exposure to the business world; highly qualified and experienced professors; innovative pedagogy; and inspirational academic environment.
Eligibility
Only applicants having completed at least 15 years of formal education (12 years of schooling plus 3 years of Bachelor's level) with a minimum CGPA of 2.0 or 45 percent in Bachelor's level from .universities recognized by Tribhuvan University may apply.
Applicants who have completed a Bachelor's level of education but are awaiting final results may also apply.
Scholarship:
Indra Bhakta Shrestha scholarship will be awarded to needy and deserving students*
Key Dates
Application deadline: Wednesday; August 9, 2022 (24th Shrawan 2079)
Application Procedure
The candidates need to apply online by filling up an online application form by visiting www.somatmba.com
Course Counseling
Interested candidates can visit SOMTU, Kirtipur for detailed counseling
For detailed Information:
Office of the School of Management
New Management Building, Kirtipur, Kathmandu
Phone: 01-4332718, 01-5907928,
Email: [email protected]
URL: www.somtu.edu.np
Admission Open
MBA Admission