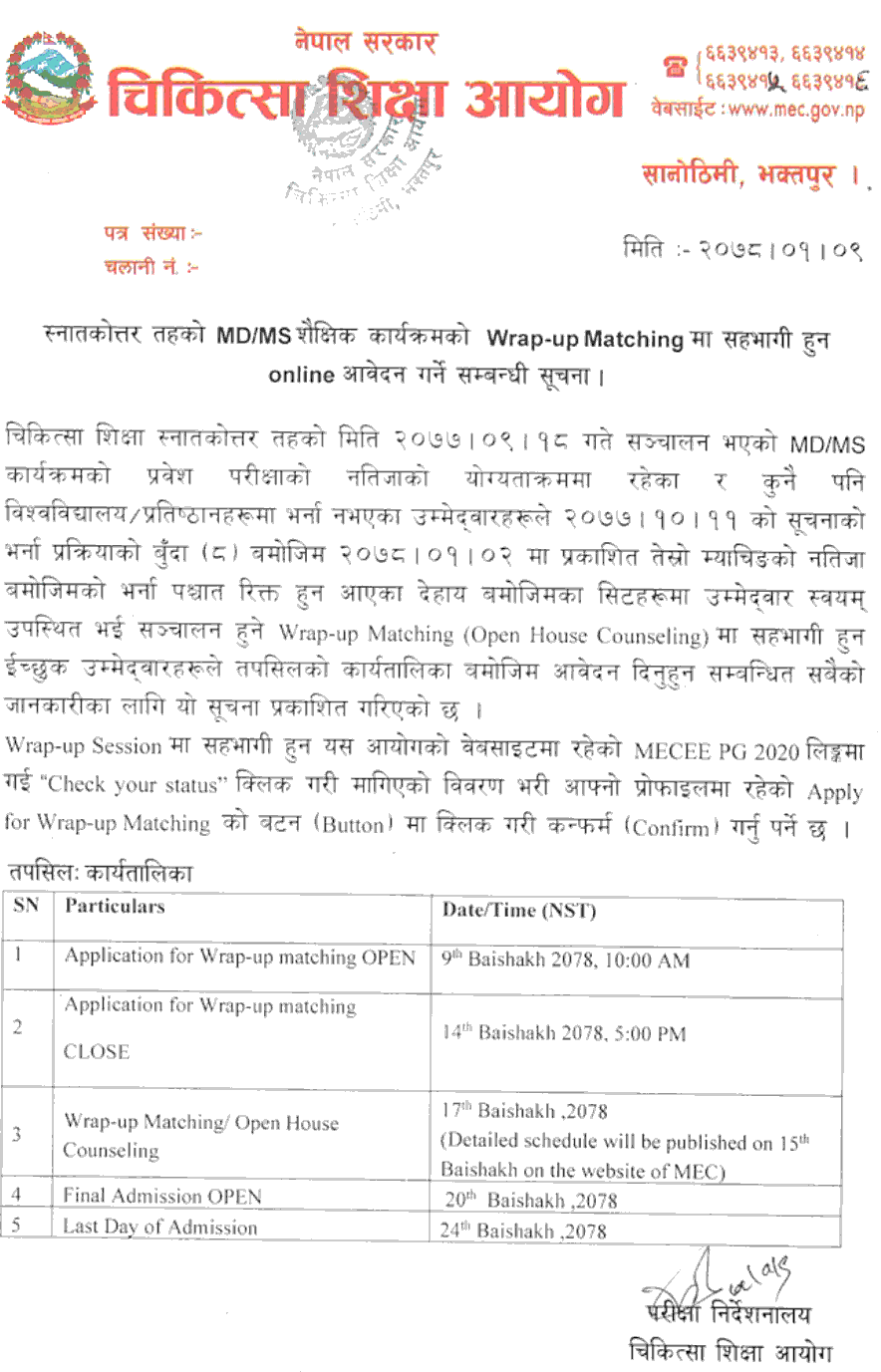 MD / MS Educational Program Wrap-Up Matching Online Application Open:
Notice regarding online application to participate in Wrap-Up Matching of Post Graduate MD / MS Educational Program: Candidates who are in the process of qualifying for the results of the entrance examination of the MD / MS program conducted at the postgraduate level of medical education on 2077-09-18 and are not enrolled in any of the universities/institutes have to submit the information of 2077-10-11 as per point (5) of the admission process 2078-01-02.
Candidates wishing to participate in the Wrap-up Matching (Open House Counseling) in the following seats which have become vacant after the recruitment as per the results of the third match published in have applied as per the detailed schedule, this notice has been published for the information of all concerned.
To participate in Wrap-Up Matching, go to the MECEE PG 2020 link on the Commission's website, click "Check Your Status", fill in the required details and confirm by clicking on the Apply for Wrap-Up Matching button on your profile.
Schedule:
| | |
| --- | --- |
| Particulars | Date / Time (NST) |
| Application for Wrap-up matching OPEN | 9th Baishakh 2078, 10:00 AM |
| Application for Wrap-up matching CLOSE | 14th Baishakh 2078, 5:00 PM |
| Wrap-up Matching,/ Open House Counseling | 17th Baishakh, 2078 (Detailed schedule will be published on 15th Baishakh on the website of MEC) |
| Final Admission OPEN | 20th Baishakh .2078 |
| Last Day of Admission | 24th Baishakh,2078 |
Vacant Seats of MD/MS after The Third Admission:
| | |
| --- | --- |
| Institute/Program | Vacant Seats |
| B.P. Koirala Institute of Health Sciences | 20 |
| MD/MS | 20 |
| Anatomy/Clinical Anatomy | 3 |
| Biochemistry/Clinical Biochemistry | 3 |
| Community Medicine | 3 |
| Forensic Medicine | 2 |
| General Surgery | 1 |
| Pathology/Clinical Pathology | 1 |
| Pharmacology/ Clinical Pharmacology | 4 |
| Physiology/Clinical Physiology | 3 |
| Chitwan Medical College | 3 |
| MD/MS | 3 |
| Microbiology/Clinical Microbiology | 2 |
| Orthopedics/Orthopedics and Trauma Surgery | 1 |
| College of Medical Sciences | 17 |
| MD/MS | 17 |
| Anaesthesiology | 1 |
| Anatomy/Clinical Anatomy | 4 |
| Biochemistry/Clinical Biochemistry | 2 |
| Community Medicine | 1 |
| General Surgery | 1 |
| Microbiology/Clinical Microbiology | 4 |
| Pharmacology/ Clinical Pharmacology | 2 |
| Physiology/Clinical Physiology | 2 |
| Gandaki Medical College | 3 |
| MD/MS | 3 |
| Anatomy/Clinical Anatomy | 2 |
| Forensic Medicine | 1 |
| Kathmandu Medical College | 8 |
| MD/MS | 8 |
| Anaesthesiology | 1 |
| Community Medicine | 1 |
| General Practice and Emergency Medicine (MDGP) | 1 |
| Microbiology/Clinical Microbiology | 1 |
| Pharmacology/ Clinical Pharmacology | 2 |
| Physiology/Clinical Physiology | 2 |
| KIST Medical College | 6 |
| MD/MS | 6 |
| Anatomy/Clinical Anatomy | 2 |
| Biochemistry/Clinical Biochemistry | 2 |
| Microbiology/Clinical Microbiology | 2 |
| KU School of Medical Sciences | 9 |
| MD/MS | 9 |
| Anatomy/Clinical Anatomy | 2 |
| Community Medicine | 1 |
| Forensic Medicine | 1 |
| Ophthalmology | 1 |
| Pharmacology/ Clinical Pharmacology | 2 |
| Physiology/Clinical Physiology | 2 |
| Lumbini Medical Science | 11 |
| MD/MS | 11 |
| Anaesthesiology | 1 |
| Anatomy/Clinical Anatomy | 2 |
| Biochemistry/Clinical Biochemistry | 2 |
| Community Medicine | 1 |
| Forensic Medicine | 1 |
| Microbiology/Clinical Microbiology | 1 |
| Pharmacology/ Clinical Pharmacology | 1 |
| Physiology/Clinical Physiology | 2 |
| Maharajgunj Medical Campus | 12 |
| MD/MS | 12 |
| Anatomy/Clinical Anatomy | 2 |
| Forensic Medicine | 2 |
| General Practice and Emergency Medicine (MDGP) | 2 |
| General Surgery | 1 |
| Ophthalmology | 2 |
| Pharmacology/ Clinical Pharmacology | 1 |
| Physiology/Clinical Physiology | 2 |
| Manipal College of Medical Sciences | 12 |
| MD/MS | 12 |
| Community Medicine | 1 |
| Microbiology/Clinical Microbiology | 4 |
| Orthopedics/Orthopedics and Trauma Surgery | 1 |
| Pathology/Clinical Pathology | 2 |
| Pharmacology/ Clinical Pharmacology | 2 |
| Physiology/Clinical Physiology | 2 |
| National Medical College | 8 |
| MD/MS | 8 |
| Anatomy/Clinical Anatomy | 1 |
| Biochemistry/Clinical Biochemistry | 1 |
| Forensic Medicine | 2 |
| General Practice and Emergency Medicine (MDGP) | 1 |
| Physiology/Clinical Physiology | 3 |
| Nepal Medical College | 11 |
| MD/MS | 11 |
| Anatomy/Clinical Anatomy | 2 |
| Biochemistry/Clinical Biochemistry | 2 |
| Community Medicine | 1 |
| Microbiology/Clinical Microbiology | 3 |
| Physiology/Clinical Physiology | 3 |
| Nepalese Army Institute of Health Sciences | 5 |
| MD/MS | 5 |
| Anatomy/Clinical Anatomy | 2 |
| Pharmacology/ Clinical Pharmacology | 1 |
| Physiology/Clinical Physiology | 2 |
| Nepalgunj Medical College | 4 |
| MD/MS | 4 |
| Community Medicine | 2 |
| Microbiology/Clinical Microbiology | 2 |
| Nobel Medical College (Biratnagar) | 13 |
| MD/MS | 13 |
| Anatomy/Clinical Anatomy' | 2 |
| Biochemistry/Clinical Biochemistry | 2 |
| Community Medicine | 1 |
| Forensic Medicine | 2 |
| Microbiology/Clinical Microbiology | 2 |
| Pharmacology/ Clinical Pharmacology | 2 |
| Physiology/Clinical Physiology | 2 |
| Patan Academy of Health Sciences | 1 |
| MD/MS | 1 |
| General Practice and Emergency Medicine (MDGP) | 1 |
| Universal College of Medical Sciences | 3 |
| MD/MS | 3 |
| Anatomy/Clinical Anatomy | 2 |
| Pathology/Clinical Pathology | 1 |
| Grand Total | 146 |
Download: Official Notice.pdf