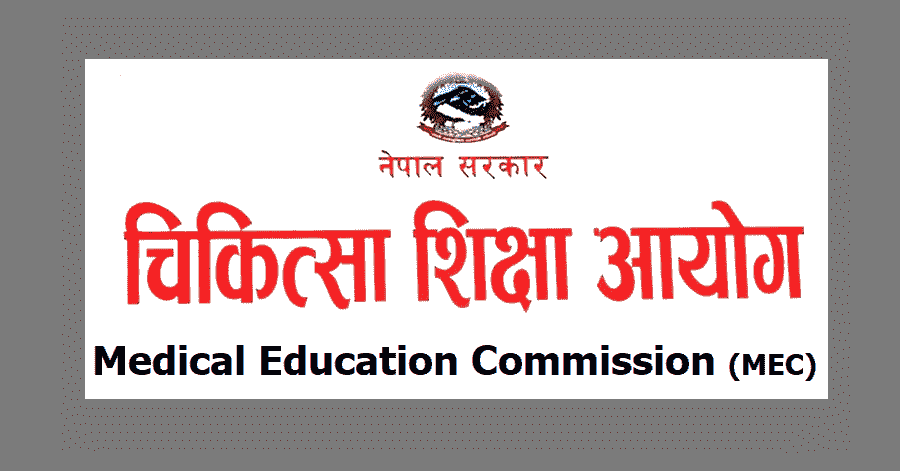 MECEE-BL 2024: Medical Education Common Entrance Examination for Bachelor Level Programs in Nepal - MBBS, BDS, BSc Nursing/BSc Midwifery, BASLP, B Perfusion Technology, BAMS, MSc MLT, BSc MIT, BPT, BPharma, B OPtometry, BPH, BNS/BMS
The Medical Education Common Entrance Examination for Bachelor Level Programs (MECEE-BL 2024) is your gateway to a promising career in the medical field. Conducted by the Government of Nepal's Medical Education Commission, this integrated entrance examination is designed to select candidates for various Bachelor of Medical Education programs. Read on to find out everything you need to know about the application process, important dates, and more.
Medical aspirants in Nepal
Parents and guardians of prospective medical students
Educational consultants and career advisors
To provide a comprehensive guide on how to navigate the MECEE-BL 2024 application process and what to expect from the examination.
Key Dates to Remember
Application Start Date: 17 Bhadra 2080 (3rd September 2023)
Application End Date: 14th Ashoj 2080 (Sunday, October 1, 2023)
Official Web Portal: MEC Government Website
How to Apply
Step 1: Visit the Official Web Portal
Navigate to the official web portal of the Medical Education Commission: MEC Government Website.
Step 2: Follow the Procedure
The application procedure is outlined in detail on the Commission's website. For more information, you can refer to the notice published on MEC's official website dated 2080/05/15.
Step 3: Submit the Online Application Form
Fill in all the required details accurately and submit the online application form within the stipulated time frame.
What to Expect from MECEE-BL 2024
Highly Competitive: Given the limited number of seats and a large number of applicants, the examination is highly competitive.
Integrated Examination: The test covers various subjects integral to medical education, ensuring a comprehensive evaluation of candidates.
Transparent Selection Process: The Medical Education Commission ensures a transparent and fair selection process, aligning with the best practices in educational testing.
Type of Entrance Test, Timing, Marks and Passing Marks:
(1) The question paper of the entrance examination will be objective and the answer sheet will be OMR Sheet. The examination will be conducted in written form.
(2) The duration of the examination will be three hours and full marks will be 200.
(3) One mark will be awarded for each correct answer and marks will be deducted at the rate of 0.25 for each wrong answer.
(4) Minimum 50th percentile or above to be included in the merit order of integrated entrance examination.
(5) Notwithstanding anything written in point (4), in the event that less than twice the number of available seats appear in the examination, there will be no obstacle to include the candidates who have scored 50% or more marks for the said educational program in the order of merit.
Examination Center
Location: The examination will be conducted in the Kathmandu Valley.
Details: Specific information about the examination center will be provided in the admit card.
How to Obtain Your Admit Card
Step-by-Step Guide
Login to Your Profile: Access your profile on the MEC Government Website.
Submit Program Application: Click the 'Submit Program Application' button on the Dashboard.
Download Admit Card: Click on the 'Download Admit Card' button.
Print: Download and print the admit card.
Note: The admit card will be available for download five days before the examination date.
Essential Documents for Application
Candidates must submit scans or photographs of the following documents. Note that photocopies will not be accepted.
Transaction Number: Last six digits of the application fee submitted voucher (for non-cash depositors).
Passport Size Photograph: A digital copy of a recent passport-size photograph.
Identification: Certificate of Citizenship/National Identity Card for Nepali candidates. Passport or Aadhaar card for foreign candidates.
Academic Records: Transcript of Diploma or Proficiency Certificate Level or Class 12 or equivalent. Equivalence certificate if required.
License: For subjects requiring a license, a scanned copy of the license issued by the relevant council.
Special Categories: For candidates applying under reserved categories, proof verified by the relevant bodies.
Special Categories Proof
Conflict Victims: Proof from the concerned District Administration Office.
Minority Groups: Evidence verified by the commission, district administration office, or local level.
Persons with Disabilities: Identity card evidence from the concerned local level.
Public School Students: Confirmation from the school principal and local education branch.
Residents of Backward Areas: Citizenship and local level evidence.
Injured or Disabled Persons: Recommendation from a registered doctor.
Creating a Profile and Submitting an Application
Profile Creation
Visit the Website: Go to MEC Government Website and click on 'Online Application'.
Register: Click on 'Register' if you don't have an account.
Fill in Details: Complete the registration form and verify your email.
Login: Use your credentials to login.
Make Payment: Pay the application fee to proceed with filling in your details.
Application Submission
Fill in Personal and Educational Details: Complete all required fields and upload necessary documents.
Save and Continue: Save each section before proceeding.
Submit: Once your profile is complete, submit the application form.
The MECEE-BL 2024 is a golden opportunity for medical aspirants in Nepal. With the examination date fast approaching, it's crucial to start your preparation early and stay updated with all the latest information. Make sure to follow the application guidelines strictly and keep an eye on the official websites for any updates or changes.
Note: This information is based on the notice published on 2nd September 2023 and aims to provide accurate and reliable information. For any further queries, it's always best to consult the official website or contact the Medical Education Commission directly.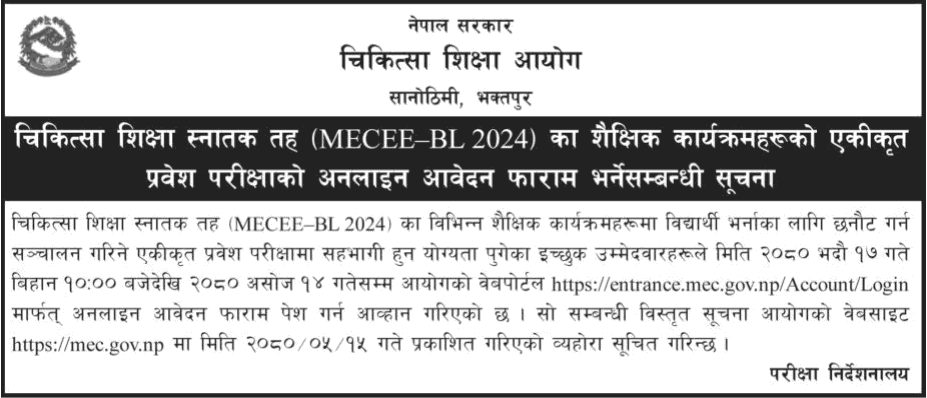 Download/View MECEE-BL 2024 Full Notice.PDF

Notice
Medical Education Commission (MEC)
Entrance Exam