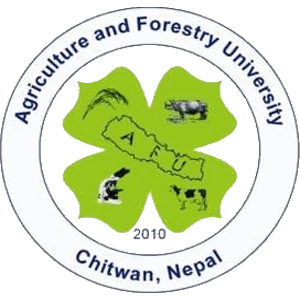 Master in Agriculture (M.Sc. Ag. / M.Sc. Biotechnology) Level Student Admission Notice from Agriculture and Forestry University (AFU).
For the academic session 2078/079, applications have been invited from the students who have reached the required minimum educational qualification who want to study at the postgraduate level of agriculture (M.Sc. Ag. / M.Sc. Biotechnology) conducted in this faculty.
The following is the information regarding the following programs related to the recruitment program. The applicant should enclose the online application form along with his / her educational qualification certificate, certificate of character and copies of citizenship certificate. In addition, applicants who have passed SLC, Proficiency Certificate Level, Bachelor Level or equivalent from a university other than a university or educational institution established by the Government of Nepal should also submit a certificate of equivalent assessment and a copy of Original Certificate or Provisional Certificate.
1) Minimum educational qualification required:
For Mater's in Agriculture (M.Sc. Ag. / M.Sc. Biotechnology) must have passed the Bachelor of Agriculture (B.Sc.Ag) or similar examination and the minimum schooling should be 16 years.
2) The application form fee will be only Rs. 3500 / - (three thousand five hundred). The application form and the deposit fee for the entrance exam will have to be deposited in the Call Deposit No. 00815263460 in the name of AFU Entrance Examination of Siddhartha Bank Limited, Narayangarh only.
3) Application form can be filled from the website of this university www.afu.edu.np.
4) If the required documents to be attached and the bank voucher deposited in the bank are not enough, the incomplete documents will have to be submitted online within the stipulated time. Otherwise the amount deposited in the bank will not be refunded.
5) Date, time and place of entrance examination: 2078 Poush 29th at 11:00 am. Dean's Office, Faculty of Agriculture, Rampur, Chitwan.
6) Admission card distribution date and place: 2078 Poush 29 from 7:00 am to 9:00 am. Dean's Office, Faculty of Agriculture, Rampur, Chitwan.
7) Publication of the results of the entrance examination: 2078 Poush 29th
8) Date of publication of enrollment: 2078 Poush 29th
9) Date of Admission: Will be published later.
10) Basis of Admission: 100 percent marks will be given to the marks of entrance examination. Based on this, the list of merit list will be prepared and the list for admission will be published according to the merit list. The upper half of the entrance examination has been fixed at 50 percent.
11) M.Sc. Ag. / M.Sc. For the Biotechnology level, the question paper of the entrance examination will be of Multiple Choice Objective Type, consisting of a total of 120 questions in the following subjects from the undergraduate level curriculum. Also exam time will be one (1) hour thirty (30) minutes. The subjects to be included in the entrance examination and the number of questions will be as follows.
A) Crop Science: 12
B) Horticulture Science: 12
C) Soil Science: 12
D) Entomology: 12
E) Breeding: 12
F) Crop pathology: 12
G) Agricultural Economics and Agribusiness Management: 12
H) Agricultural extension and rural sociology: 12
I) Conservation ecology and agricultural statistics: 12
J) Biochemistry and Biotechnology: 12
12) M.Sc. Ag. / M.Sc. A total of 128 students will be enrolled in various subjects to be taught in Biotechnology. The above number is from the University of Nepal, Nepal Agricultural Research Council and other organizations. Nominated persons as per MOU and persons recommended by Agriculture and Forest University are not included in the mentioned numbers. In addition, those who are nominated and recommended are advised not to participate in the entrance examination.
A) Crop Science: 06
B) Weed Science: 03
C) Sind Science and Technology: 03
D) Horticulture Science: 14
E) Soil Science: 09
F) Entomology: 09
G) Reproduction: 15
H) Pediatrics: 09
I) Agricultural Economics: 16
J) Agribusiness Management: 06
K) Agricultural extension: 12
L) Rural Sociology: 08
E) Conservation of agro-vegetation and environment: 12
E) Biological technology: 06
13) When submitting the application form, the following documents should be submitted in order.
A) Original bank voucher
B) Certificate of citizenship of Nepali
C) Certificate of SLC examination
D) Character certificate of SLC examination
E) Certificate level transcript
F) Certificate of character of certificate level
G) Bachelor level transcript
H) Bachelor level character certificate
I) Certificate Bachelor level basic certificate
J) Evidence of equal determination
14) It is mandatory to bring and submit the original certificates of all the educational qualification certificates attached to the application form for admission. Also the subject admitted will not be changed.
15) If less than three students are enrolled in any subject, the study of that subject will not be taught.
16) Students who have obtained certificates from other universities or educational institutions at the time of registration of Agriculture and Forest Sciences University (AFU Registration) must submit the original copy of the Migration Certificate. If the above. If there is a problem in registering AFU without understanding the Migration Certificate, the University will not take the responsibility.
17) Fee Structure
M.Sc.Ag.:
Competitive Subsidized Student Fee (NRs.)
Admission Fee : 15,750/(One time payment)
Semester Fee : 7,500/ Semester
Tuition Fee : 1,650/credit hr.(45credit)
Total Fee with minimum required credit hours : NRs.120,000/
Competitive Full Pay Student Fee (NRs.)
Admission Fee : 31,500/(One time payment)
Semester Fee : 15,000/
Semester Tuition Fee : 3300/credit hr.(45credit)
Total Fee with minimum required credit hours : NRs.240,000/
M.Sc. Biotechnology :
Competitive Full Pay Student Fee (NRs.)
Admission Fee : 48,750/(One time payment)
Semester Fee : 19,500/ Semester Tuition Fee : 3850/credit hr.(45credit)
Total Fee with minimum required credit hours : NRs.300,000/
Contact Details:
Agriculture and Forestry University (AFU)
Telephone: 056-591141, 056-520602
Fax No.: +977-56-520602, +977-56-591021
Website: www.afu.edu.np