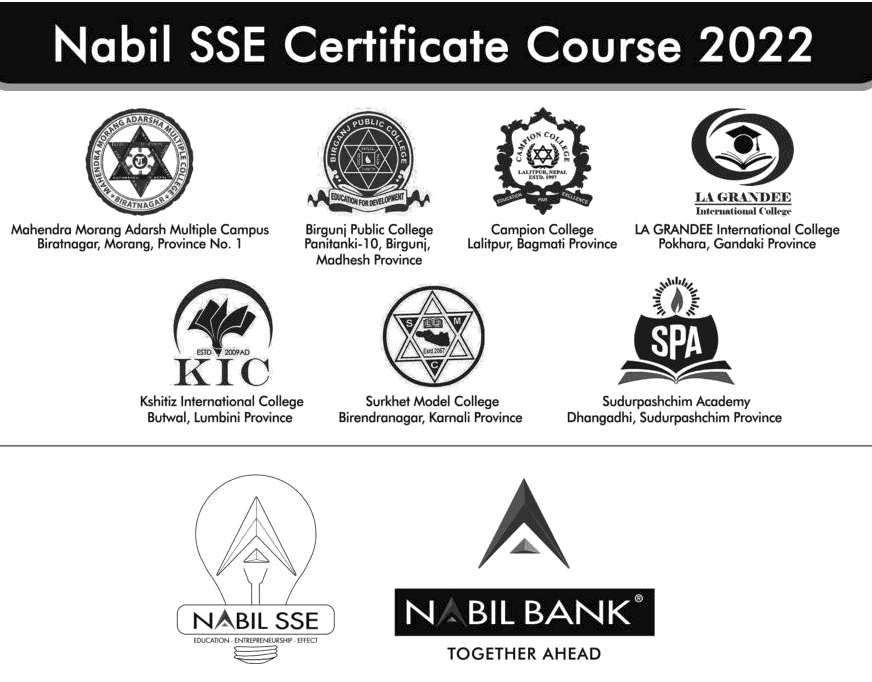 Notice regarding an invitation to apply for Nabil SEE Certificate Course 2022 in all the Provinces: With the objective of promoting social entrepreneurship in the fields of agriculture, education, healthcare, arts, capacity building, etc. through the Nabil SEE Certificate Course. Nabil SEE, in collaboration with various educational institutions in the province, invites applications from the latest thinkers to achieve the goal of sustainable development by bringing about positive changes in human life, society, and the environment.
Are you convinced that your thinking can have a positive effect on society?
Do you want to turn your thinking into a social enterprise or support the promotion and development of social entrepreneurship in the community?
Do you believe in the process of learning by doing?
If so, take part in the Nabil SEE Certificate Course 2022 and take the lead in transforming your thinking into social entrepreneurship and promoting it in your field.
If you fall within the minimum criteria mentioned below, you can apply at 821118012 8007.
Age Group: Nepali citizens above 18 years of age.
Medium of Training (Language): Must have knowledge of both English and Nepali language, however, there will be no barrier due to language. The language of the training will be both English and Nepali.
Minimum Participation: The trainee must commit to attending the certificate course physically for a period of 3 months up to 14 days. In addition, a minimum of 90% attendance is required to complete the training.
Transportation and Residential Expenses: All the transportation and accommodation expenses incurred while attending the Certificate Course will be borne by the trainees themselves.
Social Issues / Problem Identification: The applicant should have identified the social problem he/she wants to solve.
Method of Application Submission: The application form for the Certificate Course can be submitted in the inquiry room of the concerned educational institution or by email with the required details.
The Certificate Course application form is also available on the website, Facebook page of the partner educational institution of the same province as well as on the Nabil SEE Facebook page.
Last date for submission of application: 22nd of Baishakh, 2079 (till 5 pm).
If the applicant is selected from the application evaluation stage, he/she will be invited to participate in the Certificate Course for training.
Note: The management cost of this course and the resource person's cost will be borne by the bank and related educational institution‌; However, the right to determine the general fee of participation and the provision of the scholarship will be vested in the concerned educational institution.
Mahendra Morang Adarsh Multiple Campus Biratnagar, Morang, Province No. 1
Kshitiz International College, Butwal, Lumbini Province
Birgunj Public College Panitanki-10, Birgunj, Madhesh Province
Campion College Lalitpur, Bagmati Province
Surkhet Model College, Birendranagar, Karnali Province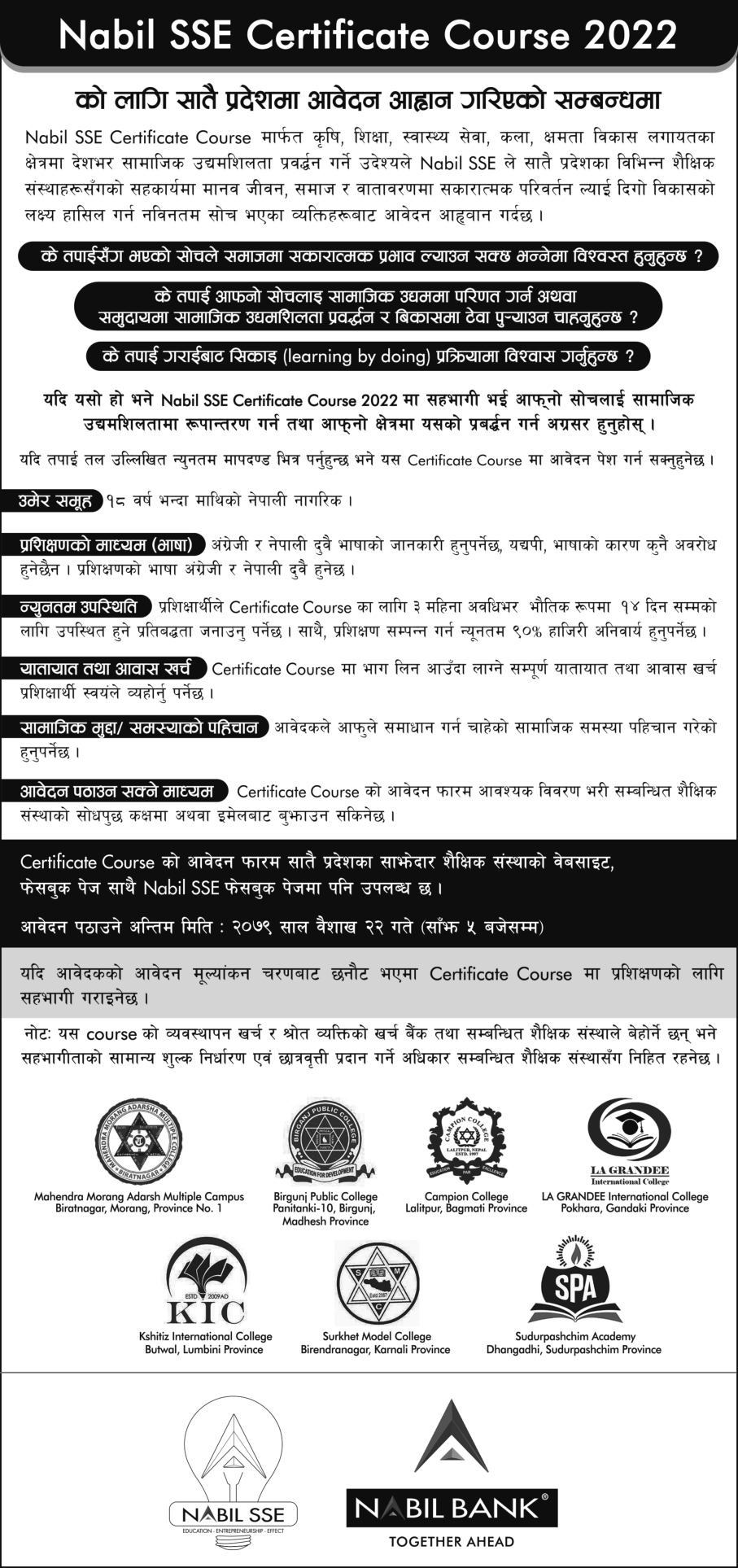 Training