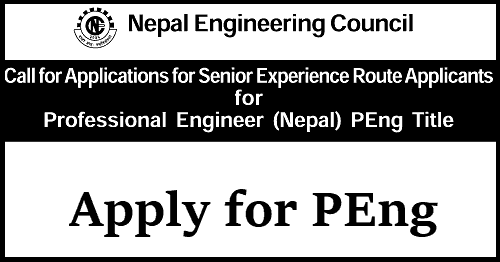 Nepal Engineering Council Call for Applications for Senior Experience Route Applicants for Professional Engineer (Nepal) PEng Title:
The Nepal Engineering Council (NEC) kindly requests interested and eligible engineers to apply for a professional title for engineers, PEng (Nepal). This title will differentiate engineers with professional experience and meeting defined technical and managerial competence standards from the General Registered Engineers.
This phase of the PEng (Nepal) title is open for Senior Experience Route applicants only: for engineers registered in General category for more than two (2) years, with a Master's degree in Engineering, and twenty (20) year's or more professional experience. Please visit the NEC web page http://nec.gov.np/pages/Professional/ for further information and to download the applicant guidelines, application form and other submission templates.
The applications will be accepted from 1St March 2020 to 31St August 2020 (10 am to 1 pm every Government working day ).
Please contact [email protected] if you have any queries relating to the Senior Experience Route PEng (Nepal) application process.
Please use the following Bank Accounts to deposit the Application Fees.
Rastriya Banijya Bank- 116000109301
Registrar
Nepal Engineering Council, Naxal, Kathmandu