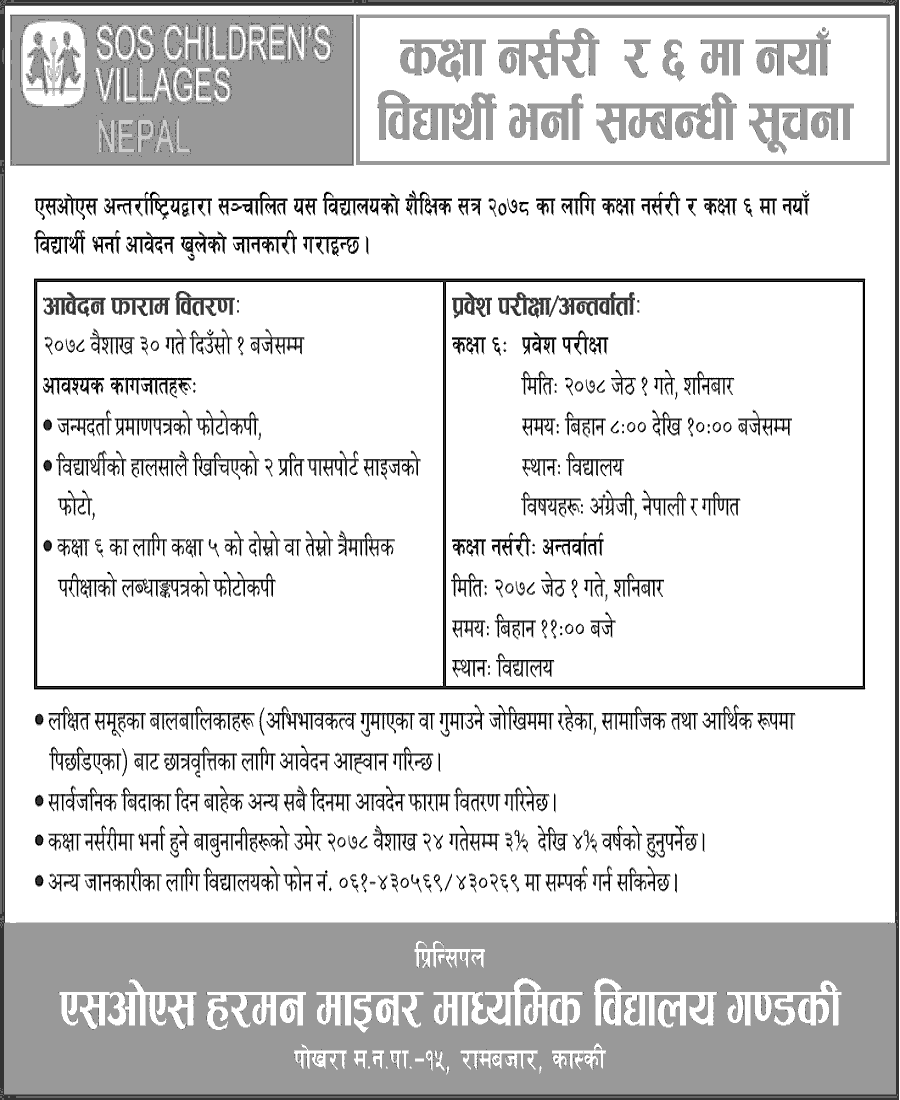 Nursery and Class 6 Admission Open at SOS Herman Minor Secondary School Gandaki:
It is informed that for the academic session 2078 of SOS Children's Villages Nepal run by SOS International, the application for admission of new students in class nursery and class 6 is open.
Application Form Distribution:
2071 Baishakh 30th till 1 pm
Documents required:
Photocopy of birth certificate,
2 recent passport size photos of the student,
Photocopy of the transcript of second or third quarter examination of class 5 for class 6
Entrance Exam / Interview of Class 6
Date: Jestha 1, 2078, Saturday
Hours: 8 am to 10:00 am
Location: School
Subjects: English, Nepali, and Mathematics
Class Nursery: Interview
Date: Jestha 1, 2078, Saturday
Time: 11:00 a.m.
Location: School
Additional Infomation:
Scholarship applications are invited from target group children (who have lost or are at risk of losing their guardianship, socially and economically backward).
Application forms will be distributed on all days except public holidays.
The age of the child enrolled in the nursery class should be 3.5 to 4.5 years by 24th Baishakh 2078.
For other information, the school can be contacted on 061-430569 / 061-430269.
Contact Details:
SOS Herman Minor Secondary School Gandaki
Pokhara Municipal Corporation-15, Rambazar, Kaski
Phone: 061-430569 / 061-430269