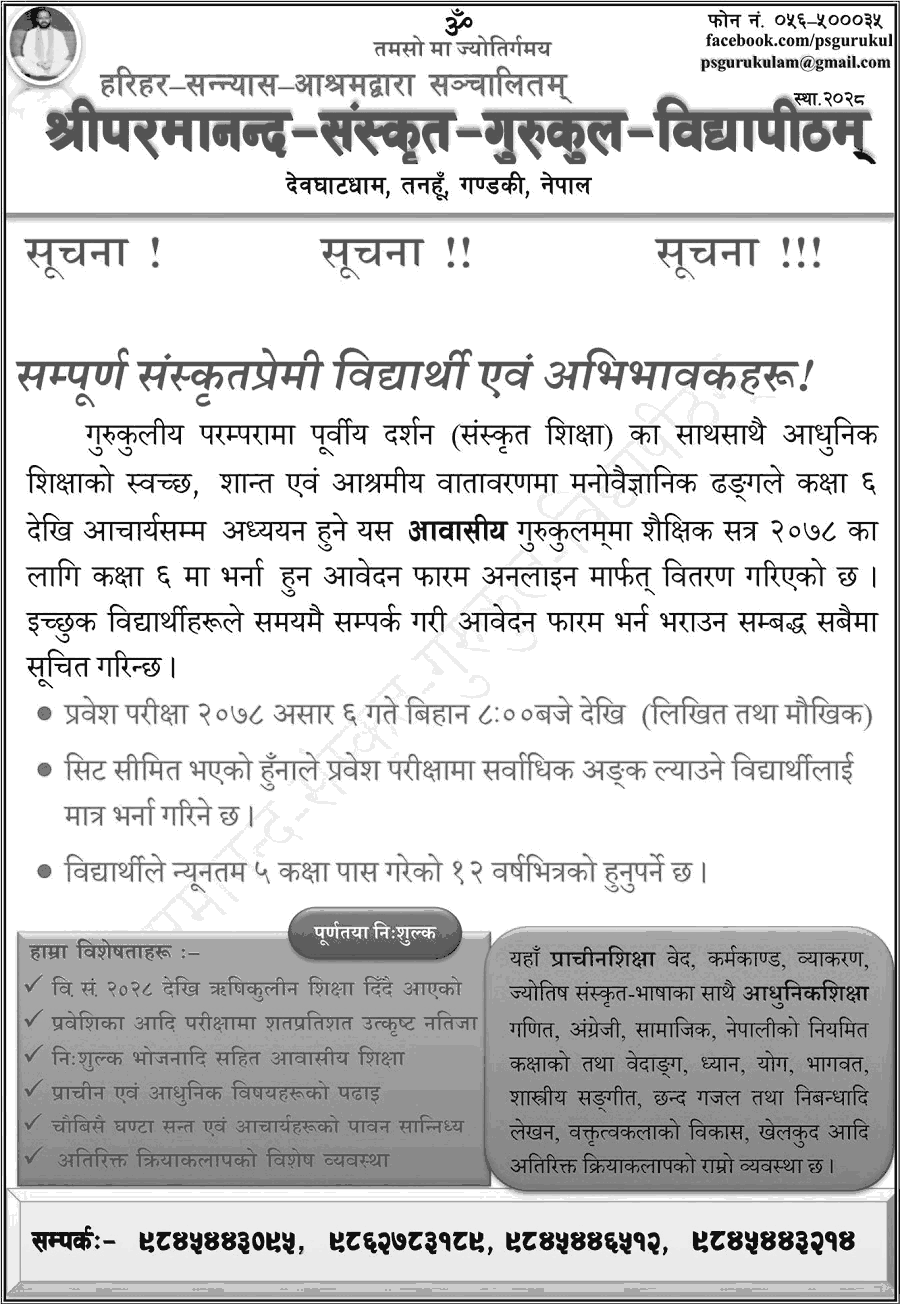 Paramananda Sanskrit Gurukulam Vidyapeeth, Devghatdham, Tanahu, Gandaki, Nepal announce admission open at Class 6 with Freeship:
The application form for admission in class 6 for the academic session 2078 has been distributed online in this residential Gurukulam where Eastern philosophy (Sanskrit education) in the gurukul tradition, as well as modern education, is studied psychologically in a clean, peaceful and ashram environment from class 6 to Acharya. Interested students are advised to contact in time and fill up the application form.
Entrance Examination: From 6:00 AM on Ashad 6, 2078 (Written and Oral)
As the seats are limited, only the student who brings the highest marks in the entrance examination will be admitted.
Students must have passed at least 5th class and the Upper limit maximum age should be 12 years old.
There are ancient education Vedas, rituals, grammar, astrology, Sanskrit language as well as a modern education in mathematics, English, social, regular classes of Nepali and Vedang, meditation, yoga, Bhagwat, classical music, ghazal and essay writing, development of rhetoric, sports, etc.
Features:
It has been imparting sage education since 2028 BS.
100% excellent results in entrance exams etc.
Residential education with free meals
The holy presence of saints and teachers round the clock
Special arrangements for extracurricular activities
Contact Details:
Paramananda Sanskrit Gurukulam Vidyapeeth
Devghatdham, Tanahu, Gandaki, Nepal
Phone: 056-500035, 9845443095, 9862783189, 9845446512, 9845443214
Email: [email protected]