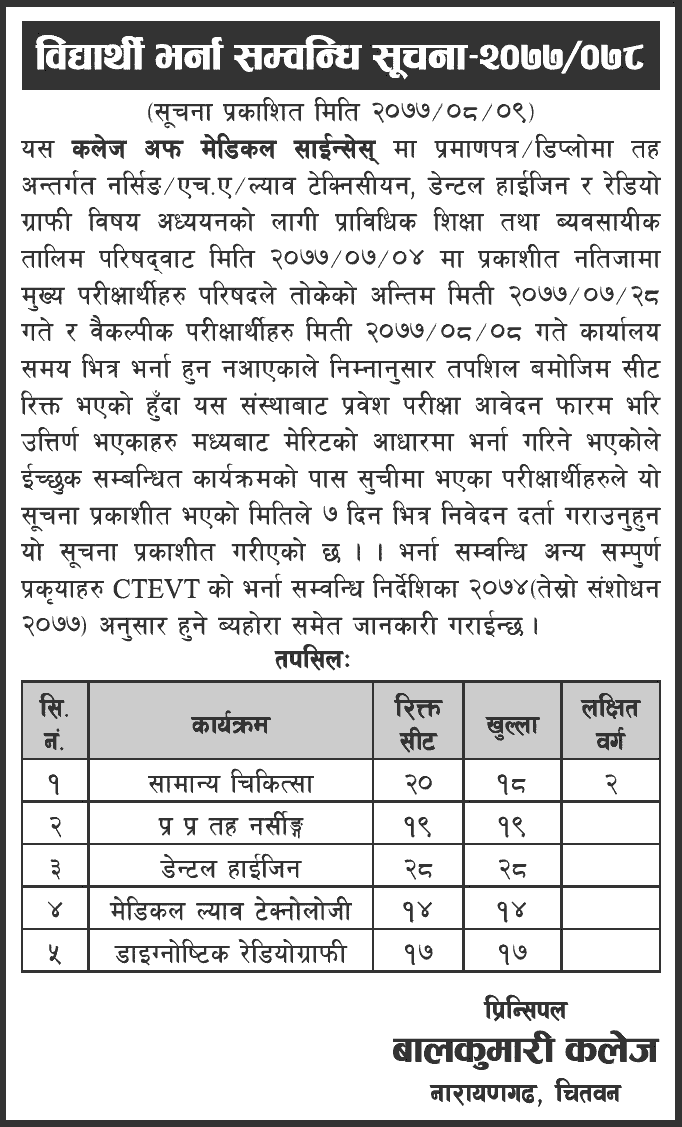 PCL Nursing, HA, CMLT, Dental Hygiene, and Radiography Admission at Balkumari College:
For the study of PCL Nursing / HA / Medical Lab Technologist (CMLT), Dental Hygiene and Radiography subject under Certificate and Diploma level in Balkumari College of Medical Sciences, Chitwan, the main examinees in the results published by the Council of Technical Education and Vocational Training (CTEVT) on 2077-07-04. As the last date fixed is 2077-07-28, and the alternate candidates did not come to be admitted within the office time on 2077-08-08, the seat is vacant as per the following details.
As the candidates who have passed the entrance exam application form from this institute will be admitted on the basis of merit, the candidates who are on the pass list of the aspiring related program should register the application within 7 days from the date of publication of this notice.
All other procedures related to admission will be done as per CTEVT Admission Directive 2074 (Third Amendment 2077).
Courses and Vacant Seat Details:
| | | |
| --- | --- | --- |
| Courses | Open Quota | Targeted Quota |
| PCL General Medicine (HA) | 18 | 2 |
| PCL Nursing | 19 | - |
| Dental Hygiene | 28 | - |
| Medical Lab Technology (CMLT) | 14 | - |
| Diagnostic Radiography | 17 | - |
Contact Details:
Balkumari College of Medical Sciences,
Phone: +977-56-521842, +977-56-533205, +977-56-526527
Narayangarh, Chitwan,
Bagmati Province, Nepal
(Notice published on 2077-08-09)