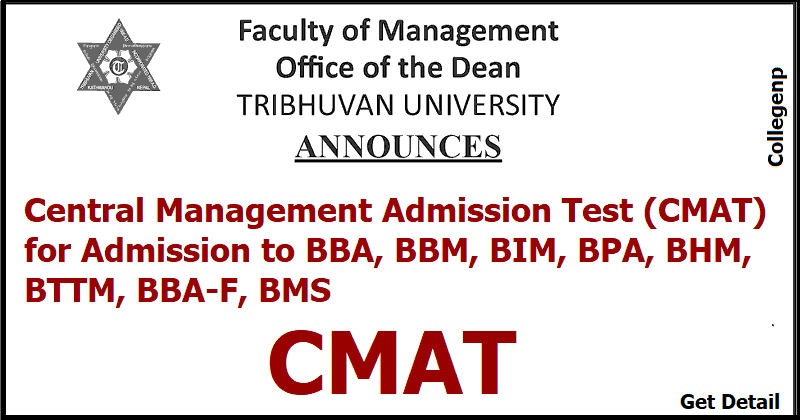 Faculty of Management Office of the Dean TRIBHUVAN UNIVERSITY ANNOUNCES Re-Entrance Exam (CMAT) to get Admission to: Bachelor of Business Administration (BBA) / Bachelor of Business Management (BBM) / Bachelor of Information Management (BIM) / Bachelor of Public Administration (BPA) / Bachelor of Hotel Management (BHM) / Bachelor of Travel and Tourism Management (BTTM) / Bachelor of Business
Administration - Finance (BBA - F) and Bachelor of Mountaineering Studies (BMS) programs for the admission year 2079 (2022)
Re-Entrance (CMAT) Notice publication date: Kartik 30, 2079 (November 16, 2022)
ELIGIBILITY
Minimum D grade in each subject with CGPA 1.8 in grade 11 and 12
Or
Minimum D + Grade in each subject of grade 11 and 12 with CGPA 1.8 or more who passed in 2078 or before 2078
Or
Minimum score of second division marks in 10+2, PCL or Equivalent in any discipline.
Or
Students who are waiting for grade 12 results can also apply. However, they have to submit passed certificate of grade 11 and 12 at the time of admission.
ADMISSION SCHEDULE
CMAT Application Form: Nov 22 - Dec 06, 2022 (Mangsir 6 - Mangsir 20, 2079)
Date of Admission Test (to all programmes) : Dec 10, 2022 (Mangsir 24, 2079) - Saturday
Time: 8:00 AM
Test Center and other details: To be notified by the FoM to the respective campuses submitting the CMAT form or Visit FoM website.
Notes:
1) The Details of Admission procedures, criteria and selection process is available at the FoM website fomecd.edu.np and www.tudoms.org
2) Link of Online Application (CMAT) form is available at the FoM website fomecd.edu.np or www.tudoms.org
3) Online CMAT Application form is to be submitted in any campus offering respective programmes by paying Rs 1,000 (Rs one thousand only).
4) Contact the respective campuses /colleges or visit FoM website for further information.
5) The concerned campus/colleges should submit/forward the details of the applicants in the prescribed format by 11:00 AM, 7th Dec 2022 (Mangsir 21, 2079).
Admission Open
BBA Admission
Entrance Exam
Tribhuvan University