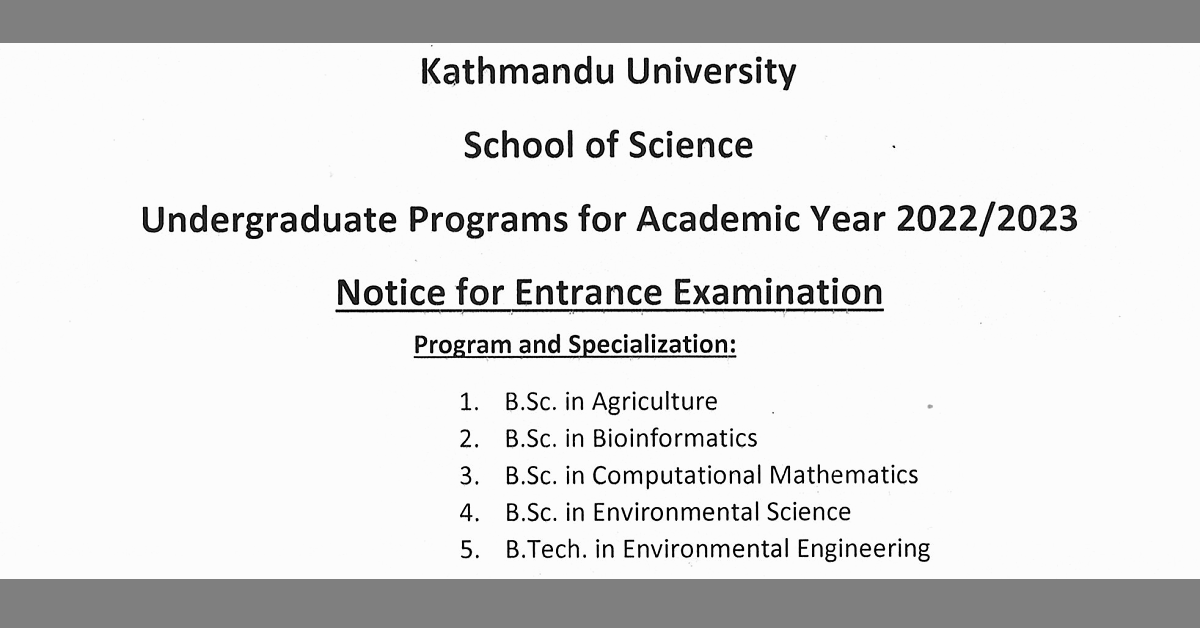 Kathmandu University School of ScienceUndergraduate Programs for Academic Year 2022/2023 Notice for Entrance Examination: It is notified that the applicants of Undergraduate Admission-2022/2023 in the School of Science at Kathmandu University, who has submitted their application by 24th November 2022 are selected for the Entrance exam. The Entrance Examination will be conducted in the mode of a Paper-based Test (PBT).
Program and Specialization:
B.B.Sc. in Agriculture
B.Sc. in Bioinformatics
B.Sc. in Computational Mathematics
B.Sc. in Environmental Science
B.Tech. in Environmental Engineering
Admit card distribution and Entrance exam will be held on Monday, November 28, 2022
Time: 10:00 AM at Dhulikhel Campus, Kavre
For the Entrance exam, bring the following documents necessarily.
Deposited bank voucher
Original Citizenship or Driving Licenses or +2 admit Card
2 passport size Photo
Application processing fee of NRs 1500/- is to be deposited through the bank
Pay the required fees to the account of the Kathmandu University, School of Science at any branch of the following banks:
Nepal Investment Bank Ltd. (NIBL): A/C No. 00501030255530
Office of the Dean
School of Science, Kathmandu University
Dhulikhel, Kavre, Nepal,
Email: [email protected]
https://sos.ku.edu.np
Entrance Exam