Overview
Bhimeshwor Municipality (भिमेश्वर नगरपालिका) is under the Dolakha district and Bagmati Pardesh of Nepal. Dolakha is a historical and archeological, religious, cultural, natural, and tourist-oriented municipality located in the district headquarters. This municipality was established in the year 2053 BS by including the then Charikot, Mati, Dolakha, and Macabari VDCs. This municipality is divided into 9 wards. The municipality is named after Bhimeshwar, known as the god of thousands of incarnations who foretells natural turmoil, unhappiness, and political change in the country by producing sweat on his idol. The center of this municipality is Charikot, 133 km from Kathmandu, the capital of Nepal. Located in the northeast.
The Bhimeshwar municipality covers an area of ​​133 sq. Km, extending from 27 degrees 36 minutes north to 27 degrees 44 minutes north latitude and from 85 degrees 58 minutes east to 86 degrees 6 minutes east longitude. The east-west length is up to 17 km and the north-south width is up to 10 km. It is bounded by Vaiteshwor municipality on the east, Sindhupalchowk district on the west, Kalinchok municipality, and Sindhupalchowk district on the north and Shailung municipality on the south. Charikot is a hilly region with a minimum height of 840 m (Charnawati Trivenidham) and a maximum height of 3549 m (Ganesh Thumki) at a height. The lower part of the municipality has a warm climate, the middle part has a warm temperate climate and the upper part has a temperate climate.
According to the census of 2068 BS (2011 AD), the population of the municipality is 32,486 (males: 14,980 and females: 17,506) and households are 8,639. From the caste point of view, the municipality has 29.74 percent, Newar 18.06 percent, Tamang 15.62 percent, Thami 12.55 percent, Brahmin 11.08 percent, Kami 3.41 percent, Gharti (Bhujel) 1.97 percent, Sarki. 1.76 percent and 5.81 percent other castes live. From a religious point of view, Hinduism, Buddhism, and Christianity are the main religions. The literacy rate of the municipality is 68.91 percent (male: 79.62 percent and female: 59.88 percent).
Bhimeshwar Temple, Tripura Sundari Temple, Manjushree Temple, Varanasi Temple, Mahankali Temple, Charnawati (Trivenidham) Charighyang Gumwa are the famous religious sites here and Kalinchok Bhavagati Temple is also the gateway to this municipality.
Geographical Map of Bhimeshwor Municipality: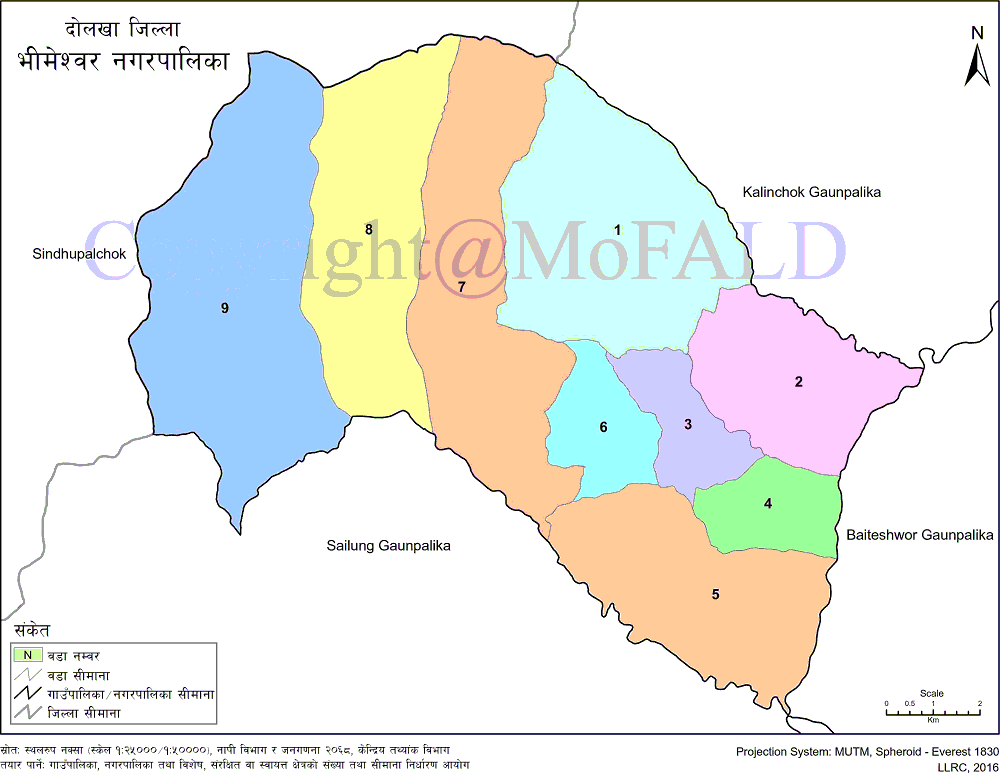 Contact Address:
Location: Charikot, Dolakha, Bagmati Pradesh, Nepal
Telephone: +977-49-421100, +977-49-421491
Email: [email protected]
Website: www.bhimeshwormun.gov.np