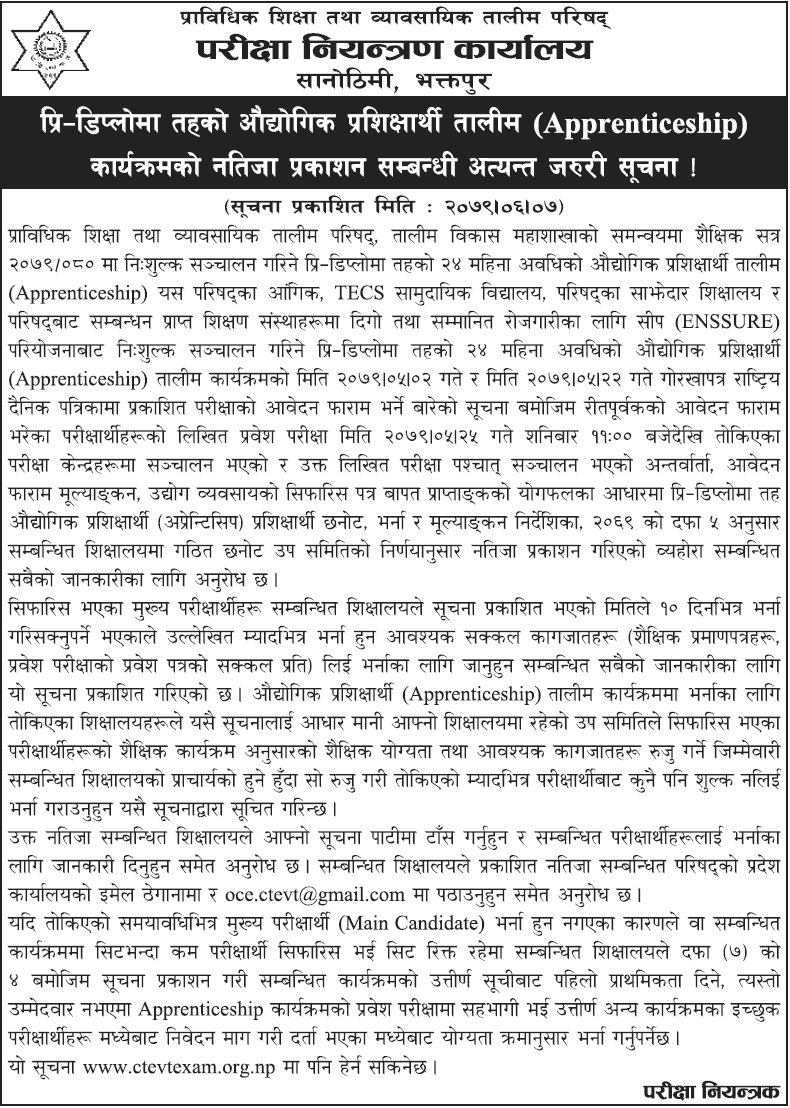 CTEVT Published Result of Pre-Diploma Apprenticeship Entrance: Council for Technical Education and Vocational Training (CTEVT), Office of Control of Examinations (OCE), Sanothimi, Bhaktapur Notice regarding the publication of the results of the pre-diploma level industrial trainee training (Apprenticeship) program
Council for Technical Education and Vocational Training (CTEVT), in coordination with the Training Development Division, pre-diploma level 24-month industrial traineeship will be conducted free of charge in the academic session 2079/080. The 24-month Apprenticeship training program of pre-diploma level, which will be conducted free of charge by the ENSSURE project in educational institutions, has been published in the Gorkhapatra National Daily on 2079-05-02 and 2079-05-22. According to the notice about filling out the application form of the examination, the written entrance examination of the candidates who have duly filled the application form was conducted on Saturday 25-25-2079 from 11:00 a.m. in the designated examination centers and after the said written examination, the interview, application form evaluation, recommendation letter for industry business was conducted. Pre-Diploma Level Industrial Apprentices (Apprentices) According to Section 5 of the Student Selection, Admission and Evaluation Guidelines, 2069, the results have been published as per the decision of the selection sub-committee formed in the respective schools. Information is requested from all concerned.
As the recommended main examinees should be admitted by the respective schools within 10 days from the date of publication of the notice; This notification has been published for the information of all those concerned to go for admission by taking the complete documents required for admission (educational certificates, the complete copy of the admit card of the entrance exam) within the mentioned period.
The educational institutes appointed for admission to the Industrial Apprenticeship training program based on this information will be responsible for obtaining the educational qualifications and necessary documents of the candidates recommended by the sub-committee in their educational program, and the principal of the relevant educational institution shall accept them within the specified period and collect any fee from the examinee.
It is also requested that the concerned school should post the said result on its notice board and inform the concerned examinees for admission. It is also requested to send the result published by the concerned school to the email address of the provincial office of the concerned council and to [email protected]
If the seat remains vacant due to non-enrollment of Main Candidates within the specified time period, or if fewer candidates are recommended than seats in the related program; The concerned educational institution shall publish the notice in accordance with section (7) 4 and give first priority from the pass list of the relevant program; If there is no such candidate, the applicants who have participated in the entrance examination of the Apprenticeship program and passed it will be rejected from those who are registered according to the merit list.
This notice can also be viewed at www.ctevtexam.org.np.
(Notification published date: 2079-06-07)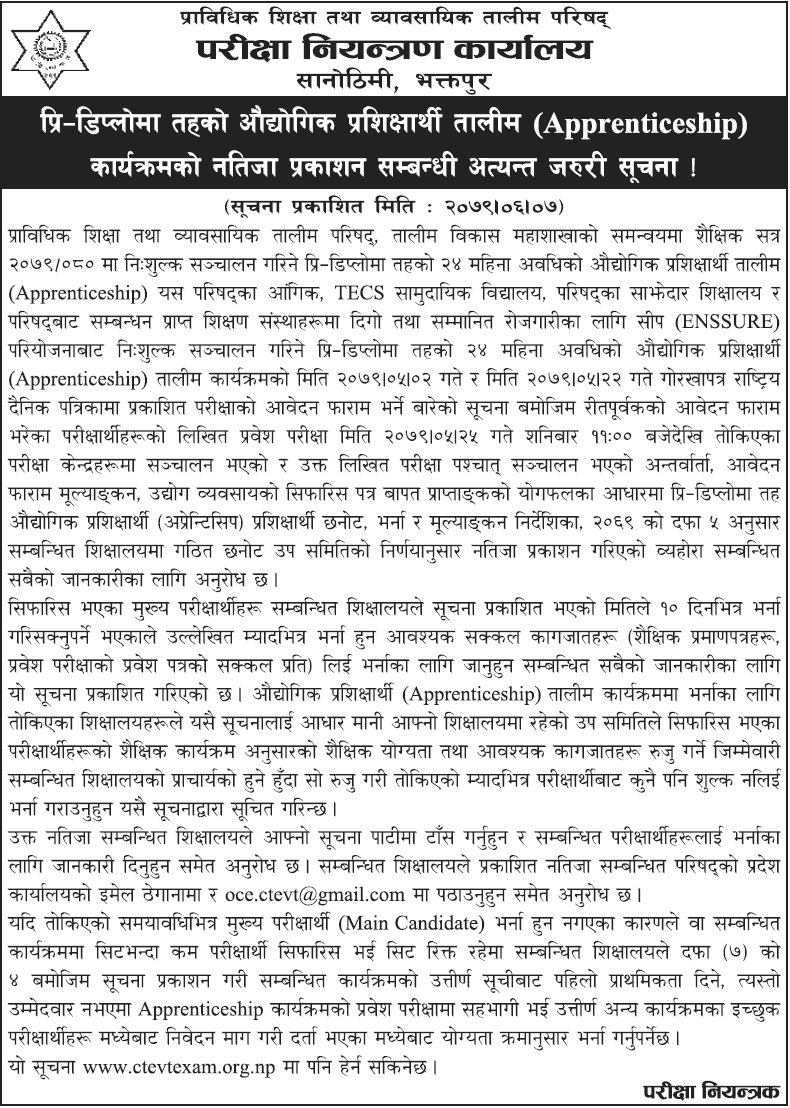 Entrance Result
CTEVT Result
CTEVT