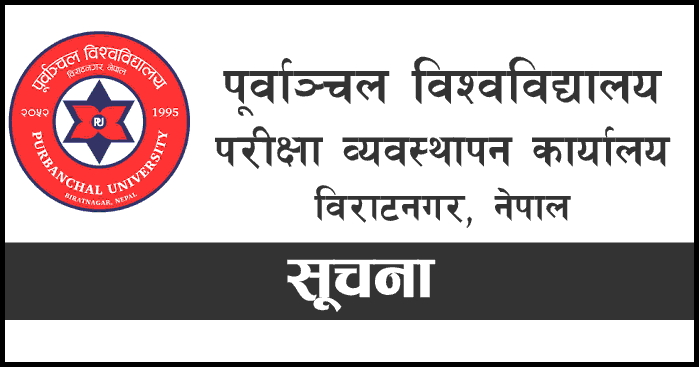 Purbanchal University Announces Scholarship Entrance Exam for BALLB Program 2080/081
Purbanchal University's Faculty of Law in Biratnagar has officially announced the Scholarship Entrance Examination for the academic session 2080-1081. This is an excellent opportunity for aspiring law students to secure a scholarship in the BALLB program. The entrance exam is in accordance with the Eastern Regional University Scholarship and Scholarship Entrance Examination Regulations of 2079.
Who Should Apply?
Students interested in pursuing a BALLB degree
Those who meet the minimum educational qualifications
Candidates interested in Jehendar and reserved scholarships
How to Apply
Application Process:
Contact the Dean's Office: Students must first contact the Dean's office of Purbanchal University for the application form.
Deposit Application Fee: Pay the application fee at Nabil Bank, Account No.: 0701017501132.
Submit Documents: Along with the original bank receipt, submit copies of the required minimum educational qualifications.
Participating Institutions and Seat Availability
Purbanchal University, College of Law, Biratnagar

Total Seats: 60
Jehendar Scholarship: 3
Reserved Scholarship: 3

Kathmandu School of Law, Dadhikot, Bhaktapur

Total Seats: 250
Jehendar Scholarship: 12
Reserved Scholarship: 13

Chakrabarti Habi Educational Academy, Kathmandu

Total Seats: 100
Jehendar Scholarship: 5
Reserved Scholarship: 5

Bright Vision College, Biratnagar

Total Seats: 180
Jehendar Scholarship: 9
Reserved Scholarship: 9

Khwopa College of Law, Bhaktapur

Total Seats: 60
Jehendar Scholarship: 3
Reserved Scholarship: 3
Further Information
For more details, candidates are advised to contact the respective school, campus, or college. Alternatively, you can visit the official website www.pufom.edu.np.
Faculty of Law, Purbanchal University, Biratnagar
Published Date: 2080/05/13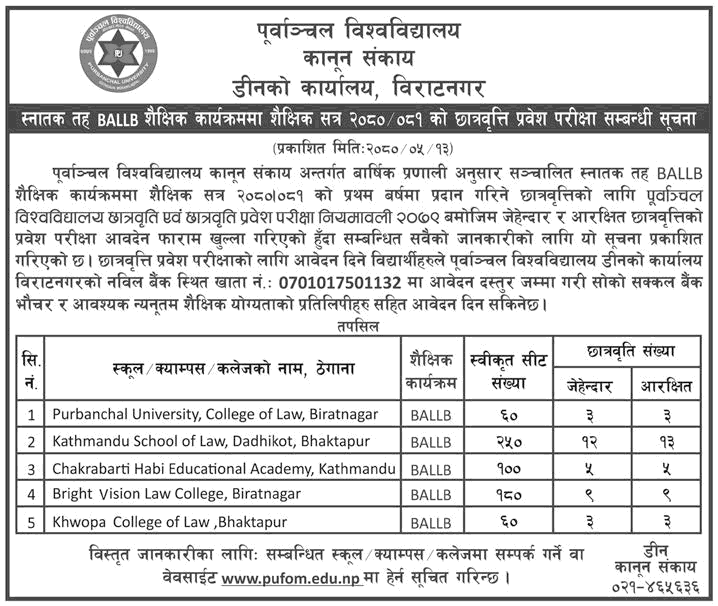 Scholarship in Nepal