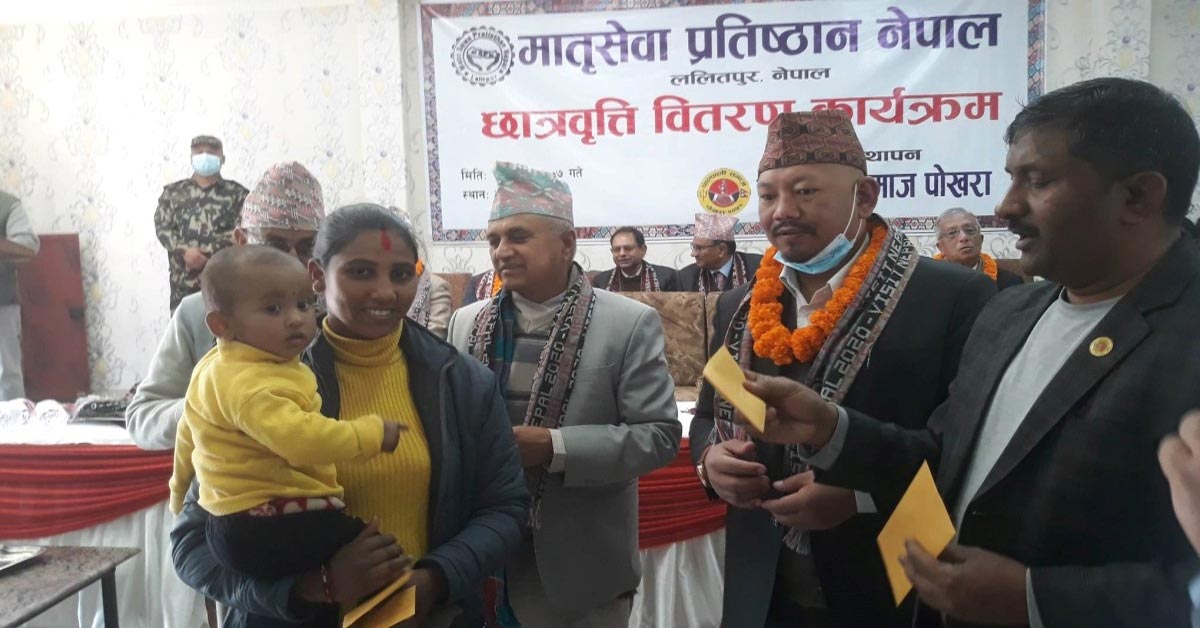 Matri Sewa Pratisthan Nepal has distributed scholarships to poor and needy students. A total of 12 lakh 21 thousand rupees of scholarship was distributed to 209 students in a program organized on Saturday under the management of Palpali Society Pokhara.
that the foundation has been continuously distributing scholarships for technical studies without the support of any donors; This year, 192 students of Samata Shiksha Niketan and 11 students studying JTA in Anandjyoti Secondary School were given scholarships, former minister and founding president of the foundation Hari Pandey informed. According to him, the foundation has previously distributed full and partial scholarships to 625 students across the country under various names.
Samata Shiksha Niketan is a school that offers tuition at Rs.100 per month. In this school in Pokhara, classes from 1st to 10th are taught. More than one thousand students are studying in the school. Former president of the society Kul Prasad Ghimire said that this year, students of Samataka Shiksha Niketan in Pokhara received Rs 4,000 per student and management expenses of Rs 5,500 per student and Anandjyoti students received Rs 15,000 per student.
Distributing the scholarship amount, Chief Minister of Gandaki Province Khagraj Adhikari said that since it is the policy of the state to provide free education and health, the Gandaki Province Government will also support this initiative. He also emphasized always respecting mother, father, and teacher.
In the program, the former president of the Federation of Nepal Industry and Commerce Anandrajya Mulmi said that there are enough problems in the education sector. Jhalak Prasad Paudel, principal of Samata School, said that the scholarship money will help the students. Founder of Samata School Uttam Sanjel also participated in the program.
Pokhara