Bannigadhi Jayagadh Rural Municipality (Gaupalika), Office of Rural Municipal Executive, Jayagadh, Achham, Sudurpashchim Province, Nepal
As ANM posts are required in various health posts of Bannigadhi Jayagadh Rural Municipality; As per the prevailing law, eligible Nepali citizens are invited to apply to this office within 15 (fifteen) days from the date of publication of the notice along with the required details and voucher of the fee paid during office hours as per the prevailing law.
Details:
Minimum educational qualification: Registered with the Nepal Nursing Council after receiving 18 months or similar training.
The following:
1) Application form can also be obtained from the website of Bannigadhi Jayagarh Rural Municipality: www.bannigadhijaygadhmun.gov.np.
2) Documents to be attached with the application Copies of the following documents certified by the applicant himself:
a) Nepali citizenship
b) 2 passport size photos.
c) Certificate of renewal and renewal of the certificate of educational qualification of ANM, 18 months or similar training from the accredited educational institution.
3) Age limit: 18 years and not exceeding 40 years.
4) Service facility: As per the agreement of the office.
5) Place of application: Bannigadhi Jayagarh Village Executive Office or the duly filled form can be emailed to [email protected] in PDF file. Receipt of payment of application fee at Bannigadhi Jayagarh Rural Municipality Revenue Branch or voucher deposited in Internal Revenue Account No. C-4-3 07210202718067 of the office at Civil Bank should be attached.
6) Last date to apply: 2078-04-15
7) Type of choice: written and interview.
8) Date of Examination: This Will be decided after the last date of application.
9) Contract period: To be as per the decision of the executive.
First published on: 2078-04-01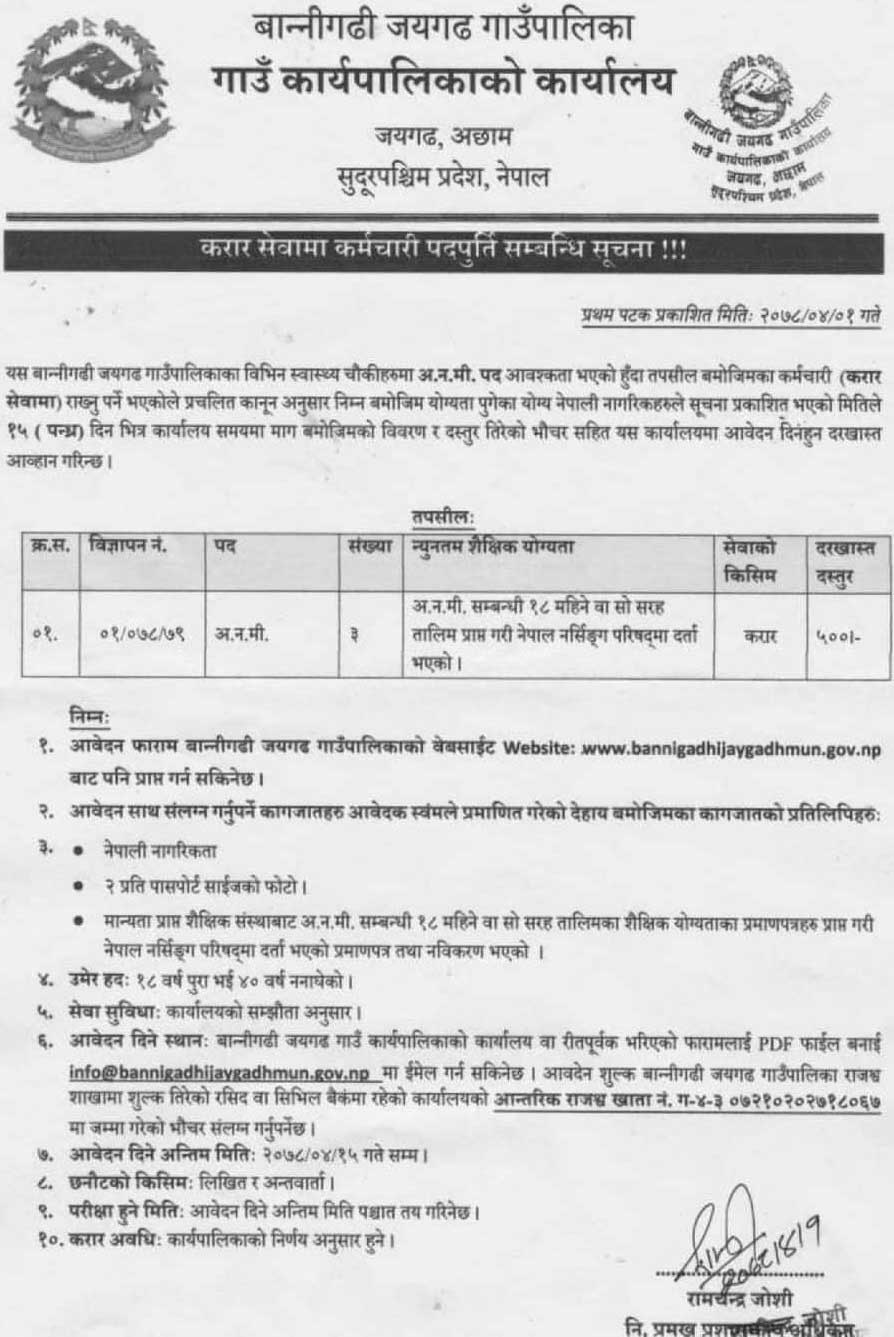 Sudurpashchim Pradesh
Achham
Job Vacancy
Health Job
Government Job