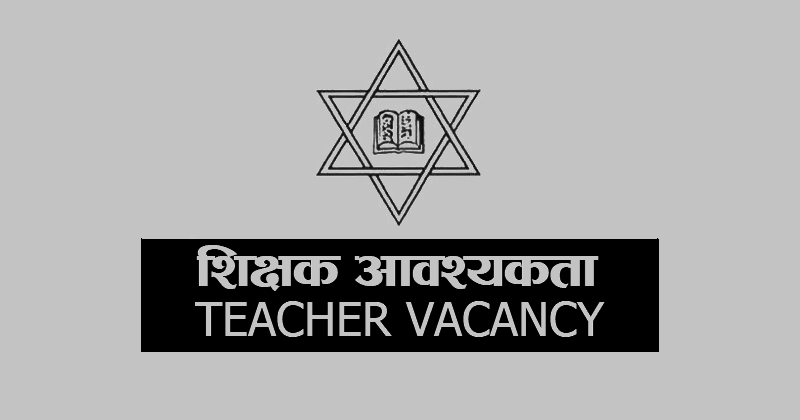 Looking for Relief Teachers at Bhumeshwar Secondary School: Advertisement Details
Introduction: Bhumeshwar Secondary School, Machhapuchhre-6, Dhital, Kaski is seeking to fill the position of a relief teacher through an open competition. Interested candidates who meet the qualifications are encouraged to apply within the specified timeline.
Advertisement Details:
Advertisement No. 01/2080:
Level: Secondary III
Subject: English (1 Person)
Minimum Educational Qualification: Graduation or equivalent with English as the main subject from a recognized university.
Advertisement No. 02/2080:
Level: Secondary III
Subject: Science (1 Person)
Minimum Educational Qualification: Graduation from a recognized University with Basic Science (B.Sc.) or equivalent.
Age: Completed 18 years and not exceeding 40 years.
Application Details:
Application Deadline: Within 15 days from the date of occurrence.
Application Fee: Rs. 2,000/- (Two thousand only).
Required Documents: Certificate of educational qualification, along with a handwritten application, certified copies of Permanent Teaching Permit, and Nepali Citizenship.
Mode of Examination: Written and Interview.
Salary and Other Benefits: As per the prevailing rules of the Government of Nepal.
Additional Information:
Candidates must be able to teach Science and Mathematics subjects.
Candidates in the contract list must submit a copy of the paper showing the merit order of the subject in the contract list of the relevant level of Gandaki Province.
A secondary level teaching license should be obtained for both subjects.
This is a great opportunity for qualified candidates to join Sri Bhumeshwar Secondary School as a relief teacher. Interested candidates are advised to apply as soon as possible to avoid missing out on the opportunity.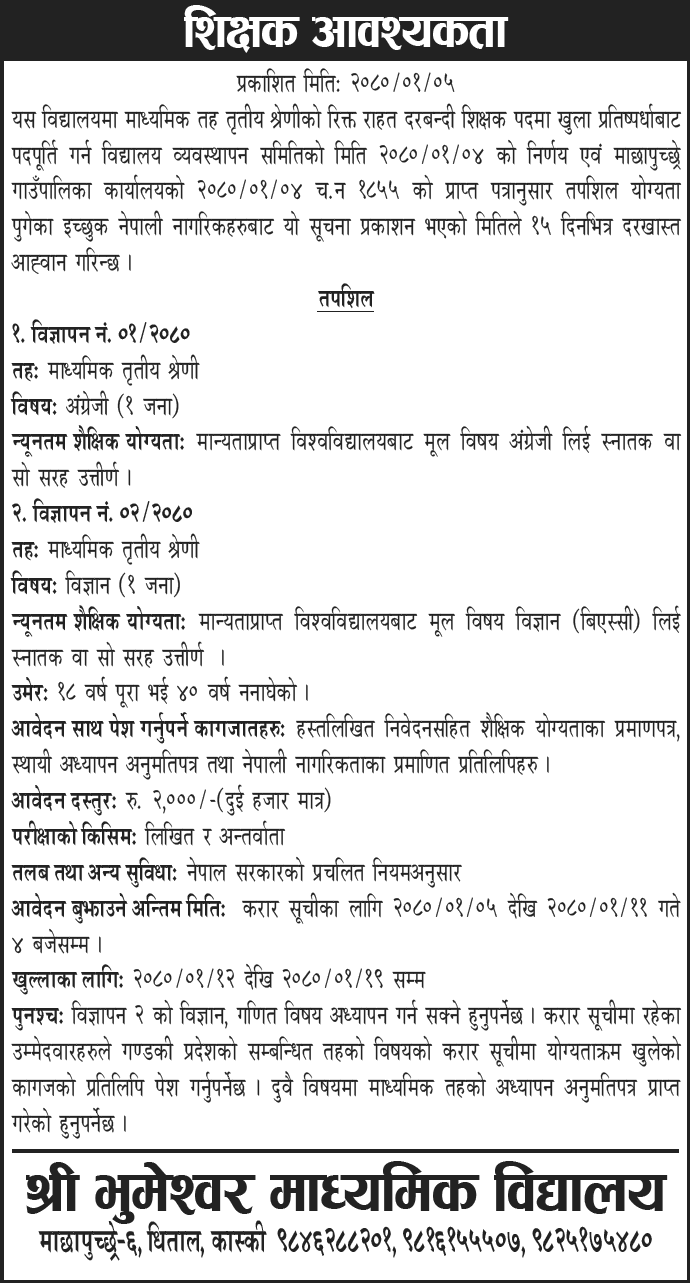 Kaski
Teaching Jobs
Job Vacancy
School Job