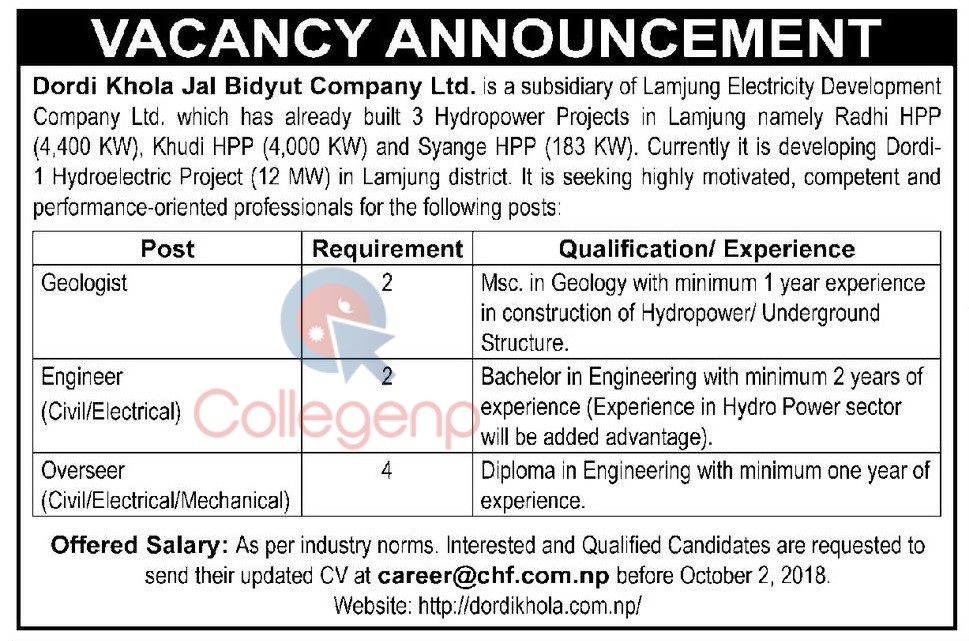 Dordi Khola Jal Bidyut Company Ltd. is a subsidiary of Lamjung Electricity Development Company Ltd. which has already built 3 Hydropower Projects in Lamjung namely Radhi HPP (4,400 KW), Khudi HPP (4,000 KW) and Syange HPP (183 KW). Currently, it is developing Dordi-1 Hydroelectric Project (12 MW) in Lamjung district. It is seeking highly motivated, competent and performance-oriented professionals for the following posts:
Post

Requirement

Qualification/ Experience

Geologist

2

Msc. in Geology with minimum 1-year experience in the construction of Hydropower/ Underground Structure.

Engineer

(Civil/Electrical)

2

Bachelor in Engineering with minimum 2 years of experience (Experience in Hydro Power sector will be added advantage).

Overseer

(Civil/Electrical/Mechanical)

4

Diploma in Engineering with a minimum of one year of experience.
Offered Salary: As per industry norms. Interested and Qualified Candidates are requested to send their updated CV at [email protected] before October 2, 2018.
Website: http://dordikhola.com.np/