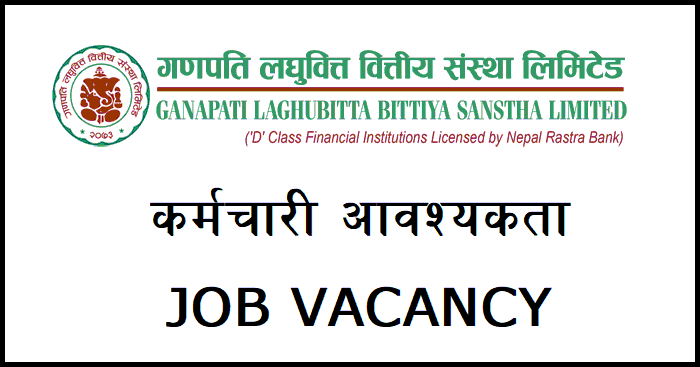 Ganapati Laghubitta Bittiya Sanstha Limited requires the following employees; Applications are invited from eligible Nepalese citizens.
Position: Senior Assistant - Few
Required Qualification and Experience:
Proficiency certificate level (10+2) or equivalent examination and at least 3 years of work experience in the microfinance sector with different responsibilities, a two-wheeler license and having own vehicle will be preferred.
Age Limit: 18 years of age completed and not exceeding 35 years of age.
Type of Exam: Interview
Location: Various Branches
Additional Inforamtion:
Last date of application: till 2079 Poush 5, Tuesday
No action will be taken on late or overdue applications. Among the duly received applications, only the shortlisted candidates will be contacted for the selection process.
All rights related to employee selection shall be vested in this financial institution.
In the case of female candidates applying for the above posts, the upper age limit will be increased by 5 years.
How to Apply:
Candidates can apply the application along with a recent passport-size photograph, a copy of Nepali citizenship along with full details along with the e-mail to [email protected] or through the organization's website www.ganapatimicro.com.np within 15 days from the date of publication of this notice.
Recruitment Committee:
Ganapati Laghubitta Bittiya Sanstha Limited
Central Office Shuklagandaki-04 Dulegauda Tanahun.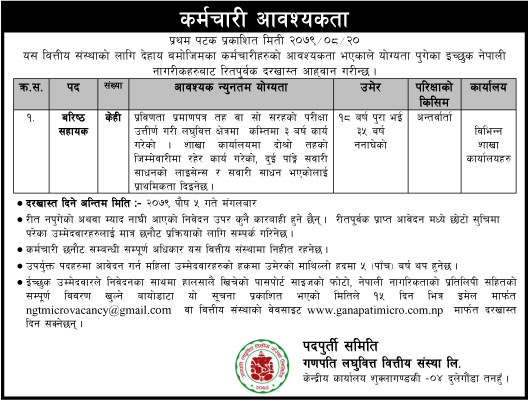 Website: www.ganapatimicro.com.np
Laghubitta
Banking Career
Job Vacancy
Banking Job