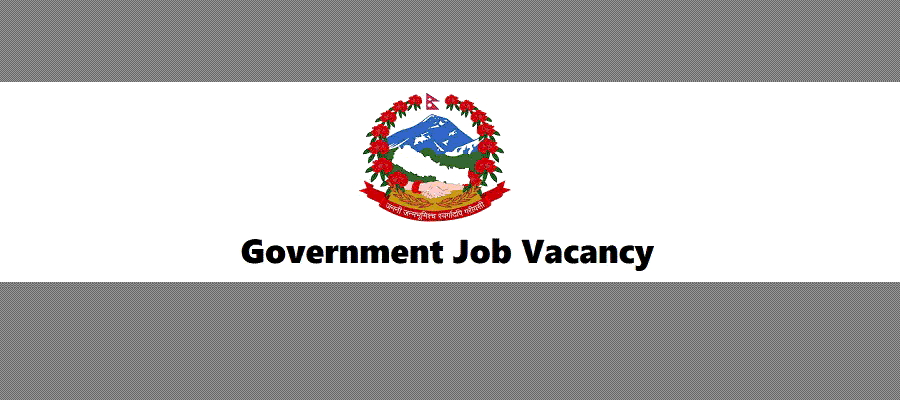 Notice for Contract Employment Opportunities at Ganeshman Charnath Municipality
Ganeshman Charnath Municipality is looking to fill the following positions. Interested and Qualified persons for Ganeshman Charnath Municipality are to be filled in the contract service, interested Nepali citizens who have the following qualifications are requested to submit an application in the prescribed format to this office within 15 days along with the required details
and the receipt of tax payments.
1. Information Technology Officer - 1 Vacancy
2. Agricultural Officer - 1 Vacancy
3. Veterinary Doctor - 1 vacancy
4. Lab Assistant - 1 Vacancy
Qualifications and Requirements:
Information Technology Officer: Educational Institution recognized by Government of Nepal BE in Computer Engineering BE in Electronics and Communication Engineering BE in Electrical and Electronics Engineering, BIT, BIM, BCIS, BCA, BEIT, BSc.IT, BSc.CSIT, B.Ed. Passed in ICT or equivalent,
Agriculture Officer: B.Sc. Ag. or having similar qualifications,
Veterinarian: Passed at least bachelor's degree in veterinary medicine from a recognized university or educational institution and registered with the council
For the post of Lab Assistant: Passed TSLC in MLT from an educational institution recognized by Government of Nepal (minimum GPA 2.0 in grading system of SLC/SEE)
Interested applicants must meet the following criteria:
Minimum educational qualifications as prescribed by the municipality.
Completed required age as mentioned in the advertisement.
Ability to pay the application fee of Rs. 1000 for an Information Technology Officer and Rs. 400 for Lab Assistant.
Submission of necessary documents and tax payment receipt.
Selection Process and Application Details:
The contract employment period will be until the end of 2080.
The mode of selection will be a preliminary shortlist and a written examination, which will include a practical examination for the Information Technology Officer post.
The last date for submission of applications is the 13th of Baisakh 2079 within office hours.
Applications must be submitted to the Ganeshman Charnath Municipal Corporation Office in Virendra Bazar, Dhanusha.
All relevant documents must be attached to the application, including copies of citizenship, experience certificates, minimum qualification certificates, character certificates, and other related documents.
Applicants can also download the application form from the website: www.ganeshmancharnathmun.gov.np.
Applicants who have already paid the application fee for the Information Technology Officer post (Advertisement no. 09/2079-80) do not need to pay it again; they can submit a copy of the fee payment receipt.
This is an excellent opportunity for qualified Nepali citizens to secure contract-based employment with Ganeshman Charnath Municipality. Don't miss this chance to apply for the above-mentioned posts by meeting the necessary qualifications and requirements. For more information, visit the municipality's website or contact the Chief Administrative Officer.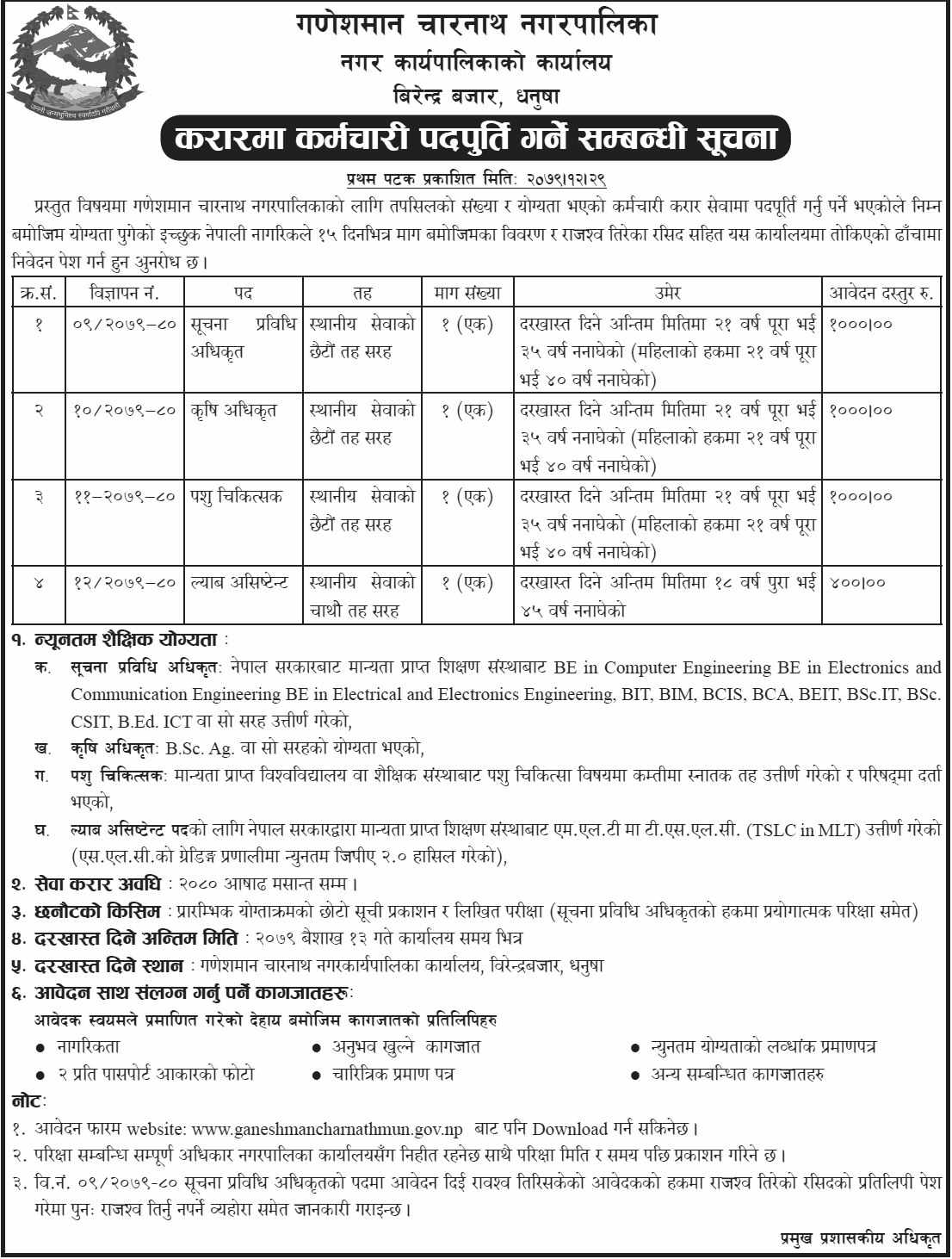 Veterinary Job
Agriculture Job
Janakpur
Technical Jobs
Madhesh Pradesh
Job Vacancy
Health Job