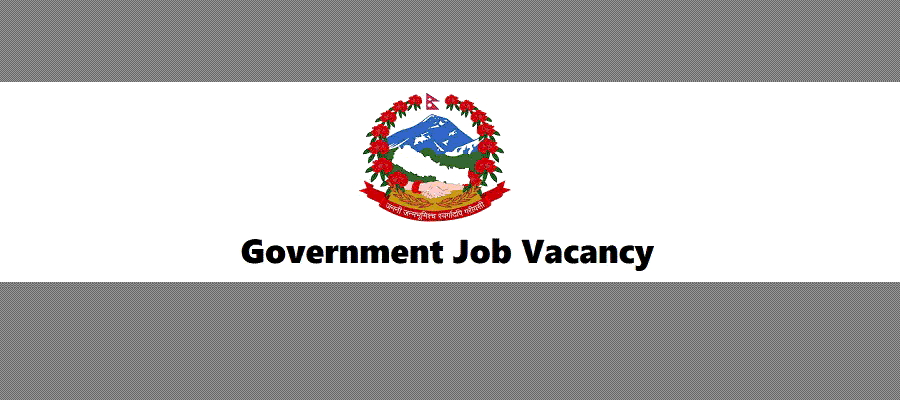 Godawari Municipality, Municipal Executive Office, Attaria, Kailali, Sudurpashchim Province, Nepal Notice of recruitment of Veterinary Volunteer
According to the decision of the office of Godawari municipality, municipal executive office dated 2079-04-02, interested Nepali citizens who have met the qualifications as per the list are invited to fill the form determined by this office within 15 (fifteen) days from the date of publication of the notice. No action will be taken on late and overdue applications.
Vacancy Details:
| | | |
| --- | --- | --- |
| Position, Level | Req. No. | Application Fee Rs. |
| Veterinary JTA, 4th Level | 3 | 400 |
Additional Information
1) Minimum Educational Qualification: Passed SLC / SEE from a recognized educational institution and at least one year JTA (Veterinary Science, Animal Husbandry, Animal Health) training, or passed TSLC in Agriculture (Animal Husbandry, Animal Business).
2) Service: Volunteer Agreement
3) Age: Completed 18 years and not exceeding 45 years
4) Last date for submitting the form: 15 (fifteen) days from the date of publication of the notice (opening day of the office if there is a public holiday)
5) Type of Examination: Written and Interview (Written examination will be conducted according to the syllabus of Federal Public Service Commission.)
6) Exam Date: To be published later.
7) Monthly Salary: Rs. 15,500/- (Fifty Thousand Eight Hundred)
8) Duration of work: end of the Ashad 2080 (If the work is satisfactory, the contract can be extended.)
9) Documents to be submitted along with the form:
a) Certified copy of the certificate of Nepalese citizenship,
b) Attested copy of attainment certificate of minimum educational qualification,
c) Attested copy of character certificate:
d) Full receipt of submission of examination fee.
10) Place of receipt and submission of application form: Godawari Municipality, Municipal Executive Office, Animal Services Branch of Kailali
11) For more information: The animal service branch of this office can be contacted.
First published date: 2079-04-03
Contact Details:
Godawari Municipality (Nagarpalika)
Attaria, Kailali, Sudurpashchim Province, Nepal
Contact Phone: +977 091-508001, 091-551307, 091-550535, 091-550015 Fax No: 091-551305
Email: [email protected] / [email protected]v.np
Website: www.godawarimunkailali.gov.np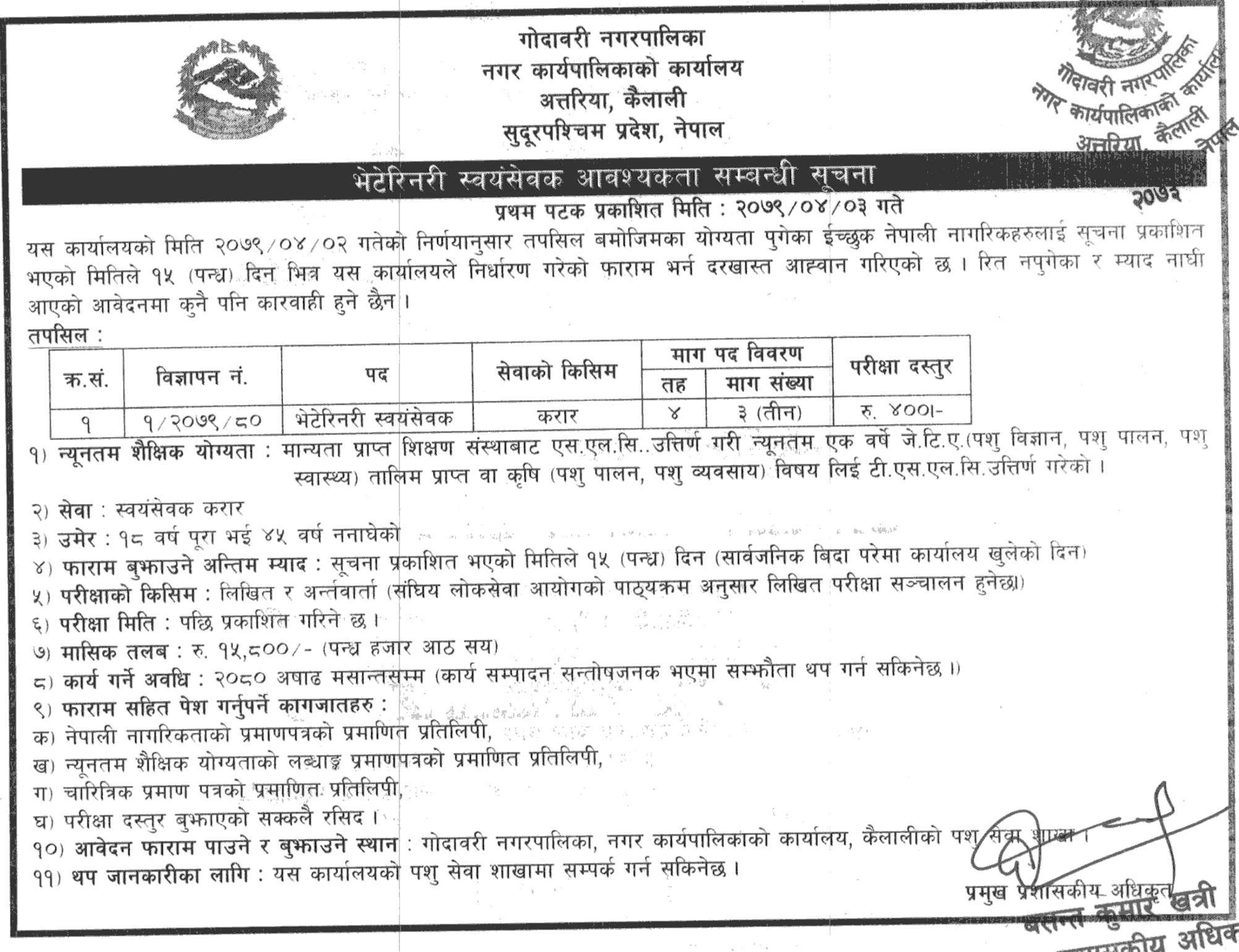 Veterinary Job
Sudurpashchim Pradesh
Kailali
Job Vacancy
Government Job