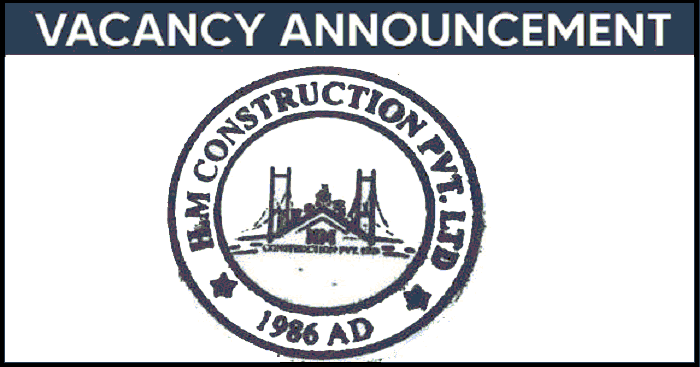 HM Construction is a reputed Construction Company and is seeking competent, dynamic, result-oriented candidates for the following positions in Kathmandu and out of Kathmandu Valley.
1. Senior Engineer: Two Nos
Should be a Master in Construction Management having more than 10 Years' experience or B E in Civil having minimum 5 Years' experience in Water Supply Projects. Prefer to Project handling, Monitoring, Controlling, Communicating etc. in Site.
2. Civil Overseer: Four Nos
Diploma in Civil Engineering with having minimum 7 to 10 years' experience in Water Supply Projects.
3. Account/Admin Officer: Four Nos
BBA/B. Corn. /BBS passed with knowledge in VAT, Tax, Banking, Familiars with Tally software having 4 years of accounting experience in the construction field.
4. Sub Overseer/Supervisor: Few
S.L.C. Passed or CTEVT having training in Construction Supervision with minimum S Years' experience in Water Supply Project.
5. Store Keeper: Few
Certificate Level Passed in commerce with minimum Experience of 3 Years in store work with good computer knowledge.
6. HR Officer: One Nos
BBA/B.Com/BBS/ Bachelor's in Social Studies passed having HR Training and minimum 5 years experience in a related field.
Applicants who are meeting the above criteria may apply with an updated CV, related certificates, recent PP size Photo, and expected salary, not later than MAGH 18, 2079 to [email protected]
Job Vacancy
Engineering Job