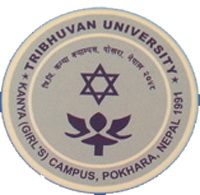 Kanya Campus Pokhara, located in Pokhara 3, Nadipur, is currently seeking a skilled accountant to join their team. Interested Nepali citizens who meet the required qualifications should apply with the necessary documents.
Job Details:
Post: Accountant
Number of positions available: 1 person
Educational Qualification: Candidates should hold an M BBS/BIM/BBA degree or equivalent.
Desirable Qualification: The ideal candidate should possess good knowledge of accounting and office management, knowledge about ETDS, computer training, and relevant work experience.
Selection Method: Shortlisted candidates will be selected through a written test, practical exam, and interview.
Service Facility: As per campus rules, the selected candidate will be offered a contract.
Last date of application submission: Interested candidates can submit their application until 207928, till 4:00 PM.
Documents to be attached:
Copy of Nepali Citizenship
Copy of educational qualifications
Certificate of experience
Passport size photograph taken recently
How to Apply:
Interested candidates can apply by submitting the above-mentioned documents at the Kanya Campus Pokhara's contact address. The contact address and phone number are given below.
Contact Information:
Kanya Campus Pokhara
Pokhara 3, Nadipur
Phone no. 061-572256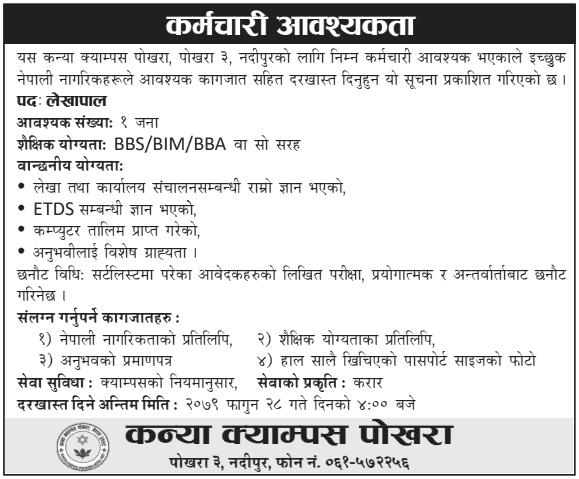 Karar Job Vacancy
Pokhara
Job Vacancy