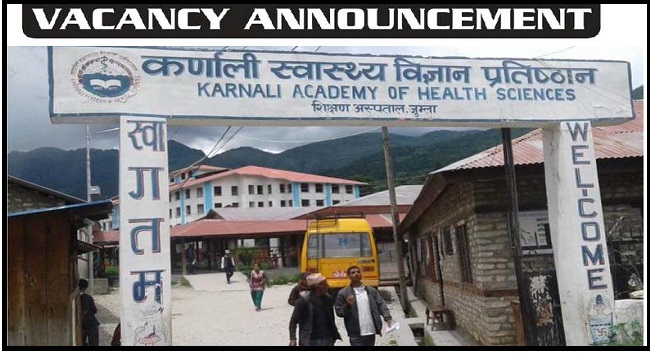 KARNALI ACADEMY OF HEALTH SCIENCES Teaching Hospital Jumla, Karnali Application for staffs on Contract Basis: Karnali Academy of Health Sciences (KAHS), a leading academic institution is seeking qualified Nepali citizens for the following positions on a performance contract basis.First date of Publication 14th August 2021
Subject

Position

Req. No.

Obstetrics & Gynecology
Professor
1
Orthopedics & Trauma Surgery
Professor
1
Adult Medical-Surgical Nursing
Professor/Associate Professor
1
Pediatric & Child Health Nursing
Professor/Associate Professor
1
Health Economics & Finance
Associate Professor
1
Community Health Nursing
Assistant Professor/ Lecturer
1
Community Medicine
Assistant Professor/ Lecturer
1
Histo Technician

(BMLT with at least 1-year experience in histopathology techniques)

7th Level
1
Anesthesia Assistant
5th Level
1
Staff Nurse
5th Level
25
Candidates meeting KAHS eligibility criteria may apply with their academic credentials, copy of Nepali Citizenship, Council Registration, along with an updated Curriculum Vitae, recent Passport size photo & a covering letter along with application form. The application form can be obtained from the KAHS website www.kahs.edu.np or from central office Jumla or from the contact office, Lalitpur.
For detail on eligibility criteria for application, please visit the KAHS website: www.kahs.edu.np
Contact Details:
Central Office Jumla -087-520355
Contact Office, Lalitpur- 015170622
Last Date of Submission of Application:- 29th August 2021
Required Qualification:- As per KAHS employees policy 2069, Schedule -1(Ka & Kha)
Application Fee: Professor & Associate Professor Rs.2000/-, Assistant Professor & Lecturer Rs. 1500/-, Histo Technician Rs. 1200/- Anesthesia Assistant & Staff Nurse Rs. 1000/- All application fees must be deposited in the name of the KAHS account, Agricultural Development Bank Jumla Branch A/c No.0721300627971014
Date of Exam:- Date and details of the exam will be published later on via the KAHS website
NOTE:
The application will not be accepted if not uploaded within the given time duration and without completing all required documents & depositing mandatory fees.
Registrar Office
KAHS, Jumla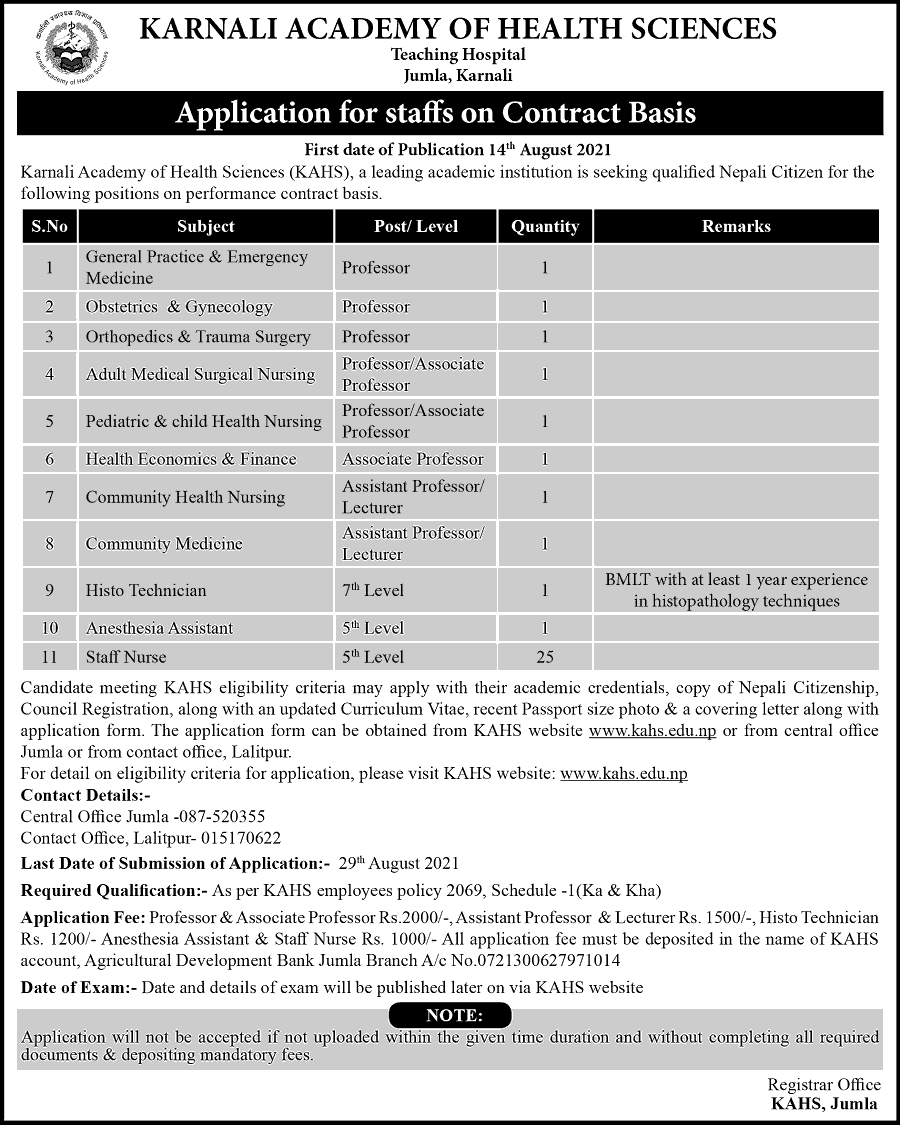 Hospital Job Vacancy
Jumla
Karnali Pradesh
Health Job