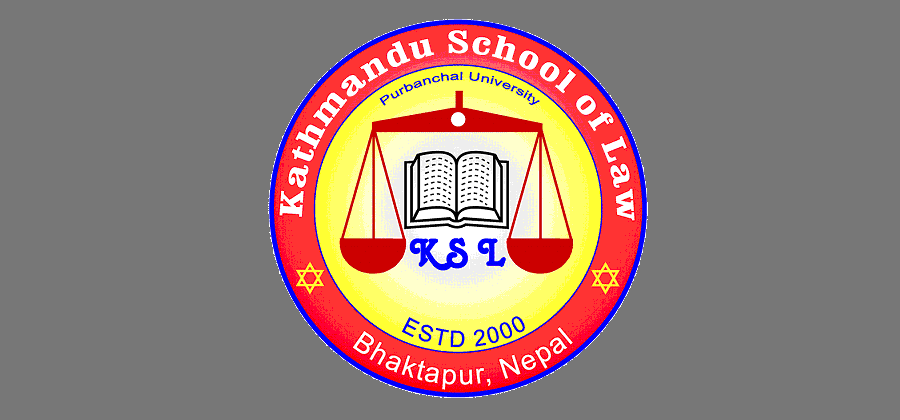 The following posts have to be selected through open competition in this Kathmandu School of Law, Suryavinayak-4, Bhaktapur, which has succeeded in creating a distinct identity in the field of law for the last 22 years; Interested Nepali citizens are notified to apply within 35 days from the date of publication of the notice.
For Teaching Service:
1) Associate Professor-1
2) Assistant Professor - 12
Teaching Subject:
1) Sociology of Law,
(2) Legislative Principles and Law-Making Process,
(3) Legal Research,
(4) Taxation Law,
(5) Civil Aviation and Tourism Law,
(6) Administrative Law,
(7) Company Law
(8) Private International Law,
(9) Constitutional Law and Constitutionalism,
(10) Intellectual Property,
(11) Labor Law,
(12) Procedural Law,
(13) Banking and Insurance Law,
(14) Law on Corporate Management,
(15) Effective Legal Writing
For Administration Service:
1) Assistant Library Officer-1
2) Senior Assistant Accountant-1
3) Assistant Administration-1
4) Security Guard - 3
5) Light vehicle driver-3
Rules for application:
1) Must have passed the postgraduate level in the second related subject in the minimum related subject for teaching service.
2) Special attention should be given to English and Nepali languages for teaching services.
3) For the teaching service, has to be done in the morning and afternoon sessions as per the requirement of the college.
4) For application fee (Associate Professor Rs. 1,500 / -, Assistant Professor Rs. 1,200 / -, Assistant Library Officer Rs. 1,000 / -, Senior Accountant Rs. 700 / -, Assistant Administration Rs. 500 / -, Security Guard Rs. 300 / - and Light Vehicle Driver Rs. 300 / -) Voucher of the amount deposited in the account no.
5) For an auxiliary library, a bachelor's degree in library science or a bachelor's degree in law, 3 months of training in library and 2 years of work experience are required.
6) Must have graduated in Commerce with an elective accounting subject for Senior Assistant Accounting.
7) Must have passed S.L.C. for Assistant Administration.
8) On The last day to fill out the form for security guard, the applicant must be under 32 years of age.
9) Four-wheeler driver's license is required for light vehicle drivers.
10) Application form can be obtained from the inquiry room of the college.
11) Information regarding the selection process will be posted on the college's website www.ksl.edu.np the day after the specified time for filling up the form.
Kathmandu School of Law
Suryavinayak-4, Dadhikot, Bhaktapur, Nepal, Phone: 977-1-6634455, 01-6634663,
Fax: 977-1-6634801,
Email: [email protected]
Website: www.ksl.edu.np.
First published date: 2078-12-16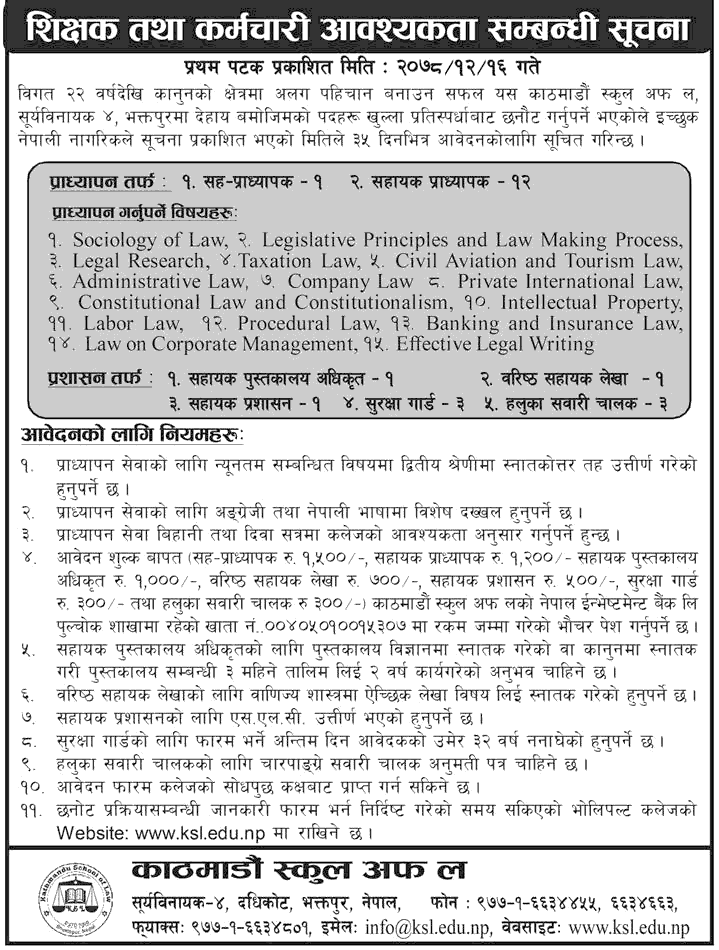 College Job
Teaching Jobs
Job Vacancy
Bhaktapur