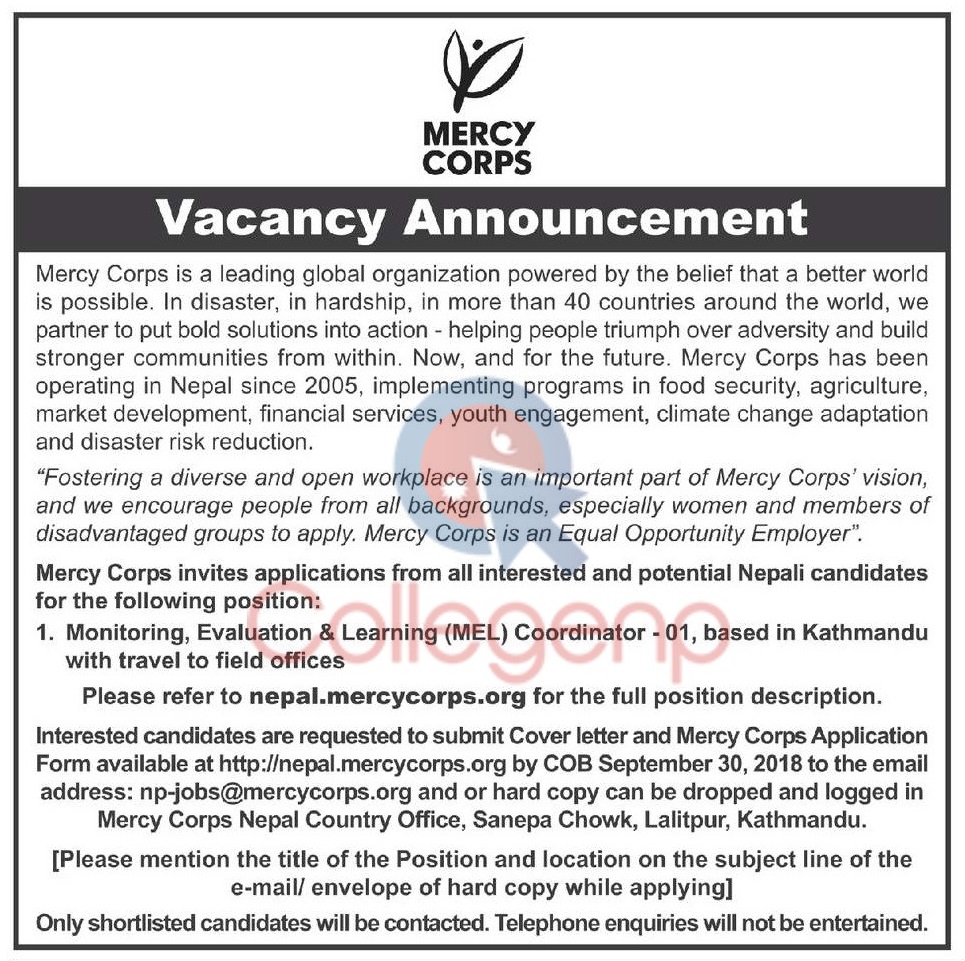 Mercy Corps is a leading global organization powered by the belief that a better world is possible. In a disaster, in hardship, in more than 40 countries around the world, we partner to put bold solutions into action - helping people triumph over adversity and build stronger communities from within. Now, and for the future. Mercy Corps has been operating in Nepal since 2005, implementing programs in food security, agriculture, market development. financial services, youth engagement, climate change adaptation and disaster risk reduction.
"Fostering a diverse and open workplace is an important part of Mercy Corps' vision, and we encourage people from all backgrounds, especially women and members of disadvantaged groups to apply. Mercy Corps is an Equal Opportunity Employer".
Mercy Corps invites applications from all interested and potential Nepali candidates for the following position:
Monitoring, Evaluation & Learning (MEL) Coordinator - 01
based in Kathmandu with travel to field offices
Please refer to nepallanercycorps.org for the full position description.
Interested candidates are requested to submit a Cover letter and Mercy Corps Application Form available athttp://nepal.mercycorps.org by COB September 30, 2018, to the email address: [email protected] and or a hard copy can be dropped and logged in Mercy Corps Nepal Country Office, Sanepa Chowk, Lalitpur, Kathmandu.
[Please mention the title of the Position and location on the subject line of the e-mail/ envelope of hard copy while applying]
Only shortlisted candidates will be contacted. Telephone enquiries will not be entertained.