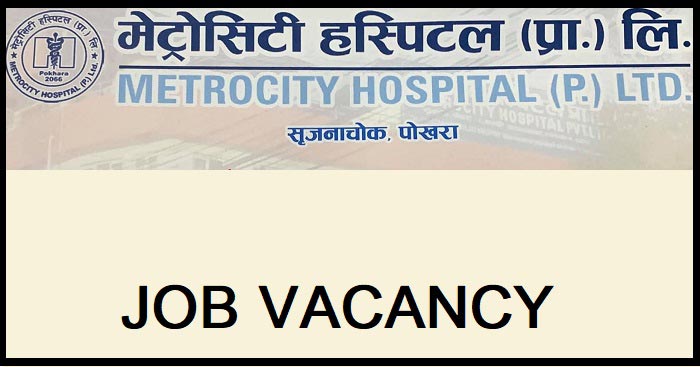 Due to the requirement for detailed manpower for Metrocity Hospital; Ritapurbak applications are invited from interested Nepali citizens who have reached the qualification.
Details
1) Position: Staff Nurse
Required Number: 5 (Five)
A) Postoperative ward 2 (two)
B) Operation theater 1 (One)
C) General Ward 1 (One)
D) Children Ward 1 (One)
Educational Qualification: Passed Certificate level in Nursing from a recognized educational institution and obtained registration certificate from Nepal Nursing Council.
Experience: At least 6 months of experience in the work of the concerned ward/department.
2) Position: Security Guard
Required Number: 1
Educational Qualification: Retired from Service or Police Service.
Experience: Preference will be given to those who have experience in related work and have obtained 4 wheeler driver's license.
Application Fee: Rs.500 for Staff Nurse and Rs.300 for Security Personnel.
Salary, allowances, and benefits: will be as per the rules of the hospital.
Selection Process: Interview.
Last date for submission of application: Date 2079-01-22 till 5:00 pm.
The place to submit the application: Administration Branch of this hospital.
Documents to be submitted: Handwritten application, personal details (biodata), copy of citizenship, copy of educational qualification certificates, copy of registration certificate of the concerned body, copy of work experience certificate, 2 copies of passport size photo.
Only successful applicants to be shortlisted will be included in the interview.
Information regarding the interview will be posted on the notice board of this hospital on 2079-01-25.
Reading Committee
Metrocity Hospital Pvt. Ltd.
Pokhara-8, Sujanachok
Phone no. : 061-572648, 061-572849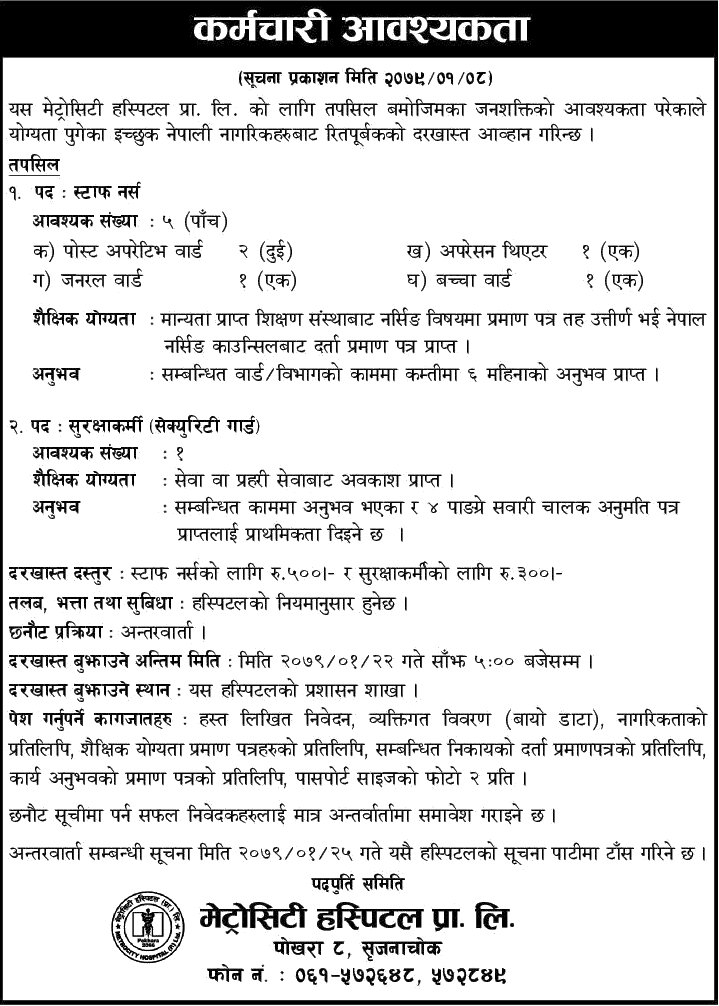 Hospital Job Vacancy
Pokhara
Job Vacancy
Health Job