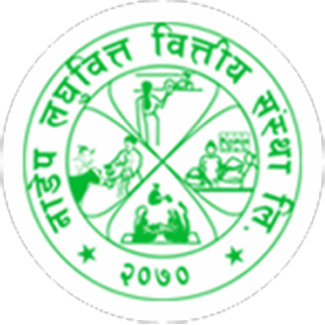 NADEP Laghubitta Bittiya Sanstha Limited is a national-level financial institution that has obtained a "D" category license from Nepal Rastra Bank. This financial institution has been providing microfinance services through 88 branch offices in different districts of the country.
Since the central office and the branch office under the Terai district have required manpower according to the schedule; Eligible and experienced persons should attach a copy of the Nepali citizenship certificate, educational qualification certificate, and other qualification and experience certificates to the email address of the application.
Applications are invited within 15 days from the date of publication of notification at [email protected].
1. Internal Auditor - 2 (Two)
Required Minimum Qualification: Required Educational Qualification: Semi-Qualified Chartered Accountant ICAN (CAP-II from ICAN or IPCC from CAI and completed 3 years articleship under CA course |)
2. Legal Officer - 1 (One)
Minimum Qualification Required: Graduate in Law or equivalent (license from concerned authority)
3. Junior Assistant Trainee - Few
Minimum Qualification Required: Passed Proficiency Certificate level or equivalent examination. (Special preference for Commerce)
4. Driver - (One)
Minimum Qualification Required: Passed class 8 and driving license with 1-year of work experience.
Age limit: Completed 21 years and not exceeding 35 years and in the case of women, not exceeding 5 years will be added to the upper age limit.
Service facilities: As per the rules of the organization.
Type of Examination: Selection List, Interview Presentation for Advertisement No. 01, and 02. For Advertisement No. 03, a motorcycle driver's license must be obtained.
Note: The right to completely or partially cancel the advertisement of staff requirements shall be vested in this financial institution.
NADEP Laghubitta Bittiya Sanstha Limited,
(A national-level organization with a "D" category license from Nepal Rastra Bank)
Head Office, Gajuri-1, Dhading
Phone no. 010-402111, 402124,
Fax: 010-402111
First published date 2079-05-02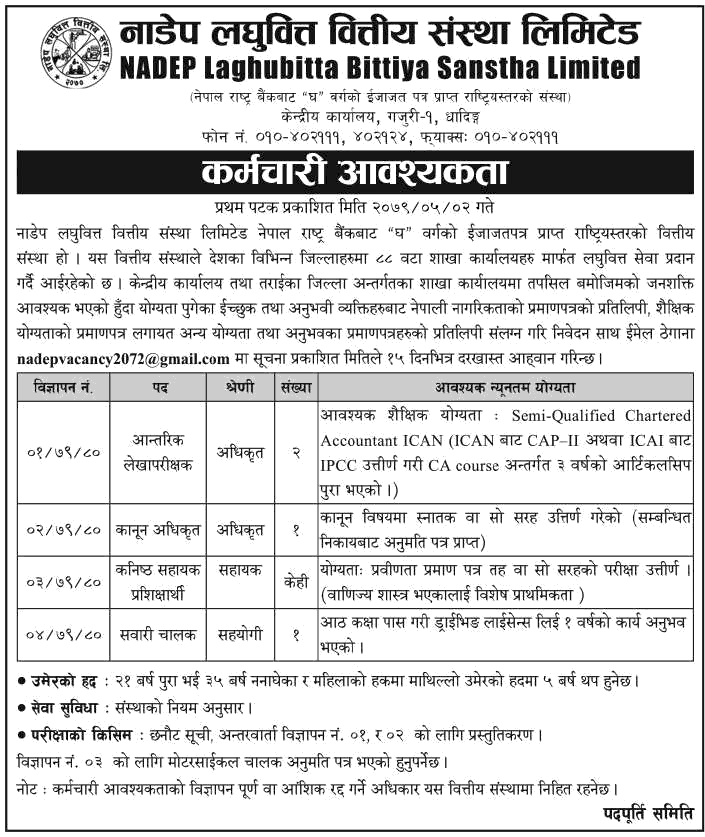 Jobs for Freshers
Laghubitta
Banking Career
Job Vacancy
Banking Job