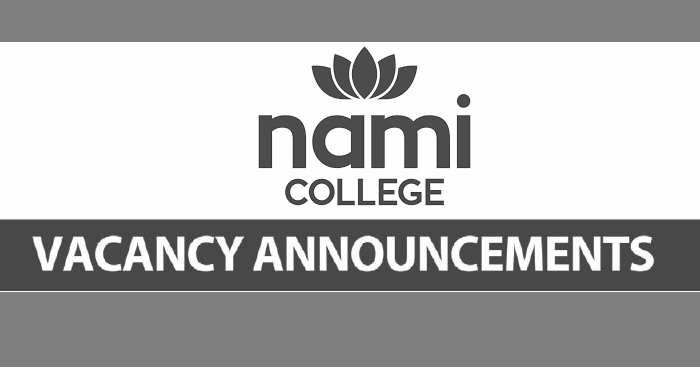 NAAYA AAYAM MUTLI DISCIPLINARY INSTITUTE (NAMI), delivering an interna­tional curriculum is looking for dynamic and self-motivated candidates for various positions.
MARKETING & ADMISSION OFFICER - 4
Required Qualifications:
Master or Bachelor in Business Administration, Management, or relevant field. Specialization in Marketing is highly preferable.
Must have proven working experience in a similar role for at least 2 years.
Skills and Competencies:
Should have a sound knowledge of counseling.
Highly creative with experience in identifying target audiences and developing digital campaigns that engage, informs, and motivate.
Complete knowledge of sales process/steps: Prospecting, Preparation, Approach, Presentation, Handling Objections, Closing, and Follow-up.
FRONT DESK OFFICER - 4
Candidates must have at least a Bachelor's degree with at least 2 years of experience in the administrative department in a progressive college.
Candidate must have excellent knowledge in spoken and written English and Nepali.
HR GENERALIST-1
Minimum 2 years experience in a related field.
Specialization in HR is highly recommended.
Should have excellent administrative & communication skills in English and Nepali Speaking &Typing.
Good knowledge in government laws (Labor) & policies, procurement procedure, logistic/resource management & administrative works.
Benefits and incentives: • Regular training in Nepal.
Salary and Insurance as per NAMI's norms and no bar for deserving candidates.
Allowances will be provided during out-of-valley official visits.
Selection Criteria
Candidates must have an excellent command of English and/or Nepali Language. S/he must be open, friendly and cooperative. S/he must be willing to respond positively to critical feedback.
Shortlisted candidates upon evaluations of minimum qualifications, experience, and skills will be called for the further selection process.
Applications should reach not later than 5th February 2023 (SUNDAY) by email [email protected] or can be left at the College reception or with the security guards by 5 pm.
No phone inquiry will be entertained.
Documents to be provided for selection:
CV and a Cover letter • Copies of academic documents
Copies of citizenship • Experience letters
DETAILS OF INSTITUTE
NAAYA AAYAM MUTLI DISCLIPLINARY INSTITUTE (NAMI)
Gokarneshwor- 7 Kathmandu, Nepal
Email: [email protected]
College Job
Job Vacancy
Kathmandu