The NECO Insurance Company required Few agricultural and animal technicians for the following positions; Interested, eligible, and competent persons are invited to apply for the post so that it can be received at the mentioned address by 25th Ashoj, 2078.
1) Post: Agriculture and Veterinary Technician - 7
Qualification:
Passed at least 10 + 2 or equivalent in Agriculture and Livestock from a recognized educational institution.
Preference will be given to the experienced and local people of the insurance company.
Locations: Kathmandu, Taplejung, Panchthar, Ilam, and other places as required
Documents to be submitted:
The applicant should submit the application along with the reasons for wanting to participate in the service, required remuneration, personal details, certificate of educational qualification, work experience certificate, two recent passport size photographs.
Note: Only selected applicants will be contacted for an interview.
Contact Details:
NECO Insurance Company Limited
Anamnagar, Kathmandu, Nepal
Phone: 01-4770415
Fax: 01-4770162
POB No. 12271
Website: www.neco.com.np
Email: [email protected]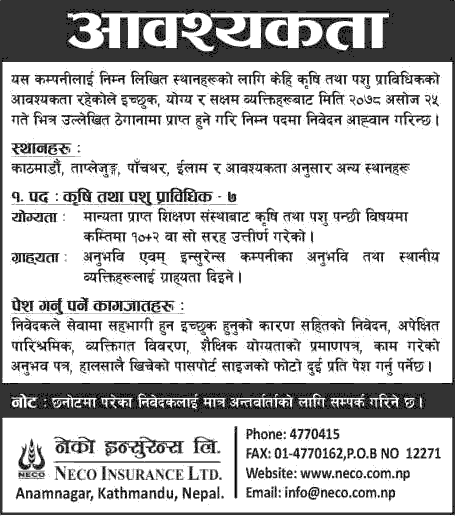 Veterinary Job
Agriculture Job
Insurance Job Vacancy